2018: Rapid Growth & Major Milestones
Bloom, a blockchain solution for secure global identity and inclusive credit scoring, saw exponential growth in 2018.
With over 100,000 new BloomID users, the announcement of multiple major partnerships with Fortune 500 companies, the launch of our web and iOS apps, and a thriving developer ecosystem, 2018 proved to be an extremely successful year for Bloom!
Here, we take a look back at the rapid growth, major partnerships, and groundbreaking technical milestones for Bloom in 2018.

Since launching just over a year ago, more than 100,000 users have signed up and created a BloomID, far surpassing our projected goals for the year and making Bloom the largest decentralized identity management system in the world!
Bloom saw record signups in Q4 2018, driven by consumers growing concerns about the massive collection, misuse, and sale of their personal data in the wake of an increasing number of data hacks, breaches, and alarming revelations.
Bloom now has global reach, with users in over 180+ countries around the world. At the end of 2018, the United States accounted for 53% of all BloomIDs, while Western Europe accounted for 19%, Canada for 4%, Australia for 3%, India and Pakistan for 3%, and Eastern Europe for 3%.
As we've rapidly scaled, dozens of developers have integrated Bloom's technology, countless lenders have joined our network, and we're in live agreements with many of the biggest financial institutions around the world! At this pace, Blooms sees mass mainstream adoption on a global scale in the near future, as consumers begin to take back control of their data and companies look to adopt innovative technologies that address these growing concerns.
BMW Partnership
In September, Bloom announced a partnership with BMW to streamline the loan application process and improve the customer journey by allowing consumers to securely fill loan applications with verified identity information and financial data. Through Bloom's lending infrastructure solution, users will experience a new way to apply for financing.
AMEX Partnership
Shortly after the partnership announcement with BMW Group Financial Services, in November Bloom announced a collaboration with American Express Middle East to help drive fintech innovation as part of American Express Middle East's ACCELERATE ME program. Bloom is enabling the region to introduce new approaches to credit scoring using non-traditional sources of data and is working to bring a secure, data driven approach to risk assessments in order to streamline the process.
2018: Major Milestones
Now, a look back at the major community, development, and product milestones in 2018 that have helped make Bloom one of the largest decentralized apps in the world.
January 2: Protocol Launched
January 11: Introducing the Bloom Community Alliance Program
January 12: Phase 1 is Launched on Mainnet
January 28: Announcing Bloom Translations & Internationalization
April 12: Phase 2 on Testnet
April 15: Introducing Credit Conversations
April 23: Bloom Q1 Recap
June 21: Announcing Bloom Developer Documentation
June 21: Introducing Bloom Payment Channels by Whisper
August 24: Introducing Delegated & Mobile Voting
August 31: Phase 2 Launched on Mainnet
September 21: Introducing Bloom Attestation Kit
September 24: Bloom iOS App Launched
November 26: Announcing First Round of Developer Bounties
On January 1, we deployed the first version of Phase 1 which included Bloom registration, the first BloomID smart contracts, the BloomID voting dApp smart contract, invitation smart contracts, and our web dApp which makes interacting with smart contracts an easy and intuitive process.
Over the course of the year, we deployed Phase 2 contracts to mainnet, introduced attestations for sanction screening and social media accounts, enabled users to link their mobile apps to their existing BloomID, introduced Bloom Payment Channels by Ethereum Whisper, eliminated transaction fees from voting and invitations, and introduced developer documentation. Our robust developer ecosystem allows any engineer to easily integrate Bloom's login and BloomID technology.
One of the biggest problems for blockchain platforms is interoperability. In September, we launched the Bloom Attestation Kit. Bloom's Attestation Kit is an easy-to-use solution for deploying a service for interacting with the Bloom ecosystem into your application. The system allows for any application to act as an attester, a requester, or both, for attestations on the Bloom network via its easy-to-use API.
In September, after more than a year in development, we launched the much anticipated Bloom iOS app. The Bloom iOS app release marks a revolution in the way individuals control their data, giving users the power to take back control of their identity and credit. The release marked a huge milestone for the global identity ecosystem and the broader blockchain community.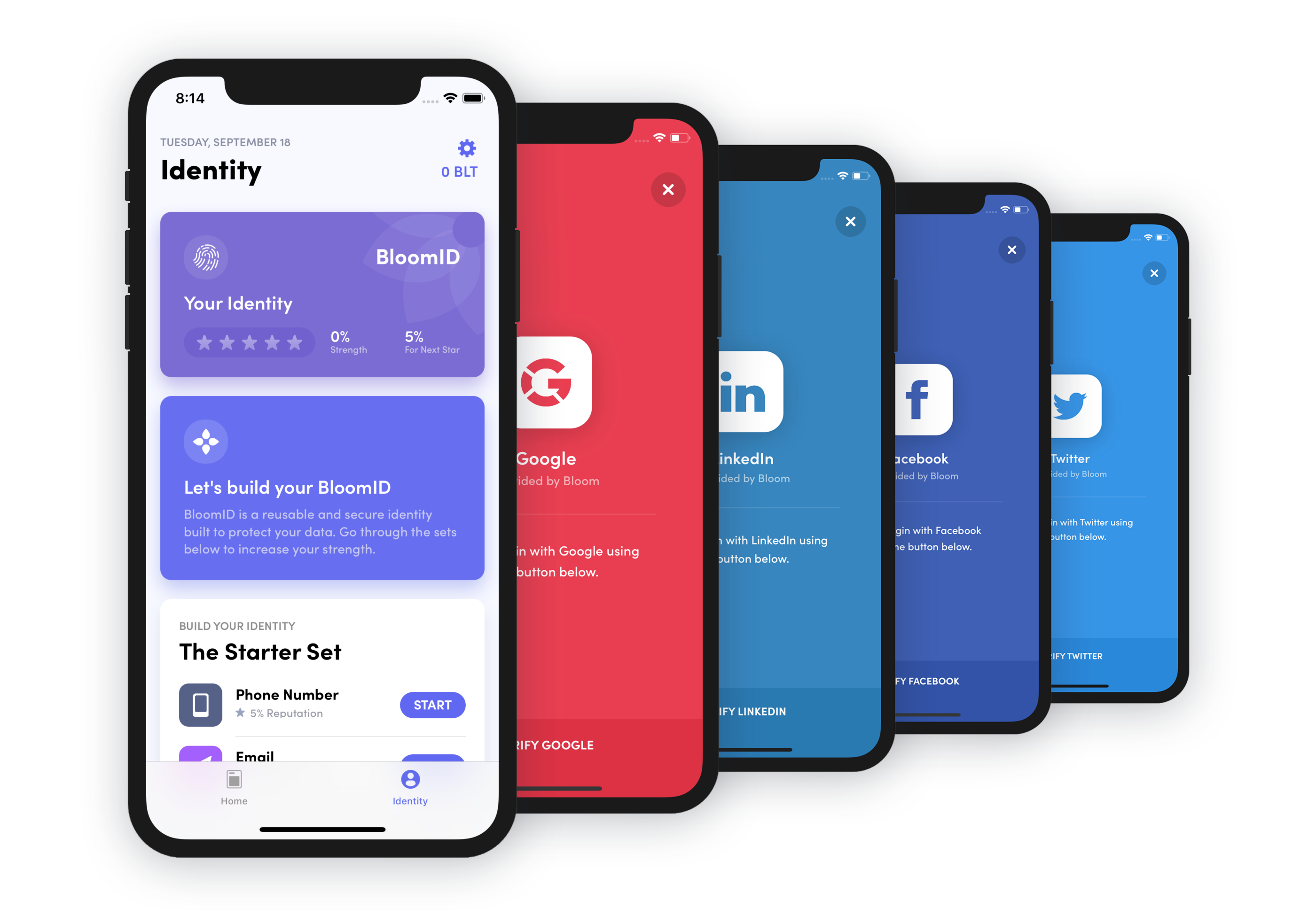 Bloom is dedicated to building groundbreaking technology and workflows for the everyday person, leading the way forward in developing intuitive user experiences in an antiquated industry, delivering modern technology that enables increased security, transparency, and financial access. With Bloom, anyone with an iOS device can finally harness the power of blockchain, and a secure financial identity, today.

Bloom's Lending Marketplace is now live, with more than a dozen lenders offering everything from credit cards to auto loans! Users can view offers in the marketplace on both desktop and the iOS app, making finding and applying for credit easier than ever. We are currently working with multiple lending partners on integrating BloomID, so that users will be able to securely and quickly one-click apply for credit using their BloomID.
2019: What's Coming Up
Bloom is positioned to provide a secure solution to the global data problem with technology that presents a viable path forward, today. As users demand better data security and more control over their digital identities, Bloom is striving for mass global adoption that influences far corners of the identity, data, and financial landscape, including everything from identity verification, to P2P lending, to consumer credit and more.
Moving into 2019, we will look to further engage our community, foster a thriving developer ecosystem, bring dozens of new lenders and partners onboard, lead the way in decentralized technology and user experience, and continue forward in our mission to build a robust global credit infrastructure on the blockchain.
In service of this mission, 2019 will be full of new development milestones and company initiatives. Here is a sneak peek:
Android App Launch
First Protocol Hard Fork
Grants System
Host your own BloomID Registry
Reputation review system for attesters
Implementing Share Kit for Mobile
BloomID integration in Lending Marketplace
Meta-attestations: share a set of attestation data with Bloom and we'll 'score' it by cross referencing the data between the different attestations and give a preliminary risk assessment score
Depreciating the strength of an attestation over time to encourage people to open the app and redo attestations
Take Back Control of Your Credit and Identity
Join us and download the Bloom mobile app or sign up on desktop today. We're committed to delivering amazing user experiences and love hearing more about the key products most important to you, please download and hop in our Telegram to share your experience with us!
About Bloom
Bloom is a blockchain solution for identity security and cross-border credit scoring, restoring ownership and control of identity information and financial data back to consumers. By decentralizing the way that information is shared between untrusted parties, the system reduces the risk of identity theft and minimizes costs associated with customer on-boarding, compliance and fraud prevention.
To learn more about the latest with Bloom: