Bloom Sees Rapid Growth, Record High New Users in September and October
Bloom, a blockchain solution for secure global identity and inclusive credit scoring, sees record high new users in September and October.
Today, we are pleased to announce that the month of October was our biggest yet with over 16,000 new BloomIDs created, following closely on the heels of a previous record high in September. In fact, Bloom grew 74x faster in September and October compared to the prior two months and finished October with the single biggest day of BloomIDs created ever.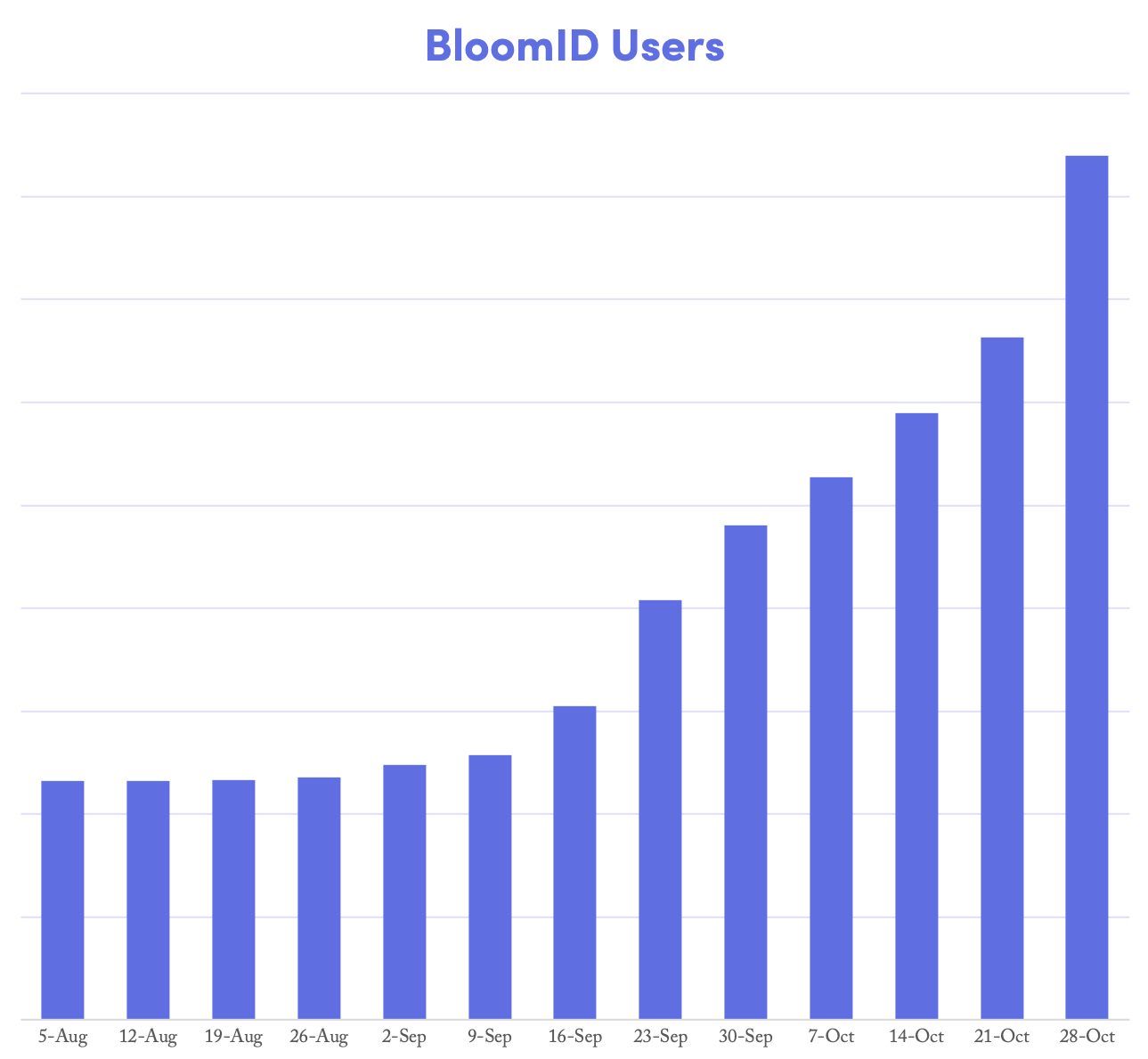 "We are on track to hit 75,000 BloomIDs by the end of the year, which will make Bloom one of the largest decentralized applications in the world." said Bloom co-founder, Ryan Faber.
October's rapid growth comes quickly on the heels of our announcement of a collaboration with BMW Group Financial Services, the release the Bloom iOS app and Facebook's massive data breach, which once again brought the issue of data security to the forefront. With the Bloom mobile app, you can now protect your data with blockchain security, marking a revolution in the way that individuals control their data.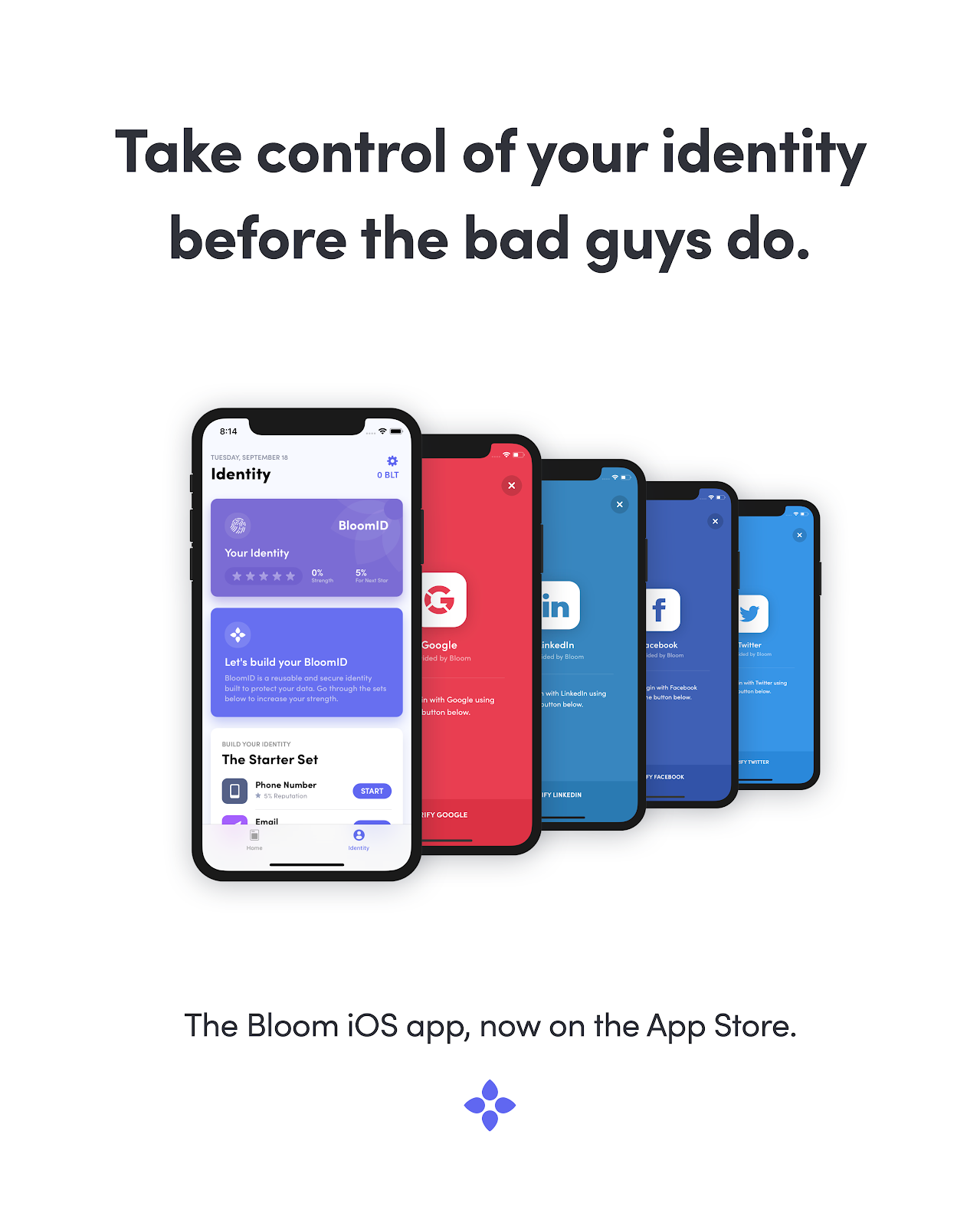 Bloom is a blockchain solution for identity security and cross-border credit scoring, restoring ownership and control of identity information and financial data back to consumers. By decentralizing the way that information is shared between untrusted parties, the system reduces risk of identity theft and minimizes costs associated with customer on-boarding, compliance and fraud prevention.
Looking Forward: Mass Adoption
Within just the past year, over a thousand data breaches and leaks have put millions of Americans, and billions more globally, at increased risk of identity theft, and left consumers clamoring for a solution. As the conversation around data security and privacy reaches a fever pitch, and governments around the world figure out how to respond to an onslaught of massive data breaches, Bloom is positioned to provide a secure solution to the global data problem that addresses the myriad data concerns of users. Bloom's technology presents a viable path forward, today.
Bloom does not aim to solve a niche problem, or to simply serve as a tool for the blockchain ecosystem. As users demand better data security policies and more control over their digital identities, Bloom is striving for mass global adoption that influences far corners of the identity, data, and credit landscape, reaching billions of consumers who have been left behind by traditional systems and institutions. This includes everything from identity verification, to P2P lending, to consumer credit and more.
Despite the hype of blockchain, many of the innovations require deep technical understanding and interfacing directly with blockchain ledgers. These complicated user experiences inhibit adoption and growth. Bloom is building groundbreaking technology and workflows for the everyday person, bringing the power of blockchain to users around the world without any of the technical hassle.
Bloom is leading the way forward in developing intuitive user experiences in an antiquated industry, delivering modern technology that enables increased security and transparency, and financial access. With Bloom, anyone with an iOS device can finally harness the power of blockchain, and a secure financial identity, today.
Take Back Control of Your Data Today
Join us and download the Bloom mobile app here. We're committed to delivering amazing user experiences and love hearing more about the key products most important to you. We would love to hear your thoughts, please download and hop in our Slack or Telegram to share your app experience with us!
Learn More
For more on the latest with Bloom: