After more than 6 months of development, we are incredibly excited to announce the Testnet release of the Phase 2 deployment of Bloom.
Phase 2 is a big leap forward towards our mission of putting you in control of your data.
Every moment, servers are logging, cataloging, and selling your personal, private information.
It's not just your credit score.
Your utility bill payments, cell phone records, insurance payments, auto history, court records, credit score, identity information, social security records, address history and 100s of other pieces of information are amassed into giant data warehouses where it's packaged and sold to data farms, lenders, and banks.
You can't opt out.
The data industry is an opaque black box. The credit bureaus and giant tech businesses make huge revenues off of owning your data, selling your data.
At Bloom, we give users the power to take back their data. We give users the power to own their own data, and decide how it's used, how it's sold.
The technology is early, and we have a long road ahead, but Phase 2 is the start of making this promise a reality.
What is Phase 2?
Phase 2 Brings:
The first rollout of the Bloom attestation & identity platform
Our first live attester and data partner integrations
Numerous user interface enhancements
Smart contract upgrades (support for multiple ETH addresses per user in the AccountRegistry)
Protocol level improvements in preparation for the Bloom mobile app release
Renewed interfaces that are friendly to both crypto newcomers and experts.
Phase 2 allows users to verify their identity and begin the process of building out their BloomID. Users will now able to confirm identity information and connect to data attesters for BloomIQ.
More importantly, Phase 2 sets the infrastructure for a decentralized attestation-based system that allows you to be in control of your own data. It's the cornerstone for all future developments.
First Attestation is Here
We are proud to release today the first attestation, phone number attestation, which is a significant milestone in providing a technical framework for future attestations. You can expect other attestations like social media and email verification to follow shortly. Stay tuned as we will be releasing more soon.
Here is how it works:
1. The user provides their phone number.
2. Bloom generates a nonce for the user.
3. Attester broadcasts the cost of running the verification.
4. Bloom collects signatures from both the User and Attester.
5. User and Attester sign the "agreement" produced by Bloom regarding the attestation that will occur.
6. Bloom broadcasts the attestation request to the network.
7. Attester verifies the phone number and submits an attestation for that User's BloomID.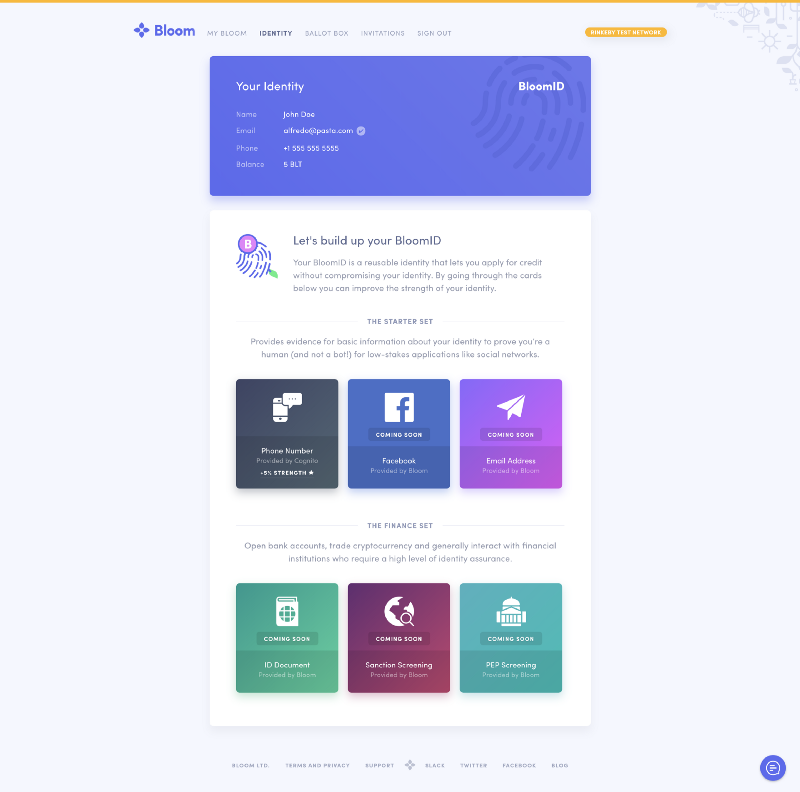 About the Phase 2 Smart Contracts & Developer Ecosystem
We are releasing 3 smart contracts as part of the initial phase 2 release.
IdentityRepo
AttestationRepo
TokenEscrowMarketplace
All new contracts are designed around the principle of not making users pay gas prices. For our early users, gas prices for these attestations are paid for by Bloom and will cost users 0 BLT and 0 ETH.
We have revamped our account tracking system to support multiple addresses.
We are currently on Rinkeby so we can test more partner integrations before deploying the final contracts to Mainnet. Additionally, we will be undergoing audits before a Mainnet release.
When you first access the new attestation interface, you will probably see this message: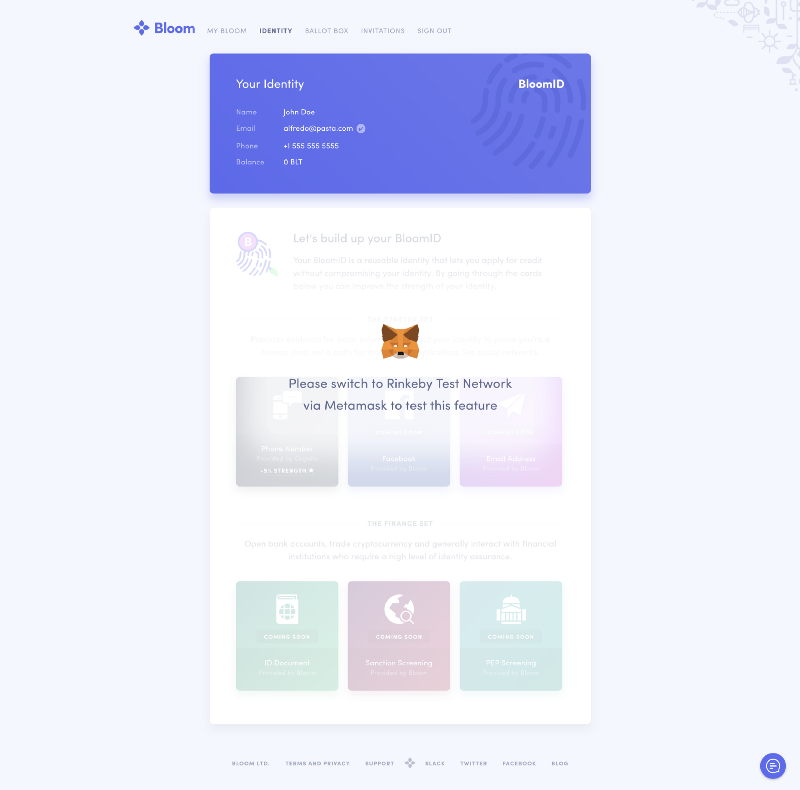 To access the attestation interface click on the MetaMask icon in your web browser, click "Main Ethereum Network," and then choose "Rinkeby Test Network" from the dropdown. The dApp tab should refresh, and then you will be able to proceed with verifying your phone number! We have provided a dropdown list of countries to choose from by clicking on the American flag.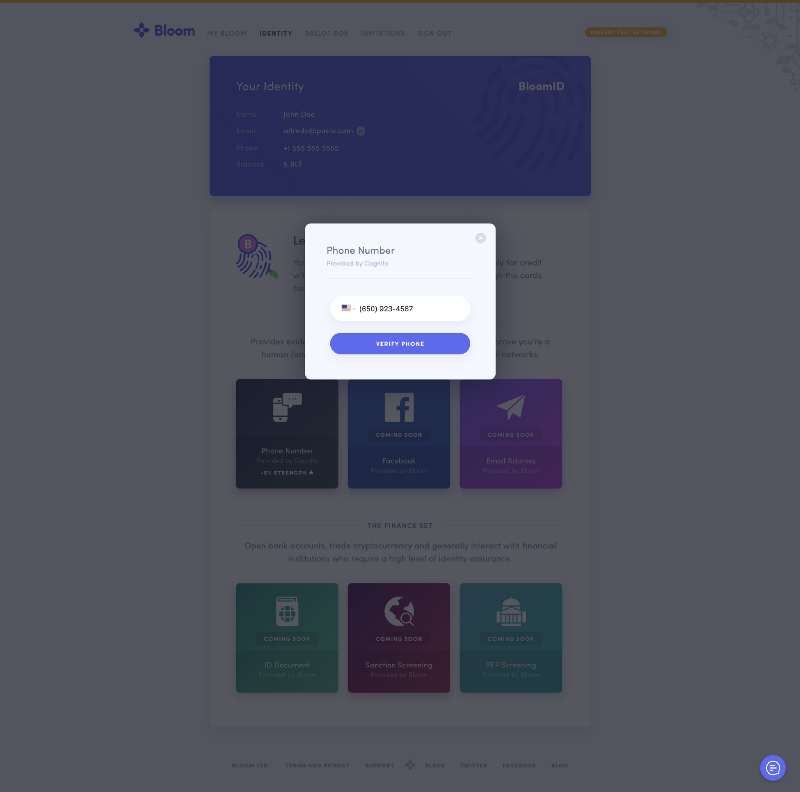 What's Next?
Phase 2 is the precursor to an entirely decentralized creditworthiness assessment. This release lays the groundwork for a system that will not only allow users to check their score and apply loans, but Phase 2 is the first phase that will allow us to open up a developer ecosystem to lenders and attestors.
This release is just the start. We'll be working through a number of releases over the upcoming months to improve and expand our attestation based system.
Inside of the dApp, you will see a number of "coming soon" features. These are in progress and under development. As more attestors join the Bloom network and integrate with the Phase 2 smart contracts, these too will come online.
With Bloom:
You own your data
You control access to your data
You decide when you share your data, and who you share it with
You pick which data you want to include as part of your identity
At Bloom, we are placing a big focus on becoming one of the first user friendly mainstream dApps.
DApps have the promise to revolutionize the world. They can operate free of influence from a central government, monopoly, and without censorship. This is why Ethereum and Ethereum based tokens have seen a boom in the past few months.
Despite this promise, dApps are still in the early stages. With the exception of Cryptokitties and Etherdelta, few dApps have reached the mainstream crypto audience.
Bloom's mission is to create a user friendly DApp which mimics the experience of a traditional application.
We are working on expanding Phase 2 over the coming weeks and months with more data providers and identity traits. We'll be rolling out an invite-based partner ecosystem for developers and partners integrating with Bloom. We've been heads down in developing a mobile dApp, slated for a Q2 release. We've made a number of technical and business hires to expand lending and data partnerships.
This is just the start.
Learn More About Bloom