Introducing The Bloom Community Alliance Program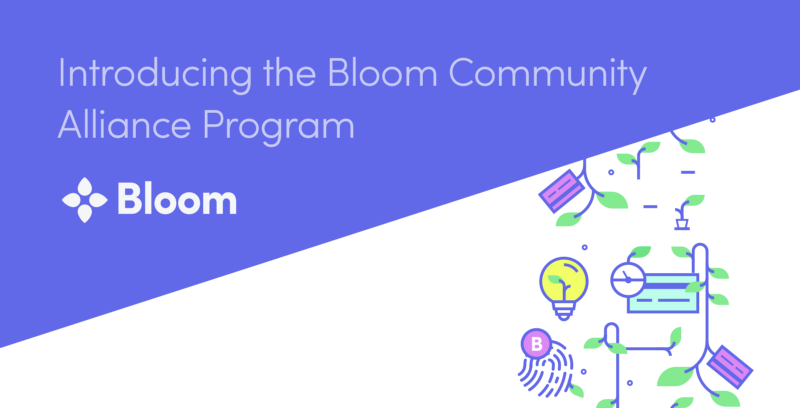 Bloom is a decentralized organization.
We're not just working by ourselves writing code. We're redefining the way credit and finance is conducted, paving the transition from a central corporate led system to a decentralized community led system.
Part of this means we need a strong, engaged community.
We have been blown away by the ongoing support for Bloom. We've had thousands of people participate in our token sale, and we are extremely grateful for the overwhelming positivity from our community.
Now it's time to formalize this relationship:
Introducing The Bloom Community Alliance Program
This is a program designed to work hand-in-hand with our community to build Bloom together.
This program has four parts:
Updates: Ongoing updates at a pace and cadence decided by our community in the Bloom voting dApp, starting at a livestream and two update posts per month. This could be updated through future community votes.
Feedback: We're launching a feedback program for the community to submit ideas to be up to a vote, feedback for the Bloom team, and ideas to help improve the protocol. This also includes periodic community code review and code audits of our open sourced smart contracts.
Relationships: Our community are our users. We want to enhance our relationships with the developers building on Bloom, the lenders lending capital through Bloom, and the community supporting Bloom. This will take a few different forms, but primarily an ability for the community to engage directly with the Bloom team.
Management: We have a unified mission of rebuilding credit. Along the way, we'll be defining milestones and building what the community needs. We're actively hiring a manager for this program to ensure that no stone goes unturned and every voice is heard.
We're Hiring!
Right now, the Bloom team is small and tasks are broadly spread among the team. As a result, responsibilities of this division are shared among team members.
Given the key relationship with the community, we plan on expanding this team to include at least one full time community manager and over time, additional team members to continuously represent the voice of the community.
To apply, please read our full hiring post here.
You can submit an application to: Jobs@HelloBloom.io
What to Expect Next: Upcoming Livestream
We are starting a live stream program to kick the program off. Initially, the live streams will be lead by Jesse, myself and one or two additional founding team members from Bloom.
This live stream session will be accompanied by a Slack "AMA" style Q/A forum for the community to engage and discuss.
Notes will be posted here in the blog afterwards.
Over time, we'll be taking applications from community members, partners, and lenders to appear on the live stream and share their updates.
The first livestream will be held on: January 16th, Tuesday 9am PT. (We will circulate a link shortly and update this post.)
Submit the topics you'd like us to cover here in this form: https://bloomteam.typeform.com/to/KcRgOq