BERD Report: The True Cost of Financial Exclusion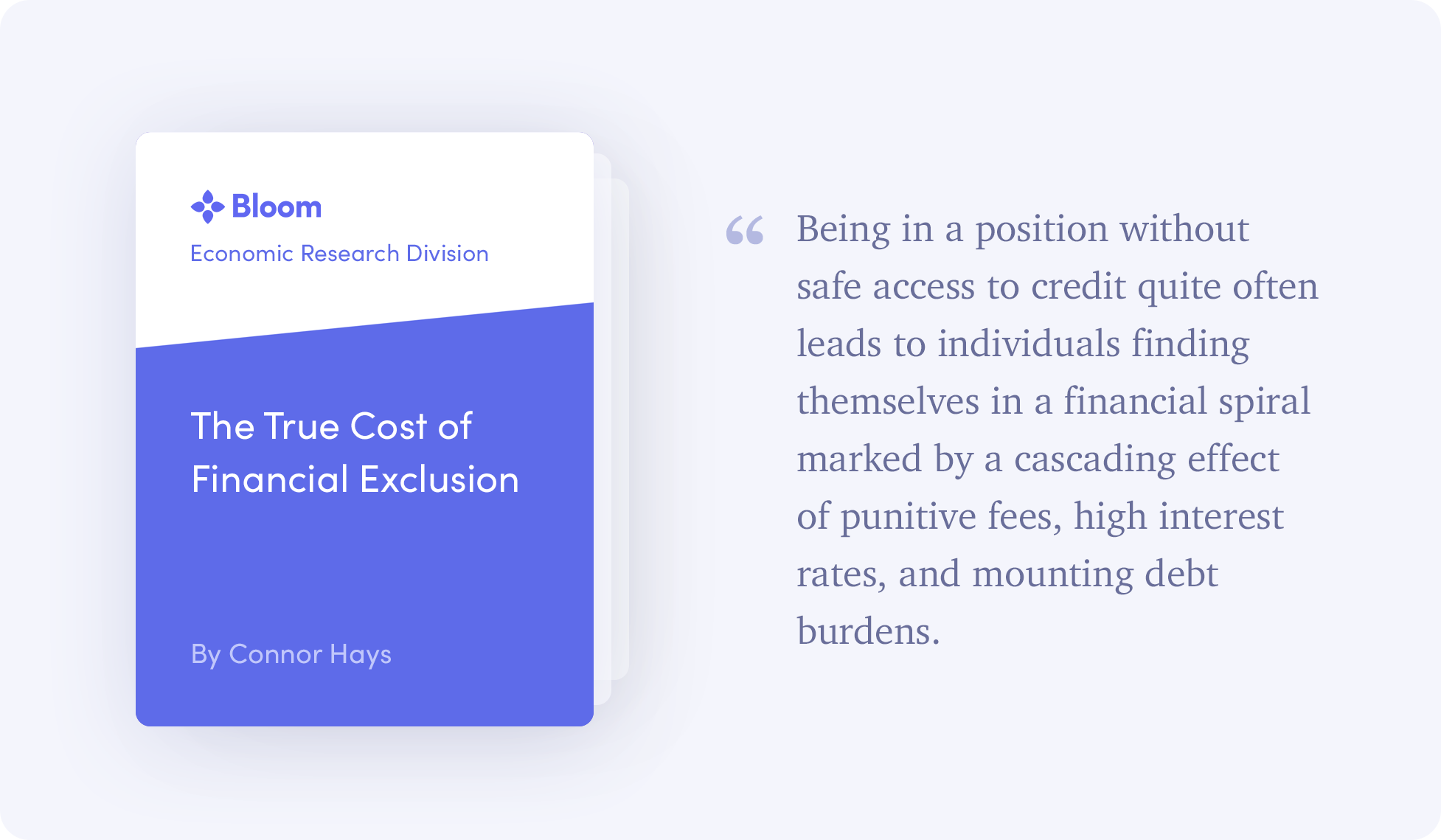 The Bloom Economic Research Division serves as a core research division within Bloom leading an open-source data approach to credit analysis. The BERD team conducts and publishes policy and economic research with the goal of leading a discussion towards a healthy global credit climate. BERD's mission is to open source our learnings, research, and interviews to create a more inclusive, global, and personal credit system.
We are pleased to introduce our latest report, a deep dive on financial exclusion. This research is prepared by analyst Connor Hays.
The True Cost of Financial Exclusion
The true cost of lack of access to credit extends far beyond the inability to finance additional consumption in the short term. Being in a position without credit quite often leads to individuals finding themselves in a financial spiral marked by a cascading effect of punitive fees, high interest rates, and mounting debt burdens. All of which bury individuals even further away from financial freedom and inhibits their ability to accumulate any level of substantive long-term wealth.
Consumer credit has traditionally served to smooth consumption over the course of one's lifetime and help absorb exogenous shocks to individual finances, whether that be the need for car repairs or an unexpected emergency room visit. Mehrsa Baradaran, Associate Professor at the University of Georgia School of Law and author of How the Other Half Banks, notes that, "Reasonable credit not only serves as a bridge over financial trouble, but for millions of Americans, credit provides the only means to build assets, start a business, or get an education."
Of course, taking on debt is predicated on increased returns in the future: an investment in education to increase future earnings; a mortgage to finance homeownership under the assumption of appreciation in housing prices and the building of equity; the funding of an entrepreneurial pursuit or small business.
Lack of access to credit acts to trap low and middle-income individuals and households in positions of such precarity that it invariably leads to the curtailing of economic opportunity, degradation of mental and physical well-being, elimination of access to even the most basic of material resources, and the further entrenchment of inequality.
Access to safe credit and cheap financial services greatly increases individual financial well-being and long-term economic prosperity. When low-income communities are given access to safe credit and cheap banking services they flourish economically. In order for credit to be effective in this mission, it must be deployed at reasonable rates and contracted at fair terms. It must enable and empower citizens, not disable and enslave them.
Credit, when well-managed, equitable, and inclusive, creates productive economic activity. It extends economic opportunity to those who may not have the means today, allowing them to finance consumption of resources necessary for survival, pursue opportunities for increased earnings, and contribute to society in new and meaningful ways.
Read the Full Report
You can access the full report, with data sources and cited research, by clicking here.
CC BY 4.0: This is an open access work distributed under the terms of the Creative Commons Attribution License, which permits unrestricted reuse, distribution, and reproduction in any medium, provided the original work is properly cited.
More from BERD