BERD Report: The Student Debt Crisis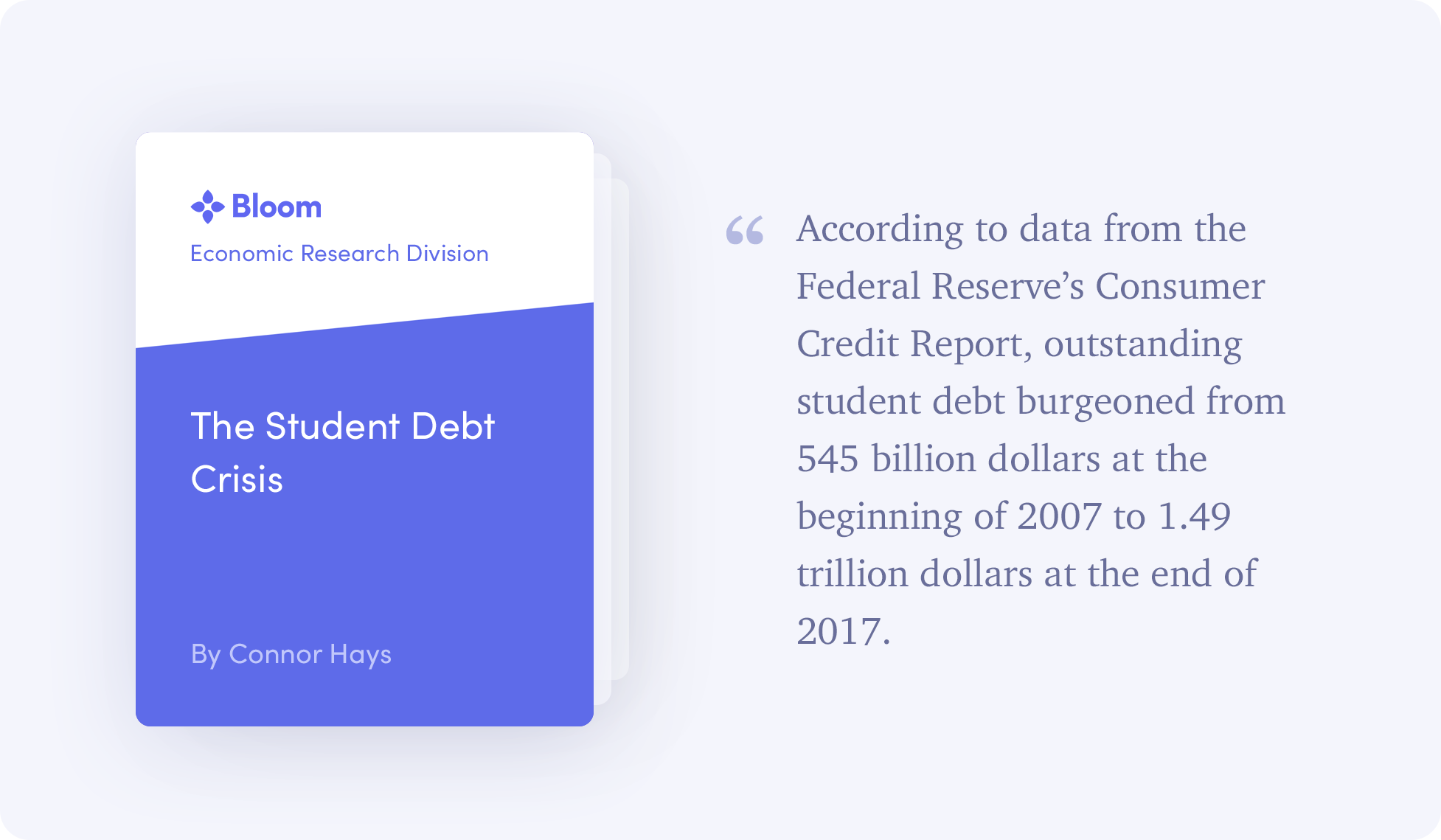 The Bloom Economic Research Division serves as a core research division within Bloom leading an open-source data approach to credit analysis. The BERD team conducts and publishes policy and economic research with the goal of leading a discussion towards a healthy global credit climate.
There are three goals to sharing these reports:
Publish informed perspectives to our community and the global community of economists.
Share our learnings with our key stakeholders to provide context around our business development and thought process.
Guide our internal product and business development teams on where we should spend our time and product R&D by providing well sourced economic context.
Fostering the credit sector's health and long term growth cannot occur without a rigid approach to research and discovery.
We are pleased to introduce one of our first reports, covering the looming student debt crisis. This research is prepared by analyst Connor Hays.
The Student Debt Crisis
According to data from the Federal Reserve's Consumer Credit Report, outstanding student debt burgeoned from 545 billion dollars at the beginning of 2007 to 1.49 trillion dollars at the end of 2017, a staggering 176 percent increase in the overall balance of student loan debt.
Relative to growth of the United States economy on the whole, taken as a percentage of nominal GDP, student loan debt grew to account for 7.5 percent of national income in 2017, up from 3.8 percent in 2007.
This unrelenting pace of growth has made student loans the second largest category of debt in the consumer credit market, second only to mortgages, a historic switch that took place in the direct aftermath of the 2008 financial crisis. This almost three-fold increase in student loan debt has occurred despite total postsecondary enrollment falling by over a million students within the past few years, according to the National Center for Education Statistics. As student loan debt has continued to rise unabated, credit card and auto loan debt have failed to keep pace, dipping significantly in 2009 and only beginning to rise again in the past few years.
Read the Full Report
You can access the full 10 page report, with data sources and cited research here.
CC BY 4.0: This is an open access work distributed under the terms of the Creative Commons Attribution License, which permits unrestricted reuse, distribution, and reproduction in any medium, provided the original work is properly cited.