Say Hello to Free Credit Monitoring and Smart Identity
Today, we are very excited to announce free credit monitoring and smart identity on iOS and Android!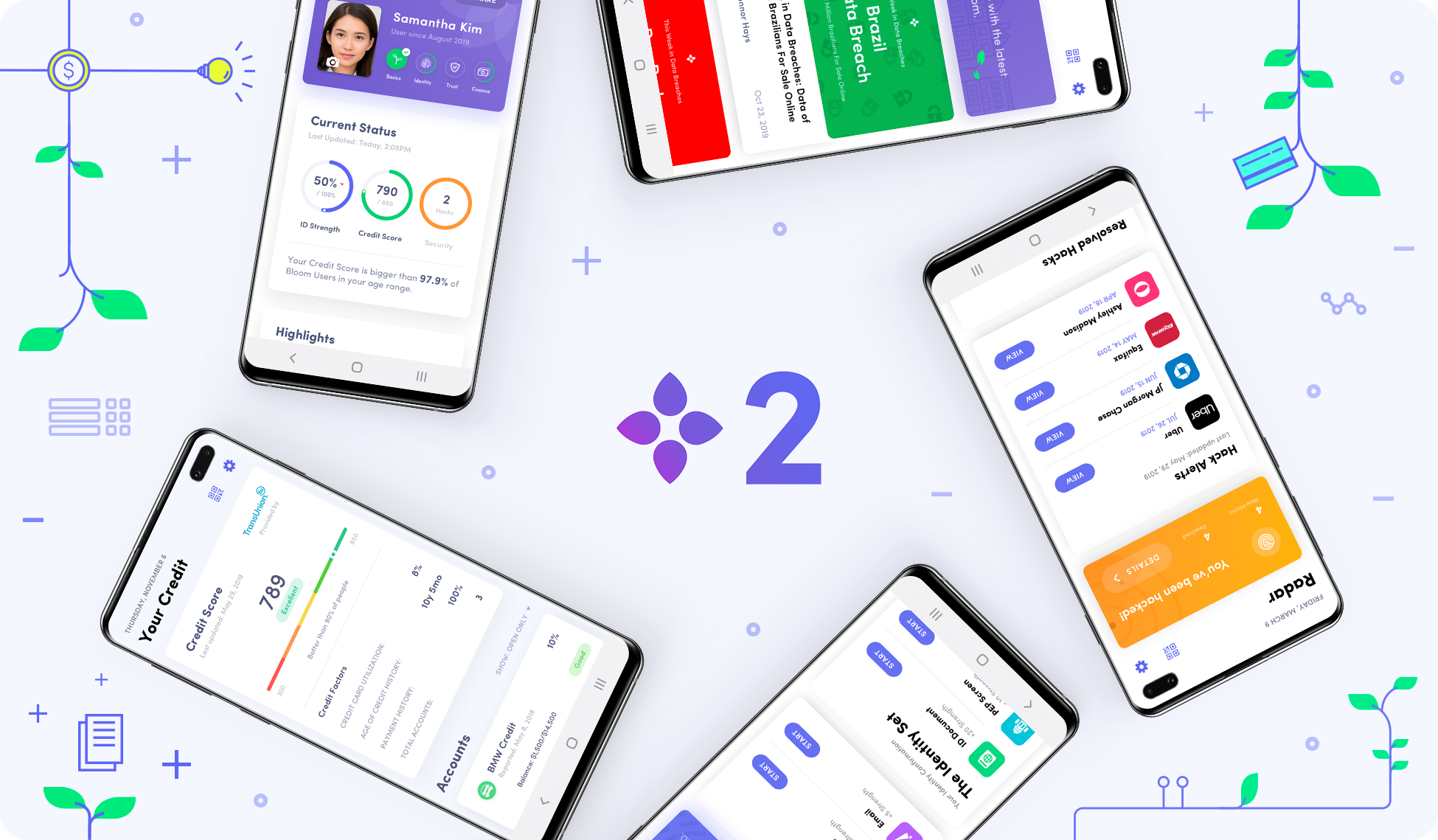 Bloom 2 brings free credit monitoring, data breach monitoring, and enhanced smart identity features to nearly 1 million Bloom users.
Until now, consumers had to use an array of different services to monitor their credit and protect their identity, many of which are offered by the very companies that leaked or sold their data in the first place. Bloom puts your privacy first.
Now, you have the power to build a secure digital identity and manage your credit all in one place with robust new credit monitoring and smart identity features. Bloom's enhanced smart identity helps prevent predatory third parties from accessing your data and greatly reduces your risk of identity theft.
The initial launch of the Bloom mobile app marked a revolution in the way that individuals control their data. Since then, the Bloom mobile app has been downloaded over 1 million times.
Our vision is for the Bloom mobile app to be the center of your identity experience, a one stop command center for managing your identity and credit, empowering you to take back control of your data and protect your identity. Today's launch makes that a reality.
From the Bloom mobile app, you can:
Check your credit score for free anytime
Own and control your data
Build a secure and reusable digital identity
Receive alerts when you've been involved in a data breach
Get actionable insights into your credit and identity
Securely share your data and apply for credit with one-click
Login to websites and apps password-free
Your data, your credit, your privacy. That's Bloom. Download the mobile app to get started today!
Monitor Your Credit For Free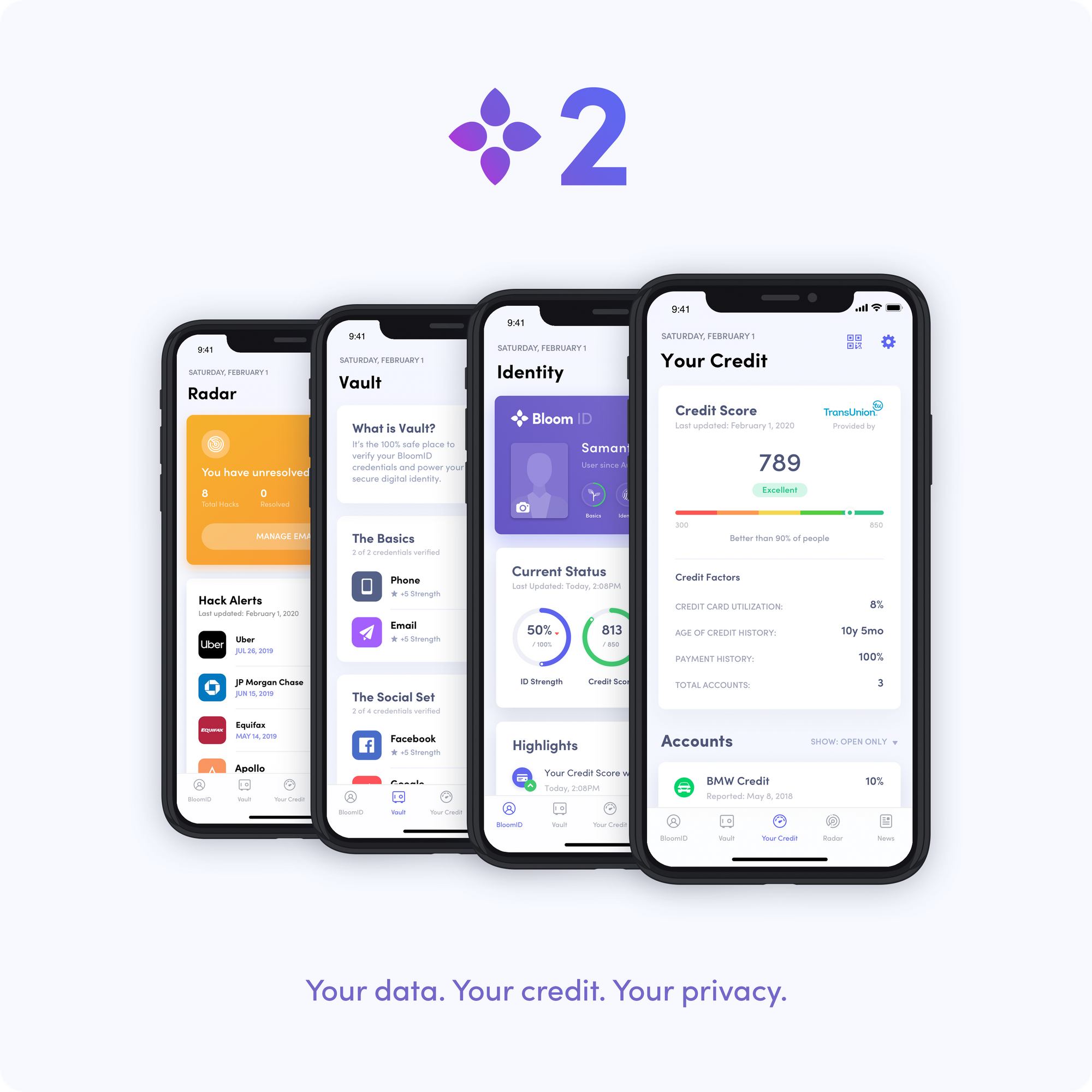 Credit impacts all of us. In countries rich and poor, access to credit is a fundamental cornerstone of social mobility. No matter your age, gender, language or nation, credit is the key driving force to boosting prosperity. It is the gateway to financial inclusion and ultimately financial freedom.
Credit reports and scores are a key component of your identity. Knowing where your credit stands can help you make informed decisions when applying for a credit card, buying a home, or as you work to reach financial independence. Monitoring your credit can also help you quickly spot any signs of identity theft and is the first step toward improving your score so that you can get access to credit when you need it.
Quickly check your credit score and monitor your credit without exposing your data, all for free.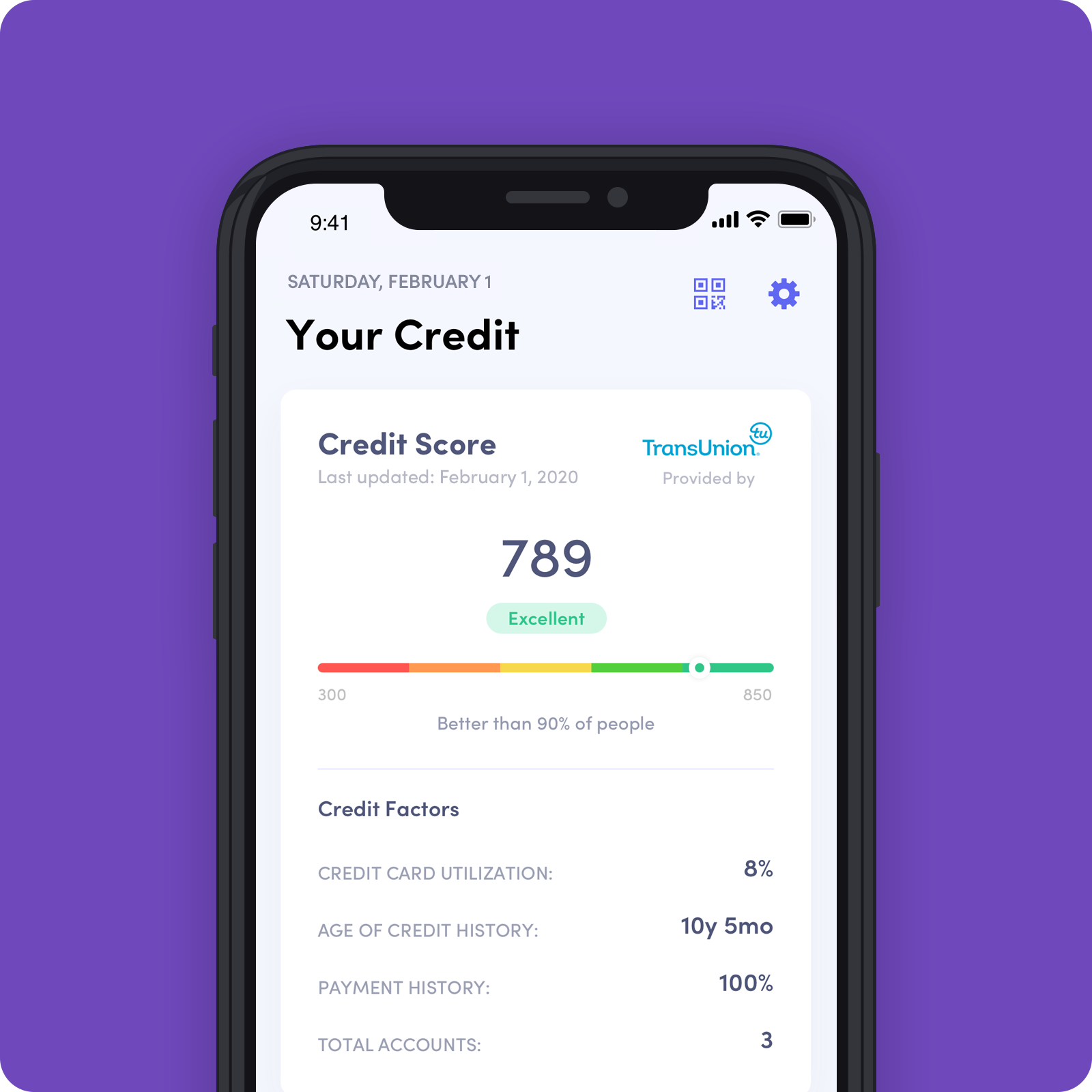 Getting started with credit monitoring is easy. If you are new to Bloom, download the Bloom mobile app on iOS or Android and follow the sign up instructions to create a BloomID and sign-up for credit monitoring. If you already have a BloomID, follow the steps below.
Open the Bloom mobile app
Tap on the Your Credit tab at the bottom of the screen
Tap on the Get Started button
Choose your country (credit monitoring is currently only available for US users)
You'll need to verify your identity to get your credit score. Follow the instructions to securely verify your information. You may need to answer a series of questions from TransUnion in order to verify your identity.
See your score!
Credit scores update once a month. If you have a credit freeze on your TransUnion report, you'll see a notification near the top of the screen.
Credit monitoring is 100% free and Bloom will never sell your data. You decide who to share your credit score with and when.
Build a Smart Identity with BloomID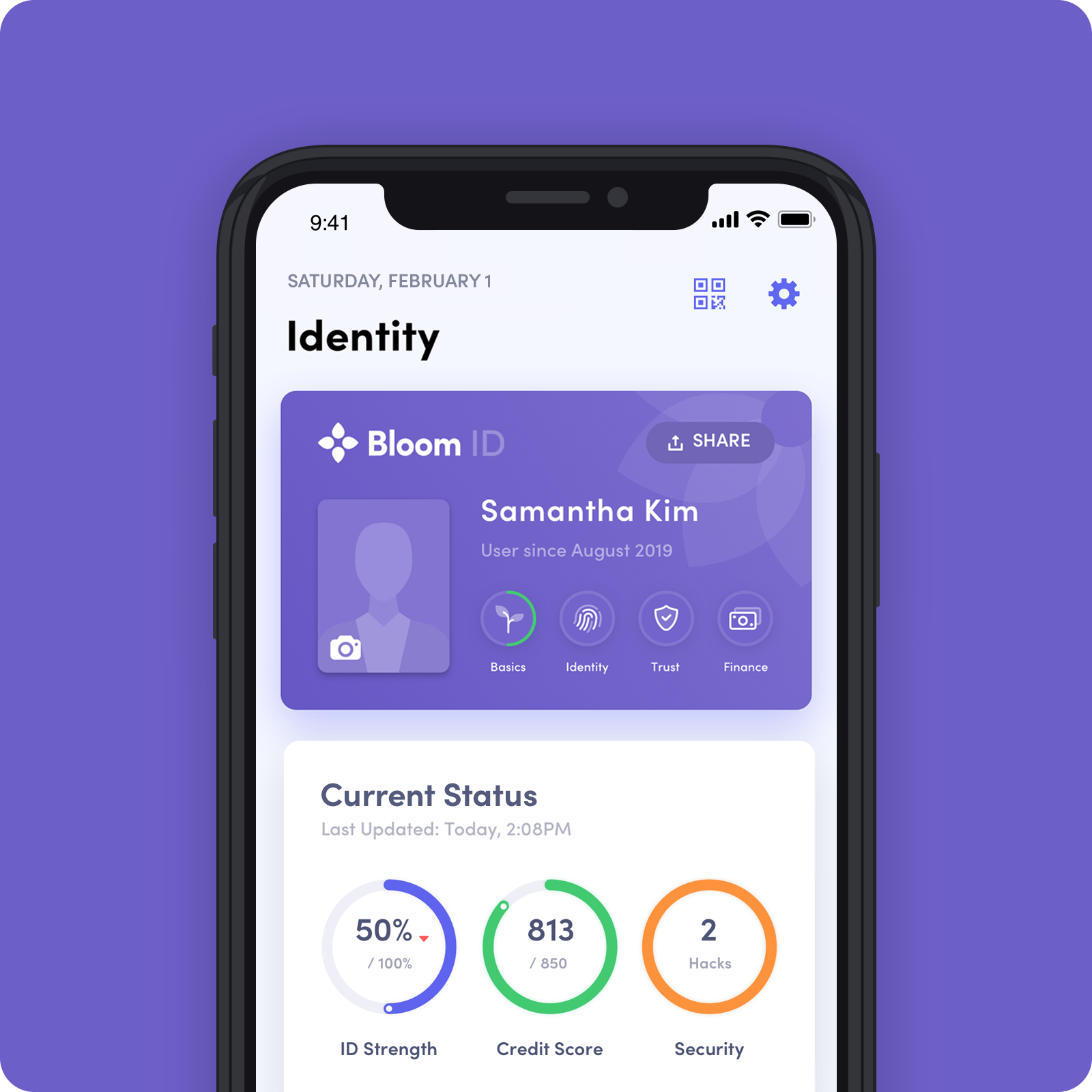 Bloom enables you to create a secure identity where you are the owner of your own information. Traditional identity solutions that rely on centralized data storage of information are highly vulnerable to attacks and data breaches. Bloom leverages the power of blockchain to create a fully decentralized digital identity system.
BloomID is a reusable, cryptographically secure identity that reduces your risk of identity theft due to data breaches.
When you open the Bloom mobile app, you will now see an updated Identity page. This is the command center for your secure digital identity. You can now:
Manage your smart identity
Set an identity card profile photo
View the current status of your ID Strength, Credit Score, and Identity Security
Check new Highlights and your To Do List
With BloomID, you can securely share your verified data with apps, websites, lenders, and other third-parties by quickly scanning a Bloom-enabled QR code with the mobile app or clicking on a Bloom share button.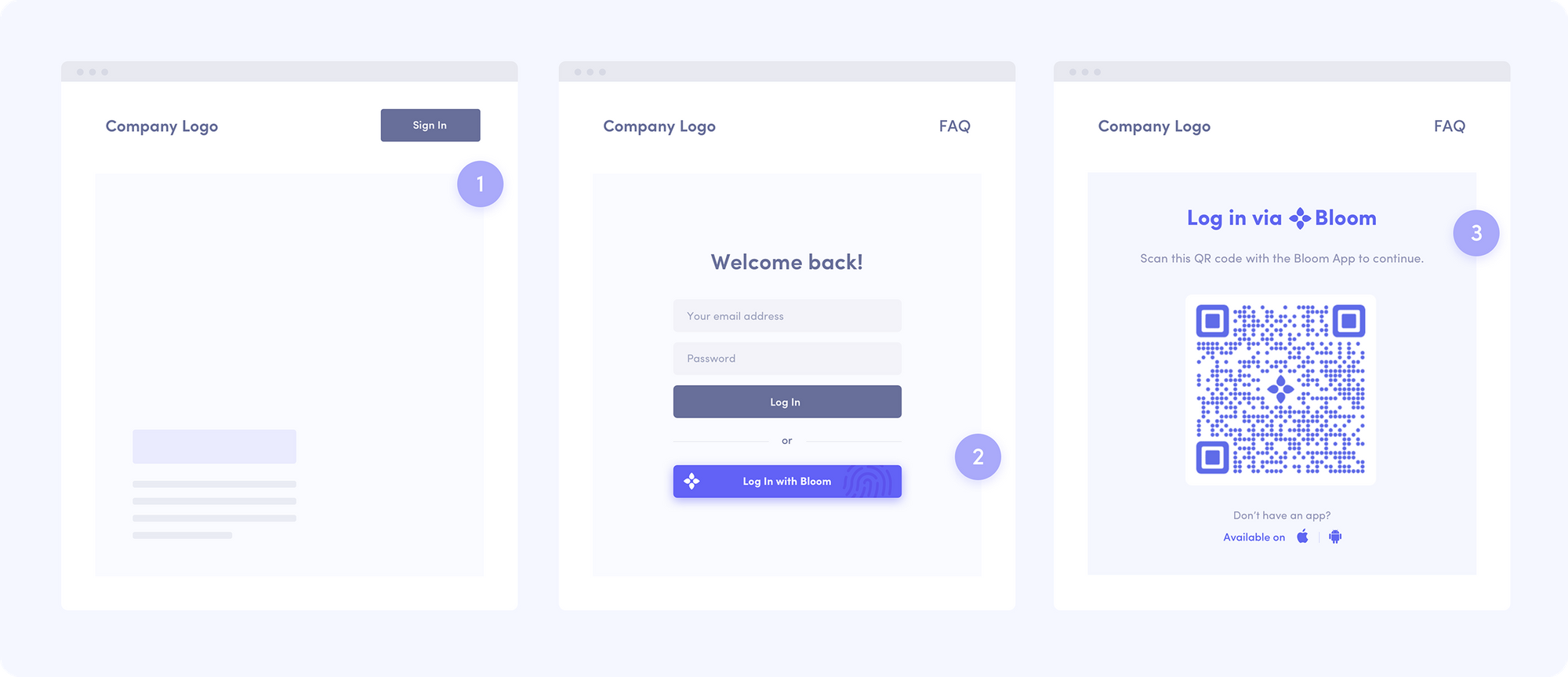 BloomID also eliminates the need for usernames and passwords for account sign-up and log in. You can simply scan a QR code or click Log In with Bloom to securely access apps and websites. Log In with Bloom helps mitigate fraud and prevents you from falling victim to credential stuffing attacks.
Look for the Bloom QR code or button on websites and apps to login with your BloomID.
To learn more about BloomID, check out our full guide here.
Secure Your Data with Vault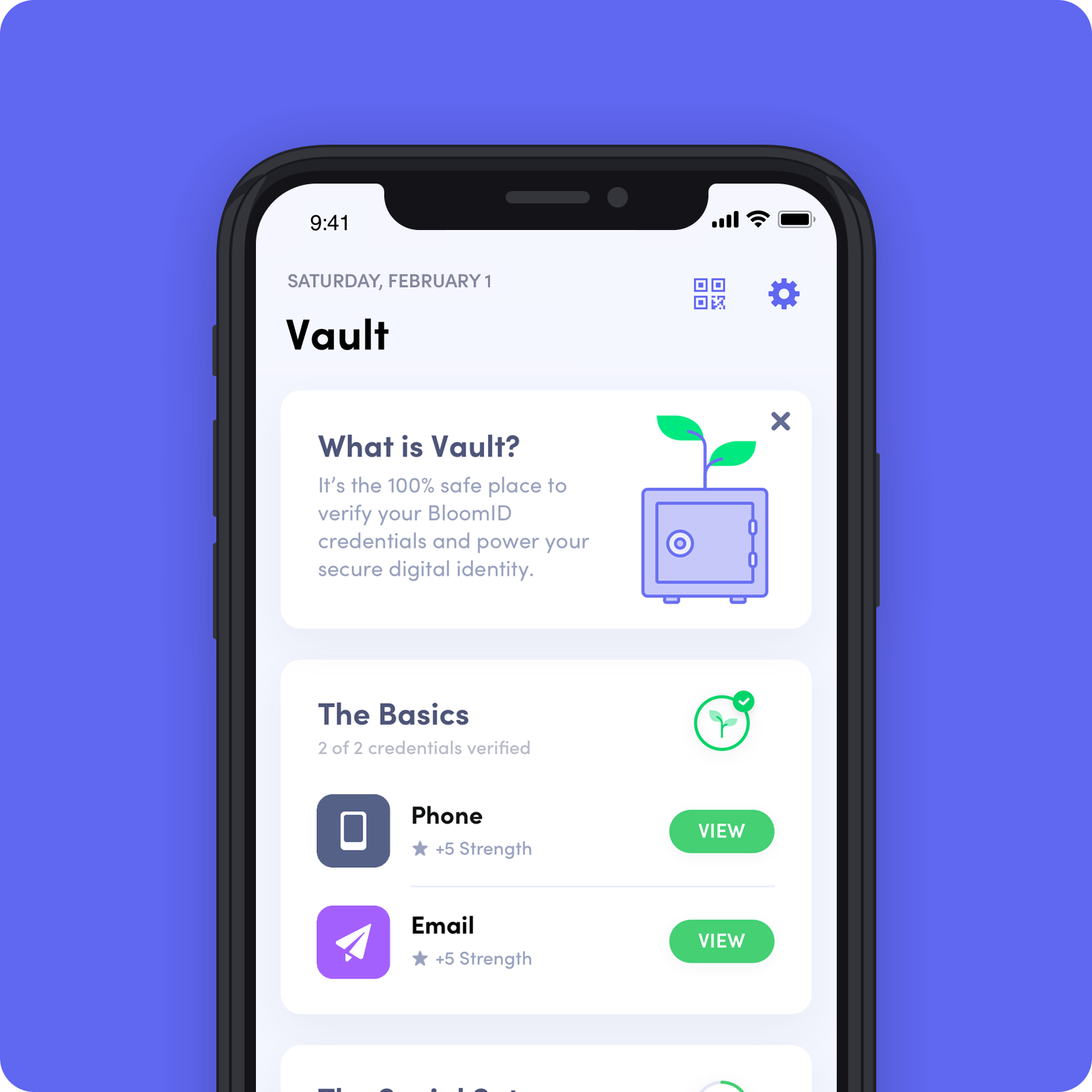 All of your identity verifications now live in Bloom Vault. Vault is the 100% safe place to verify your BloomID credentials and power your secure digital identity.
When building your BloomID, you can securely verify your personal information, such as your name, phone number, email address, and social media profiles, as well as financial information, such as utility bill payments, income, assets, and bank statements, with trusted data attesters.
With Bloom 2, you can now:
View verified credentials
Verify multiple phone numbers
Verify multiple email addresses
When verifying your information, you choose only the data that you want to include. Once verified, only you can access the data and only you control who the data is shared with.
Check the Bloom mobile app regularly, we are adding new credentials all the time! You can strengthen your BloomID by verifying additional credentials in Vault as they become available.
Protect Your Identity with Radar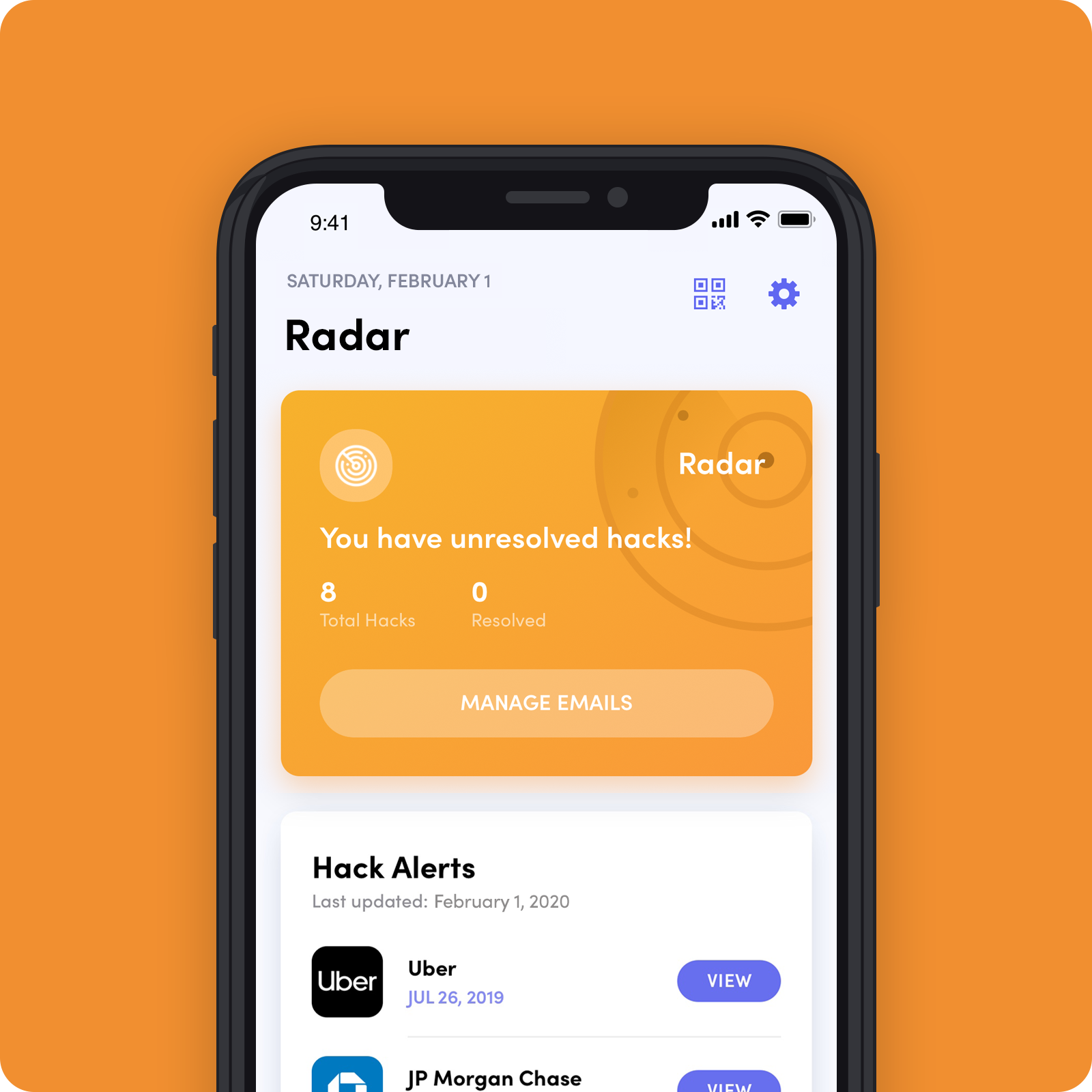 With data breaches running rampant, knowing when and what information has been exposed in a breach can help you take steps to keep your data and accounts safe.
Radar makes it easier than ever to monitor whether your information has been compromised or accounts put at risk to help you protect your identity.
We've added some great new features to Radar. Not only can you get alerts when your information has been found in a breach, but you also get personalized actions for each data breach you've been affected by, along with step-by-step instructions on how to complete them.
Radar recommends actions based on the information that was exposed in a breach and the risks it poses. You can see the total number of hacks you've been affected by and how many you've resolved from the Radar dashboard, along with a snapshot of your overall security from the Identity dashboard.
You can also now add additional email addresses for Radar to monitor anytime from the Radar dashboard. When you add a new email address to Radar, you will get alerts when that email address is found in new data breaches.
For more information about Radar, check out our full guide here.
Stay Up to Date with News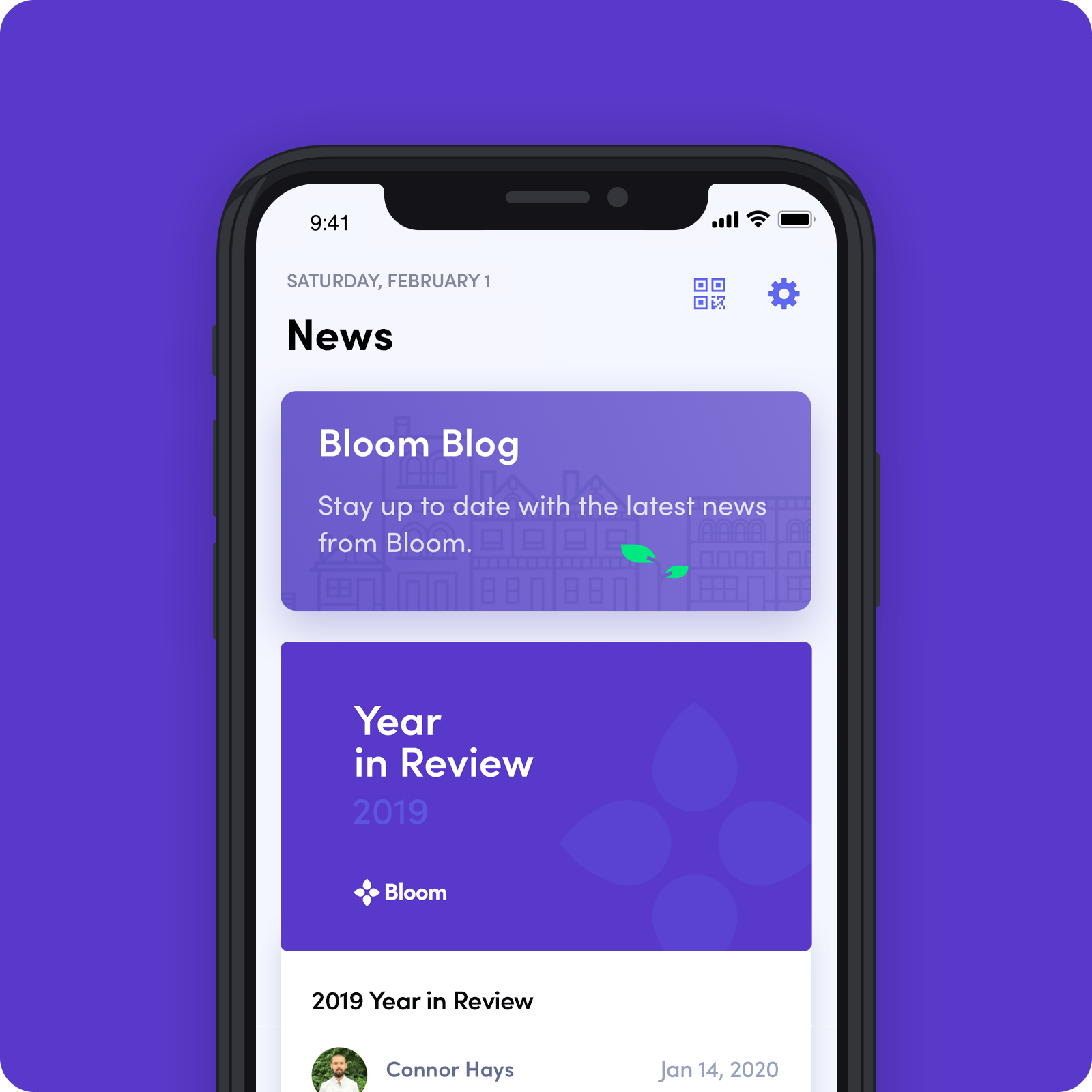 We regularly provide updates on new products, integrations, and much more to help you get the most out of Bloom. Along with news about Bloom, we also publish a weekly update on the latest in data breaches, rigorous and comprehensive research on issues in the credit space, and in-depth security guides to help you safeguard your data and protect yourself online. You can now follow all of this from directly within the app. Just tap on the News tab to stay up to date with the latest news from Bloom.
Bloom is building groundbreaking technology and workflows for the everyday person, providing an innovative alternative to centralized credit bureaus, which have leaked hundreds of millions of records in recent years.
In the modern era of intensifying data breaches, privacy issues, and surveillance concerns, it's essential to have a decentralized alternative to centralized service providers like Equifax, Facebook, and others. Unlike these companies, data security and privacy are at the heart of Bloom's mission.
Join us as we work to build a better future together!
Bloom: Take Control of Your Credit and Identity
We are giving you the tools to take back control of your credit and identity. Say goodbye to data breaches and identity theft. Bloom enables you to own, control, and protect your data using the latest advancements in blockchain technology.
With Bloom:
You own your data
You control access to your data
You decide when you share your data and who you share it with
It's time to take back control of your data and unlock the power of a secure, reusable identity today. Download the Bloom mobile app to build a cryptographically secure identity, monitor your credit, and get free data breach alerts!