BloomID: A Guide to Your Secure Identity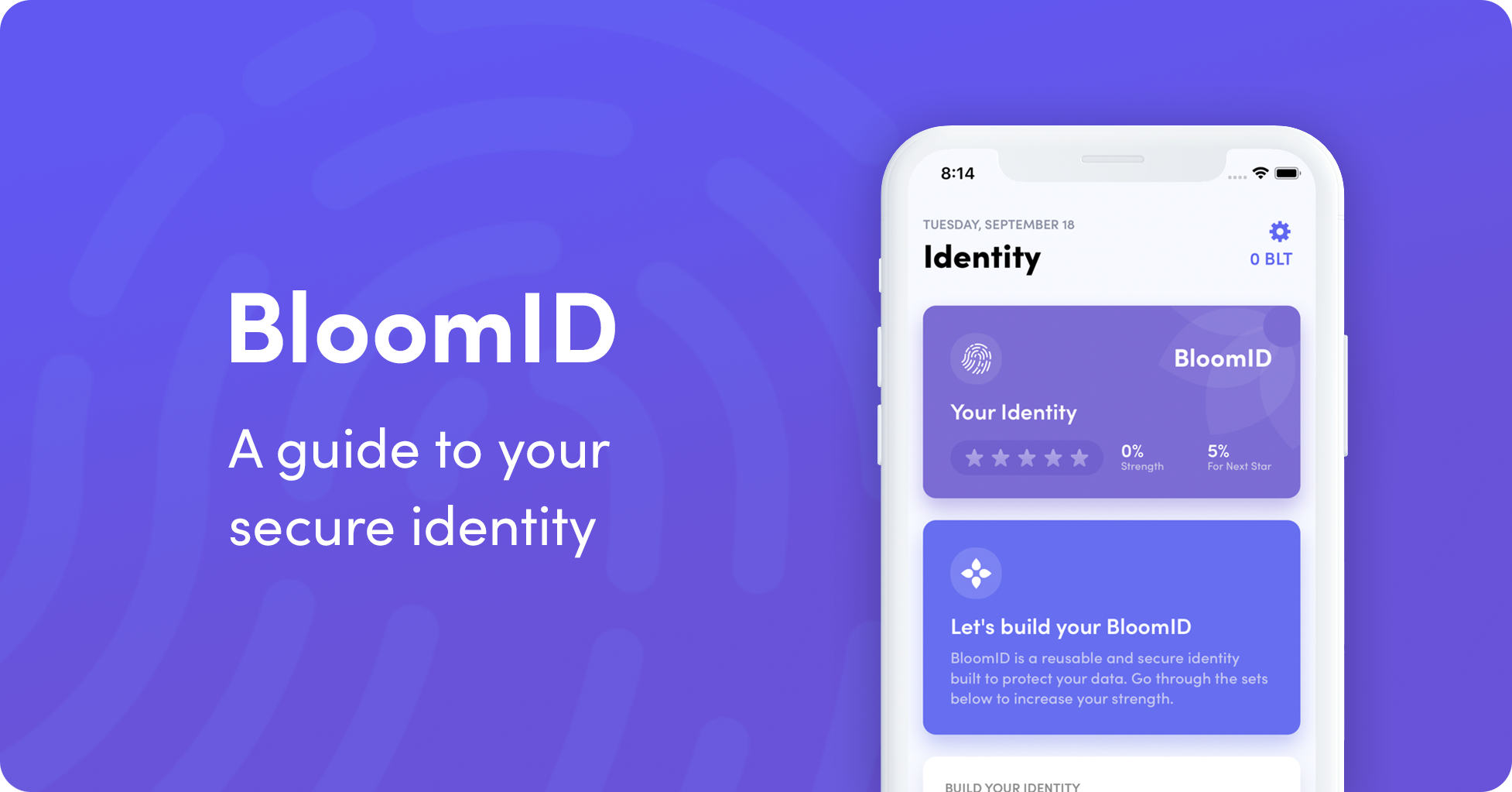 With data breaches and identity theft on the rise, corporations failing to properly secure and protect your data, and exploitative data practices running rampant, it is time to take back control of your data and identity.
Bloom enables you to create a secure identity where you are the owner of your own information. Traditional identity solutions that rely on centralized data storage of information are highly vulnerable to attacks and data breaches. Bloom leverages the power of blockchain to create a fully decentralized digital identity system.
BloomID is a reusable, cryptographically secure identity that reduces your risk of identity theft due to data breaches.
With BloomID:
You own your data
You control access to your data
You decide when you share your data and who you share it with
Identity is fundamental to participating in the global economy of the 21st century. Your BloomID is your global passport to credit services, secure data sharing, account sign-up and log in, and much more!
If you haven't already, download the Bloom mobile app on iOS or Android to create a new BloomID. Setting up a BloomID is quick and easy, it only takes a couple of minutes!
Below, learn how to build your BloomID to strengthen your digital identity and use BloomID to verify your personal information, log in to sites and apps, securely share your data and apply for credit in seconds.
Build Your Identity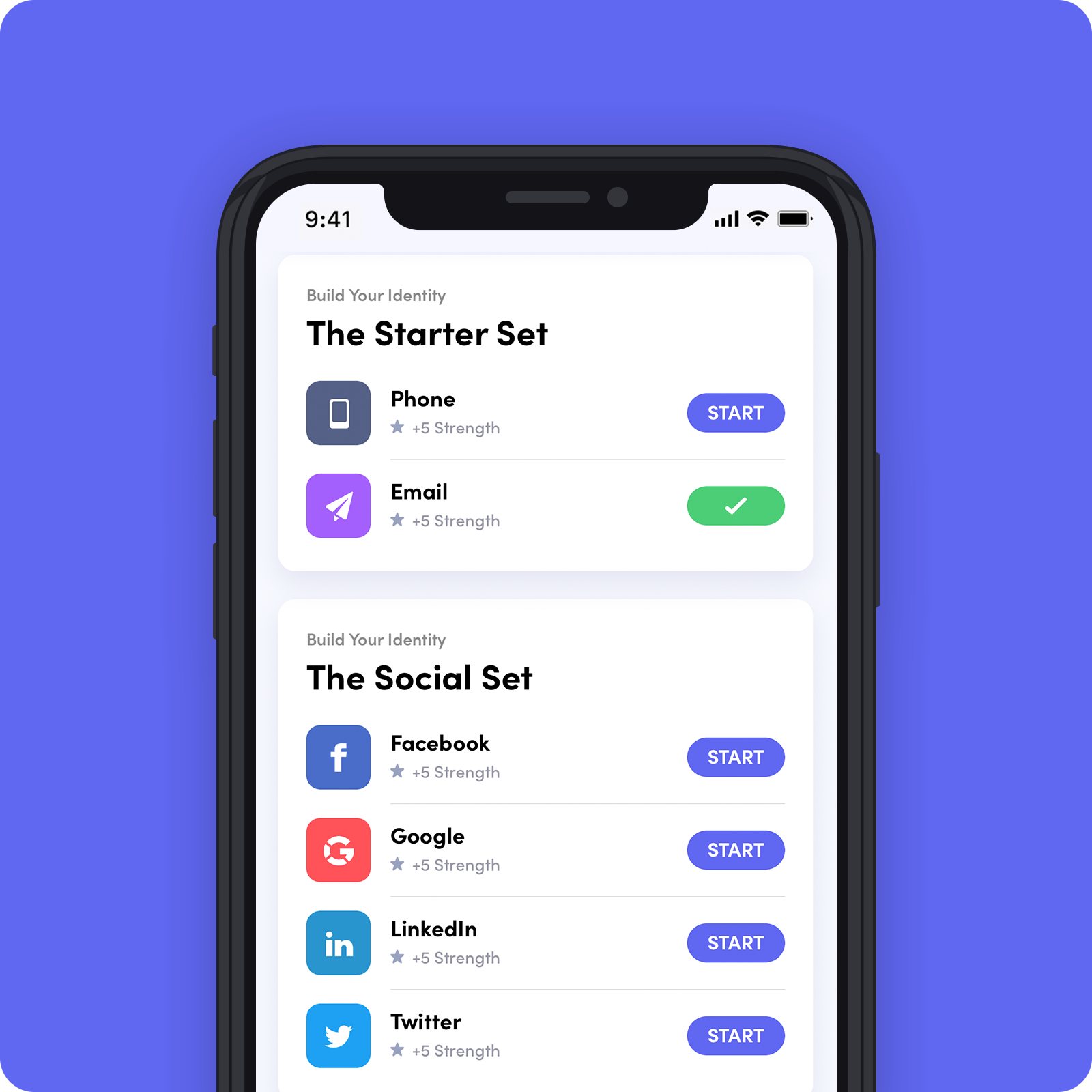 Once you have a BloomID, you can build the strength of your BloomID by verifying pieces of your identity. You will get greater access to services and credit as you increase the strength of your identity.
When building your BloomID, you can securely verify your personal information, such as your name, phone number, email address, and social media profiles, as well as financial information, such as utility bill payments, income, assets, and bank statements, with trusted data attesters.
When verifying your information, you choose only the data that you want to include. Our attesters then verify the authenticity of your information. Once verified, only you can access the data and only you control who the data is shared with.
For step-by-step instructions, check out our video guide to verifying social network account ownership.
You can complete the following attestations directly from the Bloom app:
The Starter Set
Phone (+5 Strength): Verify and prove ownership of your phone number
Email (+5 Strength): Verify and prove ownership of your email address
The Social Set
Facebook (+5 Strength): Prove ownership of your Facebook account
Google (+5 Strength): Prove ownership of your Google account
LinkedIn (+5 Strength): Prove ownership of your LinkedIn account
The Trust Set
ID Document (+20 Strength): Verify an identity document such as your driver's license or passport
Sanction Screen (+10 Strength): Screen against sanctions lists
PEP Screen (+10 Strength): Screen against politically exposed persons lists
The Finance Set
Income Verification (+15 Strength) (Web Only): Verify your income so that you can quickly apply for credit
Assets Verification (+15 Strength) (Web Only): Verify your assets by connecting your investment accounts
Bank Statements (Coming Soon): Connect your bank account so that you can quickly share verified bank statements
Address (+5 Strength) (Web Only): Verify your address
Utility Statements (+10 Strength) (Web Only): Connect and verify your utility statements to help show your creditworthiness
Check the Bloom mobile app regularly, we are adding new verifications all the time! You can strengthen your BloomID by completing additional verifications as they become available.
Securely Share Your Data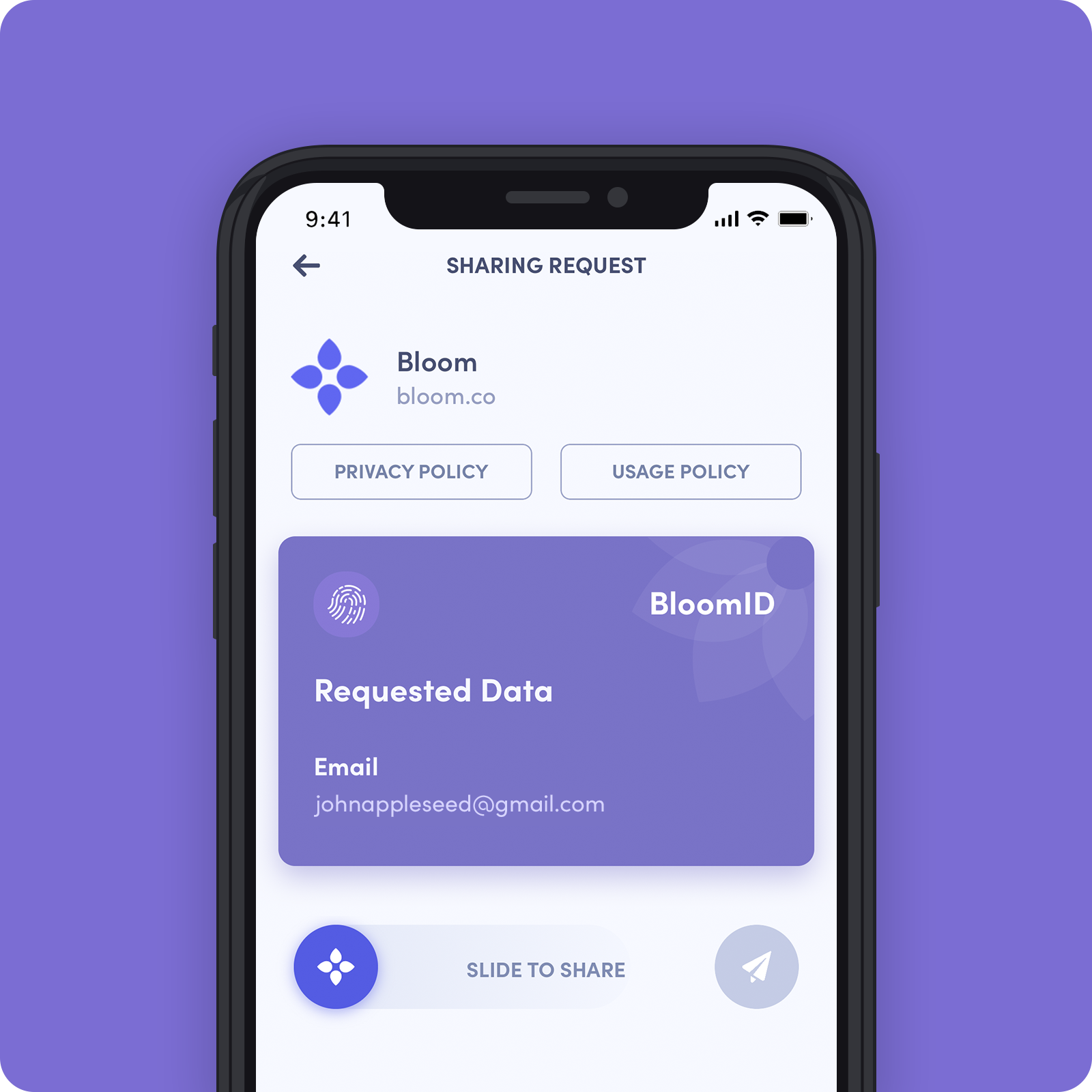 With BloomID, you can securely share your verified data with apps, websites, lenders, and other third-parties by quickly scanning a QR code from the "Scan" tab of the mobile app or clicking on a Bloom share button.
Whenever you see a QR code with the Bloom logo or one of the Bloom sharing buttons (pictured below), you will be able to securely share your data.

From the share request screen you can see exactly who you are sharing your data with, their privacy and usage policies, and the data that is being shared. After reviewing the details, you can share your data by simply sliding to the right.
Try it out. Open the Bloom mobile app, tap on the "Scan" tab at the bottom of the screen, and align the QR code below in the box on your phone to test out secure data sharing...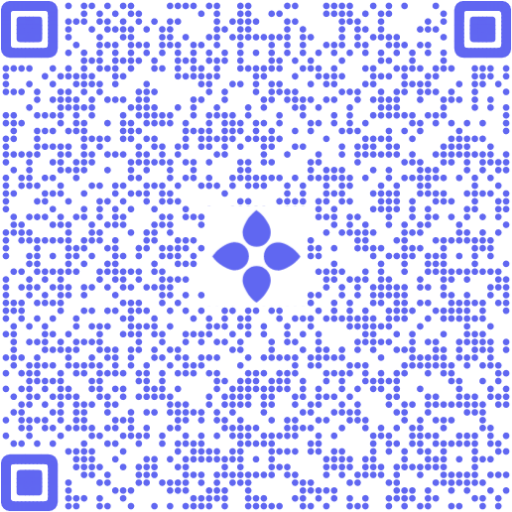 Sharing your verified data safely and securely is as simple as scan and swipe!
Log In with BloomID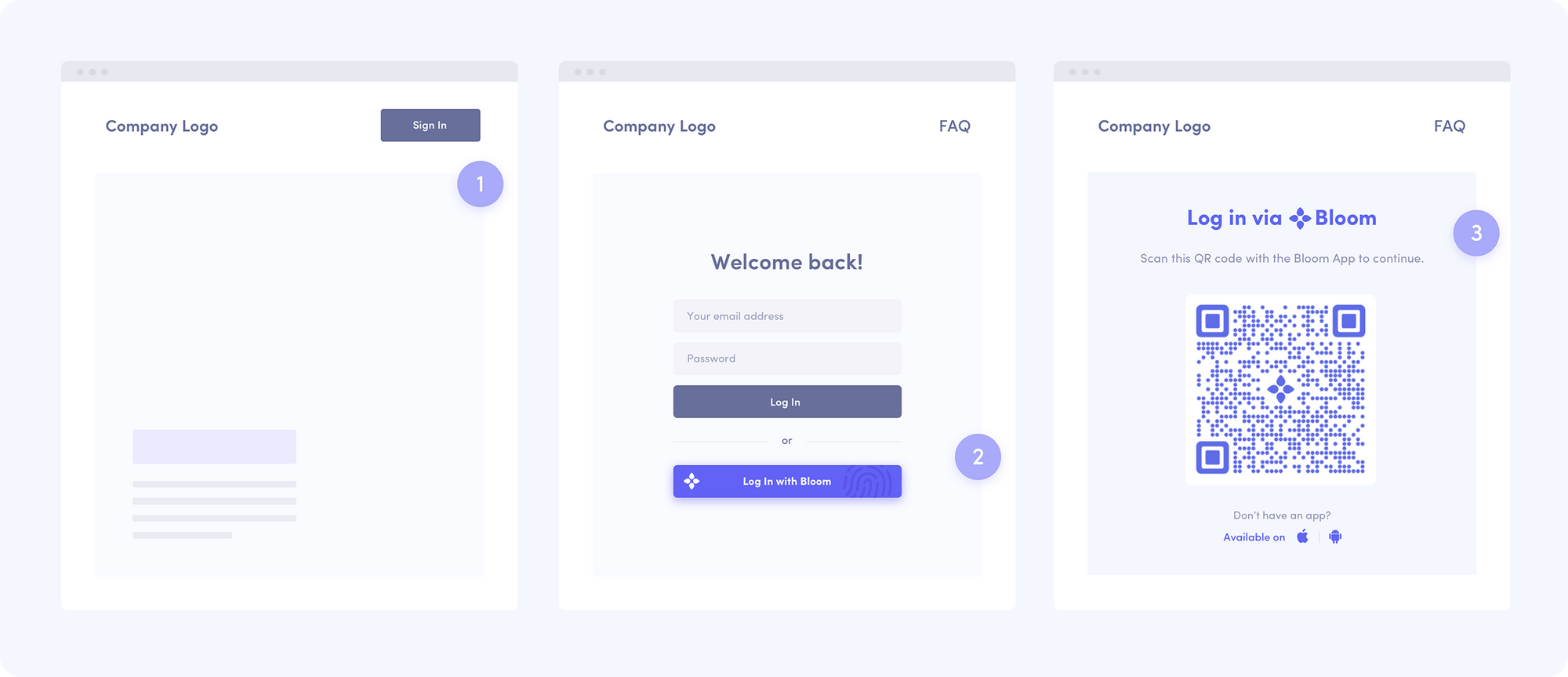 With hundreds of online credentials to juggle, passwords have become a major pain to remember and keep track of. On top of that, you often have to verify your email address and personal information every single time you sign-up for a new account online.
No more. BloomID eliminates the need for usernames and passwords for account sign-up and log in. You can simply scan a QR code or click Log In with Bloom to securely access apps and websites. Log In with Bloom helps mitigate fraud and prevents you from falling victim to credential stuffing attacks.

Look for the Bloom QR code or button on websites and apps to login with your BloomID.
Verify Your Identity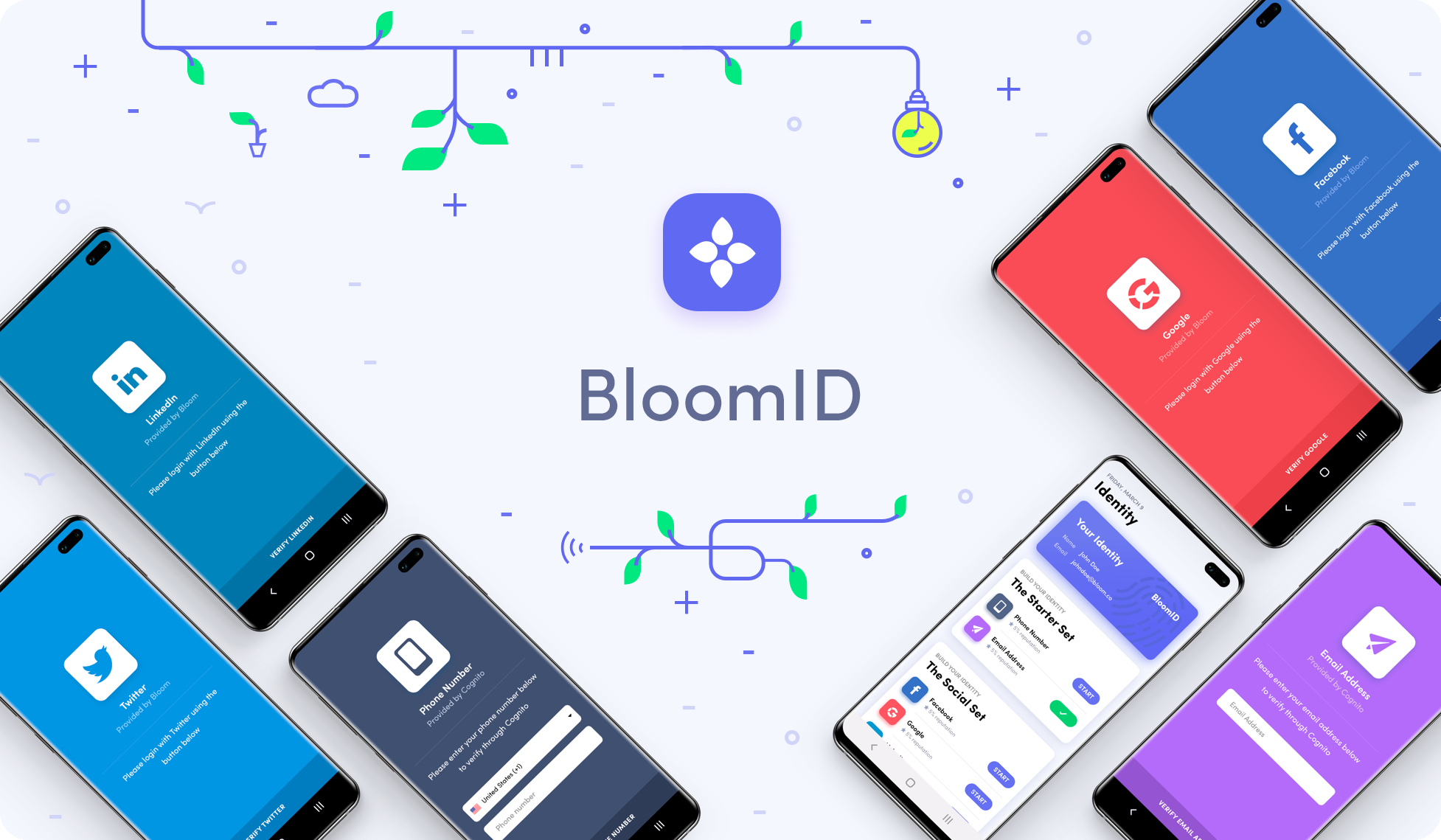 Many companies require you to verify your identity in order to access their services, whether that be for Know Your Customer (KYC) checks, to make sure you are old enough, or just simply to make sure you are who you say you are. BloomID makes identity verification a breeze.
Once you have built your BloomID by completing verifications from the mobile app, you can reuse that verified data when companies need to verify your identity.
And instead of having to share all of your personal information, you can minimize the data you share by selectively disclosing only the information you wish to. You can use your BloomID to verify your age, name, income, and more, without exposing all of your underlying information.

Try it out. Verify your identity on BloomID-enabled sites.
One-Click Apply for Credit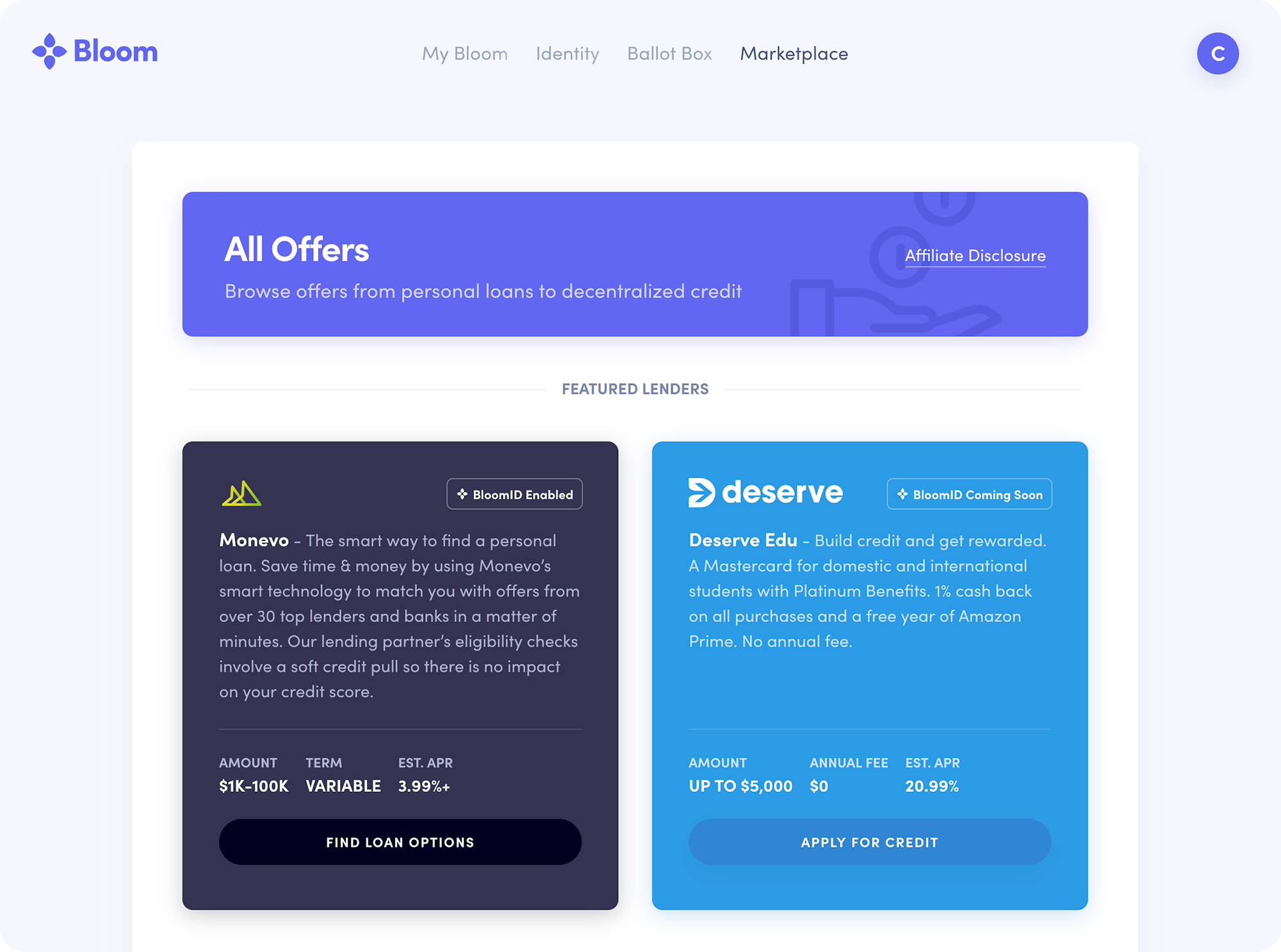 With your BloomID, you can securely apply for credit with your verified identity and financial data. Gone are the days of having to fill out long and cumbersome applications every single time you apply for a loan!
From the web app, you can browse credit offers in the Bloom Marketplace and securely one-click apply for credit, including everything from personal loans to decentralized credit.
Bloom Marketplace makes finding and applying for credit easier than ever. Use your BloomID to securely share your verified personal data directly with lenders. Your BloomID empowers you to apply for credit with the peace of mind of blockchain security.
Check out our video guide for step-by-step instructions on how to one-click apply for a loan with your BloomID in the marketplace.
Try it out. Visit the Bloom Marketplace and apply for a loan from Monevo in seconds!
Frequently Asked Questions
1. How do I create a BloomID?
You can create a BloomID by downloading the Bloom mobile app from the Apple App Store or the Google Play Store. The app will walk you through the setup process. You will be asked to verify your email address in order to complete sign-up. To do so, open your email for the address you provided in the app and click on the button in the verification email you received from Bloom. You are now ready to start building your identity!
2. How do I login to the Bloom web app?
To log in to the Bloom web app, you will first need to create a BloomID on mobile. Once you have the mobile app setup, visit https://bloom.co/app/signin on your desktop or laptop computer. Scan the QR code using the Bloom mobile app. Once you have scanned the QR code, slide to to approve the request. You can now complete additional attestations from the web app and browse the Bloom Marketplace!
3. How do I share my data?
To share your data, you will need to scan a BloomID-enabled QR code from the mobile app. To do this, open the the mobile app and click on the "Scan" tab. A QR code reader will pop-up. Now, scan the QR code by aligning it in the middle of the box. Once the QR code has been successfully scanned, you will see a "Sharing Request" screen that will allow you to slide to share.
4. I'm having trouble verifying part of my identity, how do I get in contact with support?
Email us at support@bloom.co and we will get back to you right away.
More Resources
Bloom: Take Back Control of Your Data
Decentralized identity is the foundation on which Bloom is building a fair, inclusive, and secure credit scoring system.
At Bloom, we are giving you the tools to take back control of your data. No more centralized data storage. No more selling off your data to the highest bidder. No more risking identity theft. Bloom enables you to own, control, and protect your data using the latest advancements in blockchain technology.
It's time to take back control of your data and unlock the power of a secure, reusable identity today. Download the Bloom mobile app to build a cryptographically secure identity and get free data breach alerts with Radar!