Built on Bloom: Wel-fair Reduces Wealth Inequality with BloomID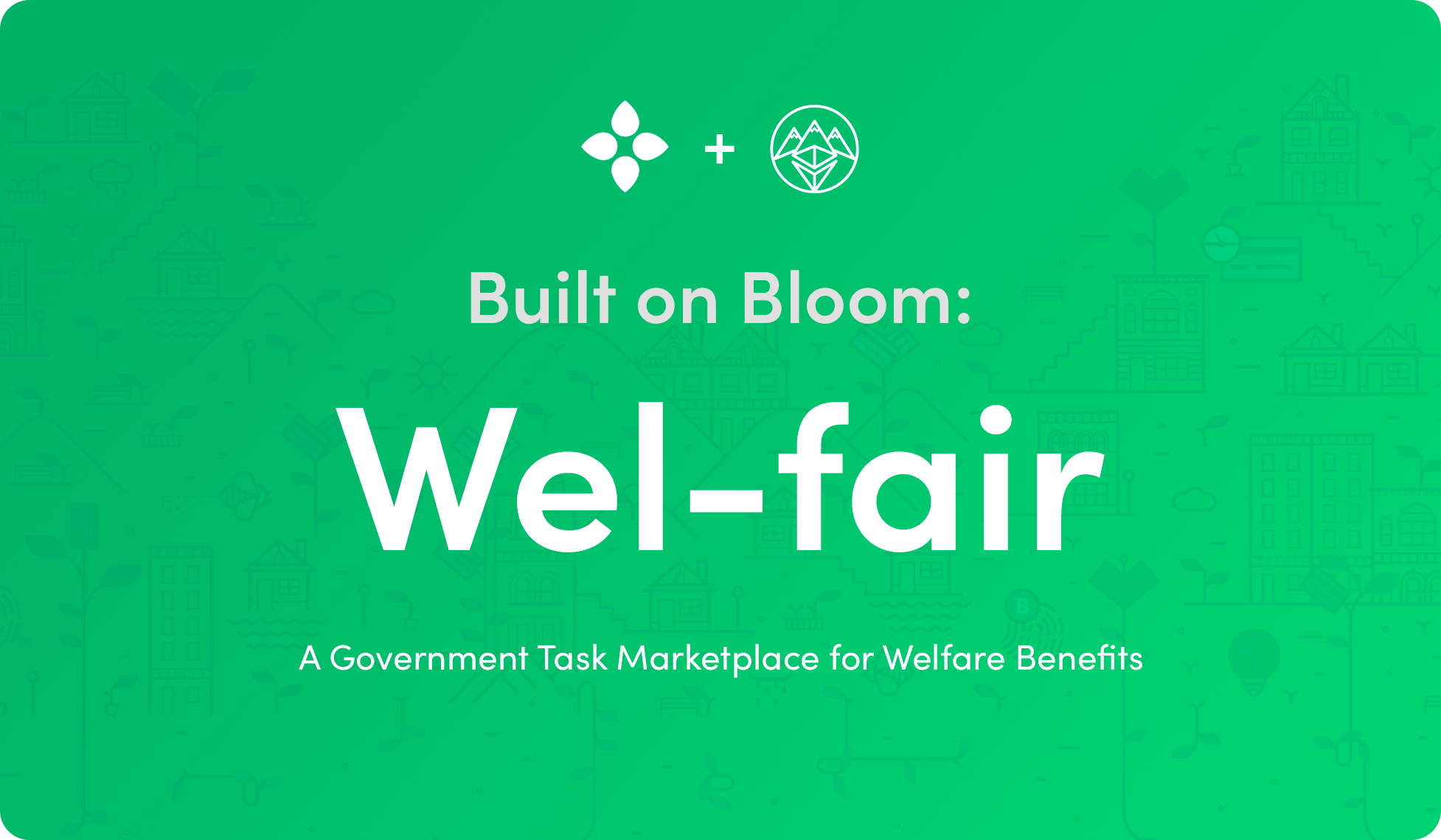 ETHDenver was a smashing success, with multiple dapps being built on Bloom. Along with meeting wonderful teams building on the protocol, Bloom's Jesse Leimgruber and Isaac Patka presented on the main stage to a warm reception with significant developer interest.
Bloom continues to be the go-to protocol for all kinds of innovative uses for dapps, from identity, to lending, to digital commerce. We had an incredible time participating in the #BUIDLATHON and awarded $2,500 in total prizes to the best projects integrating Bloom for identity and lending. Here is our first ETHDenver winner, Wel-fair, a government task marketplace powered by BloomID.
Wel-fair Eliminates Welfare Fraud and Reduces Wealth Inequality with BloomID
By leveraging a user's BloomID, Wel-fair can verify a user's financial status and eligibility to receive government benefits, and additionally offer them services and jobs to help address rapidly growing wealth inequality. Wel-fair was a Top 5 winner at ETHDenver, and demoed their project with Bloom login live to the closing ceremonies audience.
Overview
Project: Wel-fair
Description: Government Task Marketplace to "Top-Up" Welfare Benefits
Team Members: Bernard Lin, Sean Oh, Siva Kannan, and Ling Zhong
Code: Github Repo
Project Overview: Kauri Page
How Wel-fair Works
Wel-fair provides a marketplace where underprivileged citizens can fulfill government specified bounties and get rewarded for their contributions in the form of welfare benefits. By redirecting part of its local community service budget, the government can incentivize lower-income communities to fulfill tasks such as park services, construction and security. Onboarding citizens onto a BloomID will also cut down high recurring admin cost in eligibility certification and issuance.
You can see the repo here: https://github.com/oasisethdenver2019/Wel-Fair
Build on Bloom
Bloom enables a decentralized infrastructure for identity and lending which puts security and privacy first, reducing the risk of data breaches and mitigating the risk of identity theft.
Quickly and easily start developing on top of the Bloom Protocol with Bloom Starter. Getting started with integrating a third-party ecosystem can seem daunting. Bloom Starter aims to ease this pain by providing simple starting points for integrating Bloom into your app.
For a full step-by-step guide on getting Bloom Starter up and running, check out our Bloom workshop video or our blog post.
For more documentation see our: