Built on Bloom: UpTown Empowers Residents Affected by Rising Living Costs with BloomID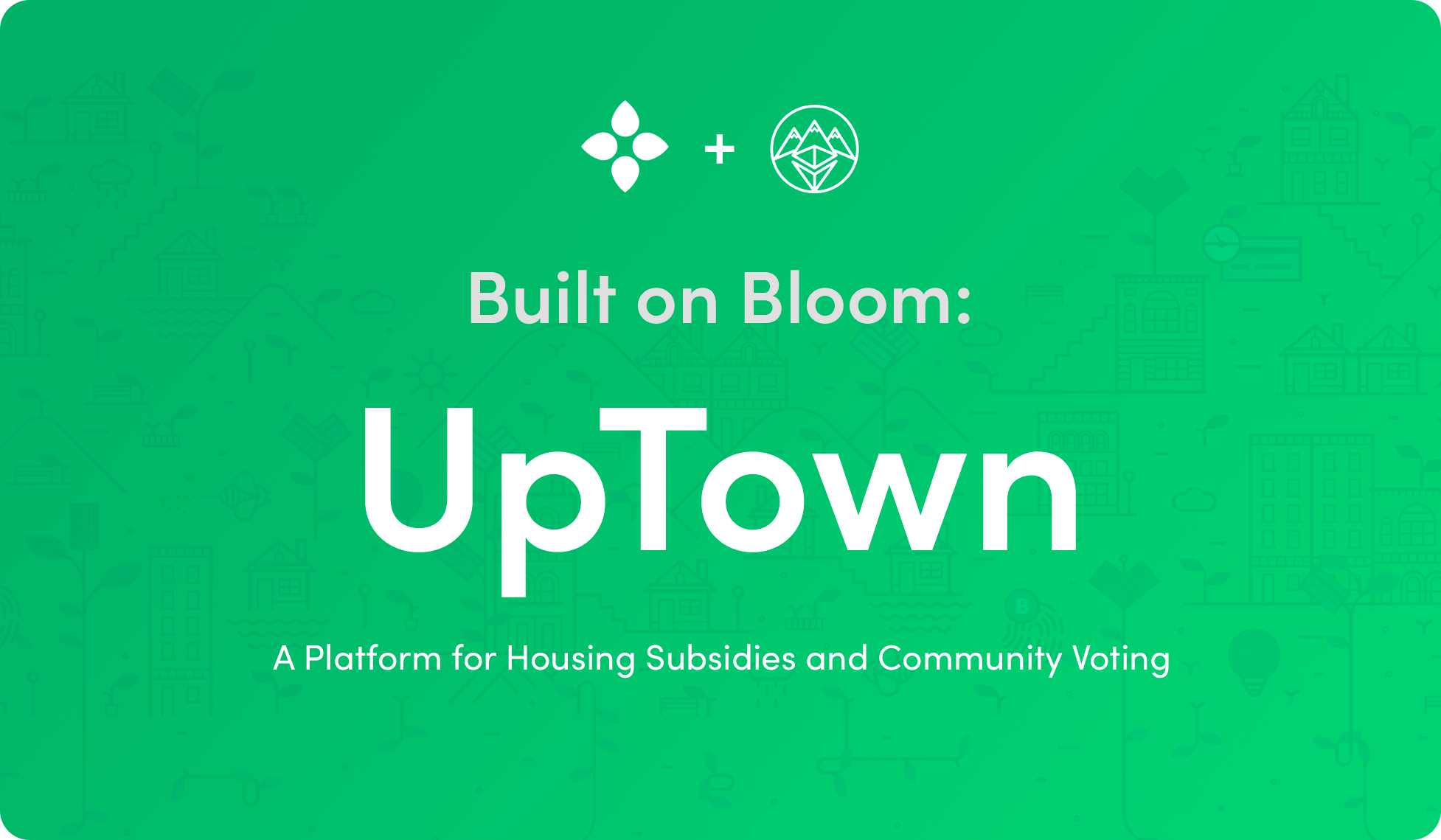 Bloom continues to be the go-to protocol for all kinds of innovative uses for dapps, from identity, to lending, to digital commerce. We had an incredible time participating in the ETHDenver #BUIDLATHON and awarded $2,500 in total prizes to the best projects integrating Bloom for identity and lending.
Here is our second ETHDenver winner, UpTown, a platform for community voting and efficient deployment of housing subsidies to combat rapidly rising living costs.
UpTown Empowers Residents Affected by Rising Living Costs with BloomID Enabled Citizens
Burdened with rising housing costs, black box decisions made by regulators, and unclear democratic actions, local citizens are deeply impacted and demand a voice. Legislators spend billions on administrative costs, while residents continue to feel left in the dark about decision-making processes.
Through Bloom protocol enabled voting and BloomID administrative onboarding, towns and cities can solve major issues. Regulators can hear directly from the people, and users will have the ability to seamlessly onboard and vote with their BloomID. This reduces administrative baggage since residents' information is valid and verified, while empowering them to have a voice and impact on the democratic process.
Overview
Project: UpTown
Description: Empowering residents affected by rapidly rising living costs through community voting and efficient deployment of affordable housing funds.
Team Members: Alan Wang (IoT Frontend Engineer), Darren Coulter (Strategic Designer), Kishore Bhatia (Blockchain Engineer), and Sally Chung (Experience Designer)
Code: Github Repo
Project Overview: Kauri Page

How UpTown Works
In the face of rapid economic and real estate development, the city of Denver has identified 92,000 cost burdened households (31%) and 42,000 that earn less than 30% of average median income, the most in need of affordable housing funds. However, current affordable housing fund deployments only stand to benefit just under 8,000 of those in need.
Powered by Bloom's blockchain enabled digital identity, UpTown allows city residents to register and vote on real estate issues most affecting their circumstance as well as assessing registries' qualification for affordable housing based on criteria such as verified household income and residency tenure.
Using smart contracts on Ethereum and sovereign digital BloomID, UpTown will provide the infrastructure to efficiently deploy affordable housing funds through weighted subsidies in the form of UPT (ERC 223 tokens) with the potential to reach a far greater number of those in need than the current 8,000 in the case of Denver.
You can see the repo here: https://github.com/oasisethdenver2019/UpTown
Build on Bloom
Bloom enables a decentralized infrastructure for identity and lending which puts security and privacy first, reducing the risk of data breaches and mitigating the risk of identity theft.
Quickly and easily start developing on top of the Bloom Protocol with Bloom Starter. Getting started with integrating a third-party ecosystem can seem daunting. Bloom Starter aims to ease this pain by providing simple starting points for integrating Bloom into your app.
For a full step-by-step guide on getting Bloom Starter up and running, check out our Bloom workshop video or our blog post.
For more documentation see our: