Bloom Partnership: TypingID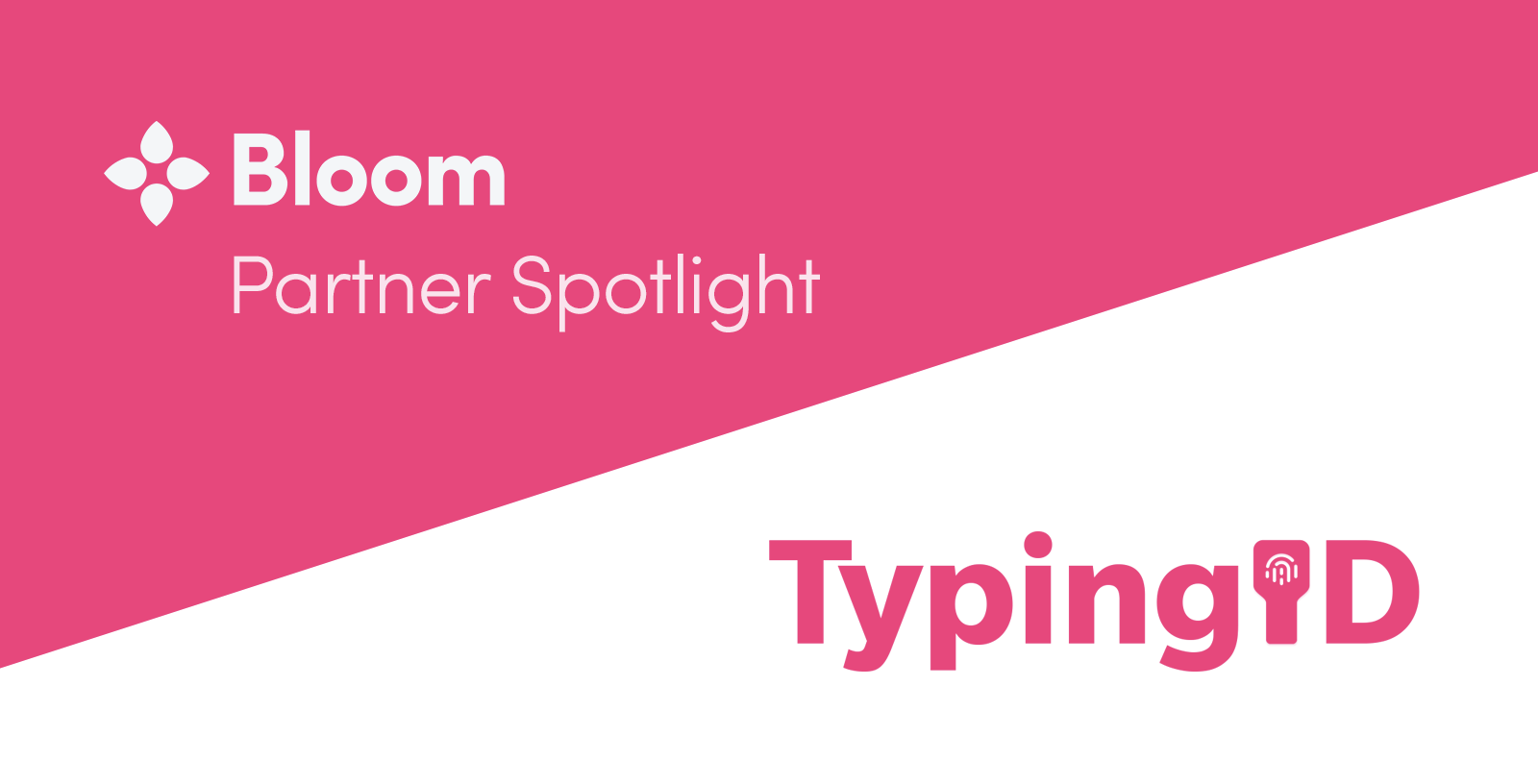 We are excited to announce our partnership with TypingID. TypingID is a fast and accurate user verification system that identifies users based on mobile typing. We will be using TypingID to check whether the user using your Bloom App is the same person who originally established the federated identity.
A new type of mobile security
TypingID is a user verification system developed by Onenigma, a US research and development company serving professional enterprises across the globe. Supporting well-known consumer brands like Airbnb and Udacity, Onenigma helps achieve business objectives with emerging technology. Onenigma's specialty is building custom and complex data science and machine learning systems, deployed in the cloud or on premise. Using the latest mobile, web, AI, and cloud infrastructure technologies Onenigma develops easy-to-use, engaging, and cutting-edge experiences in their products.
In the US alone, security breaches are responsible for billions in financial losses. In 2016, over 3,000 security breaches were reported, with over 2.2 billion credentials illegally stolen. As more and more users prefer to interface quickly and seamlessly online with their favorite websites and providers, we are quickly seeing online fraud become the epicenter of these security breaches. There exist incredibly accurate identification systems such as fingerprints and iris scanners. While you may see them in places like airports, to date, they are still impractical for most applications and hard to use cross-device.
Onenigma created TypingID to bring heightened security measures to online portals by identifying users based on their mobile typing, while still providing a great user experience. This means that not only can TypingID verify you are who you say you are, but also detect patterns between repeat fraudsters and recognize them before a critical breach.
How does TypingID work?
TypingID is a user verification system that learns to identify users by the way they type on their smartphone. The TypingID model takes into consideration data from multiple sensors, including combinations of force and motion. Through artificial intelligence, TypingID automatically determines the best way to compare a user based on their unique typing behavior.
Since TypingID is contained completely inside a mobile app, the user does not need to install anything else (no custom keyboard needed). Further, TypingID will only collect data from developer-designated text fields ensuring sensitive data is never analyzed.
TypingID will be able to recognize and secure your user profile faster through an easy training system. Simply by typing in a phase twice, with a minimum of 12 characters, the system can start to map your online profile and behavior. The more you use TypingID, the better the system will be able to recognize you.
TypingID will help reduce the chances of duplicate accounts and fraud, and help reduce the time it takes to detect account takeover. With leaked password databases sold on the black market, TypingID ensures another layer of protection for your secure user accounts.
Bloom + TypingID
In addition to using modern security systems, Bloom will take additional measures by implementing TypingID across the Bloom ecosystem. TypingID will be significant for BloomID. In particular, through the Bloom app, users establish their federated identities through verified attestors. Bloom, in conjunction with Onenigma, will be issuing on the Bloom network attestations that the same user who initially signed up for a BloomID continues to be the user who currently is using the BloomID. This will help to further secure the network from attempts at mobile identity theft.
Bloom is committed to establishing a secure, global credit system that reduces the risk of identity theft while maintaining a seamless user experience.
Learn more:
About TypingID: http://typingid.com/
About Bloom: https://hellobloom.io/