Bloom Lending Spotlight: FintruX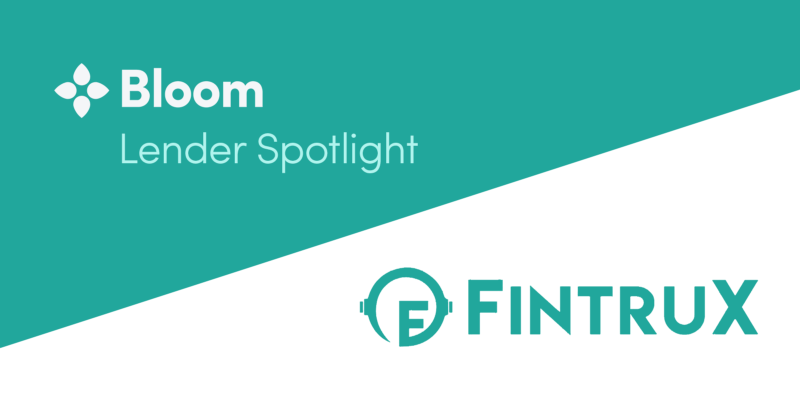 Today, we are excited to announce our partnership with FintruX — a global p2p lending platform where borrowers, lenders, third party guarantors and specialized service agents co-exist to create a more optimal ecosystem for effortless and secure individual financing relationships.
Their decentralized financing platform facilitates the creation and real-time deployment of unique smart contracts on the Ethereum blockchain. This enables instant matching, low fees and immutable loan contracts for a transparent, legally binding and fast financing solution.
Making Unsecure Loans Secure
Their main value proposition resides in their capacity to apply cascading levels of credit enhancements to effectively add security to an unsecured loan. Typically this mechanism is reserved for bulk funding loans of $10 million and higher. However, FintruX now makes this possible on loans of much smaller amounts and this is what sets them apart from the competition. They offer unprecedented security for lenders, while at the same time requiring no collateral from borrowers to qualify for an unsecured loan. These advantages enables FintruX to provide borrowers access to lower interest rates loans.
The FintruX team has over 20 years of experience delivering mission-critical securitization solutions. Their existing system is currently managing several billion dollars for banks and financial institutions.
Credit Scoring with Bloom
The concept of lending on blockchain, naturally opens up the possibility to avoid repayment of the loan since the lender might not have all the necessary details of the borrower to enforce the debt in the borrower's jurisdiction.
Bloom solves this problem with BloomID and BloomIQ. By leveraging these features of their platform, FintruX can bring enforceability, and borrower credit ratings to their ecosystem.
FintruX will update an individual user's BloomID with their payback rate — if an user defaults, their rating will be affected. With FintruX's automated administration platform, Bloom is automatically updated with the results of every loan.
Bloom + FintruX
FintruX is an ambitious project that intends to create an all inclusive global p2p lending ecosystem that is capable of providing financial liquidity to those who need it the most; to small business and startups, and especially aspiring entrepreneurs to get over their cash flow issues.
Bloom will be one of the credit scoring partners on the FintruX network. We hope to provide the Bloom user experience in their initial launch in Q3 2018 and when they go to market in Q4 2018. By leveraging the Bloom protocol, defaulted FintruX loans will be captured in the Bloom network. Reporting these defaults will provide an incentive for the borrowers to repay loans.
Most importantly, Bloom users will be able to tap into a global lending ecosystem facilitated by FintruX and our other lending partners. Together, we are looking forward to unlocking financing liquidity to everyone around the world.
Learn more:
About FintruX here: https://www.fintrux.com/
About Bloom here: https://hellobloom.io/