Bloom Lender Spotlight: Lendoit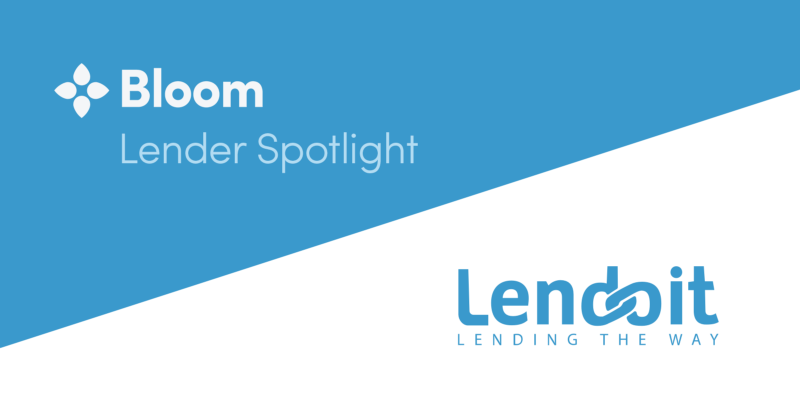 Updated August 8, 2018: We are no longer affiliated with or in partnership with Lendoit.
We are heavily invested in transforming the lending landscape through decentralization and blockchain. As we build out infrastructure for providers, we look to work with those who share our mission of expanding financial access for those who are excluded from mainstream services.
As such, we are excited to announce our partnership with decentralized P2P lending platform, Lendoit. Lendoit connects borrowers who apply for loans with lenders who lend funds through a Smart Loan Contract. They have a mission of creating a fair lending economy, enabling borrowers to get better rates and lenders to get better returns. The loans issued are often comprised of many different lenders ranging from individuals to institutional lenders, who can compete by offering loans in a range of interest rates.
We are partnering with Lendoit to support initiatives in cross border lending. In particular, Lendoit will be leveraging Bloom for their score providers mechanism. Lendoit intends to integrate with key score, verification and collection providers in Q2 of next year. Their platform will be using existing credit score providers to assess borrowers and enable lenders to assess risk and issue loans. P2P lending is very interesting because borrowers may be able to access funds faster and and find attractive loan alternatives to banks. Lenders will be able to spread the amount they loan across many buyers, diversifying their portfolio for steady returns.
"Traditional financial institutions have challenges, soon more and more people will choose the blockchain as an alternative thanks to solutions like the Bloom and Lendoit offerings."- Ori Erez, CEO Lendoit
We are looking forward to working with a talented team dedicated to supporting lending on the blockchain.
Read More:
Learn more about Lendoit: https://lendoit.com/
Learn more about Bloom: https://hellobloom.io/