Bloom Community Whitelist Announcement / Token Sale Update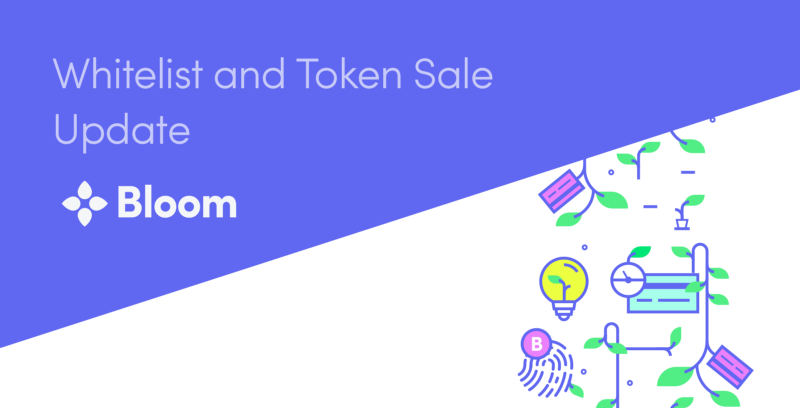 Thank you to everyone who has supported Bloom over the past few months. We've been amazed by such incredible levels of engagement from our community. We now have over 5,000 registered users in Slack and 10s of thousands of white paper downloads and email signups.
We're incredibly excited to announce the details of the Bloom Community Whitelist.
Overview:
Whitelist registration period will be open starting today, November 9th, 2017.
The public Token distribution date is slated for November 30th, 2017 at 9am PST.
Spots on the whitelist are reserved for those that have made a positive contribution to Bloom.
Those accepted on the whitelist will be ensured a spot in the BLT public token sale.
Click here to register for the whitelist.
More Information:
We have received community feedback to extend the token sale start date. As a result, we have decided to adjust the Token distribution date to November 30th, 2017 at 9am PST. The registration for the whitelist will open the whitelist starting today, November 9th, 2017.
Those accepted on the whitelist will be ensured a spot in the BLT public sale.
Bloom is a community-first project. Bloom will not be controlled by a government, central bank or organization. Instead, Bloom will be run by the community. As a result, we will be giving priority to those who have made a positive contribution to the project.
We are grateful for the helpful engagement which has come in many forms, including, but not limited to:
Making introductions to us for providers, data partners and contributors
Actively contributing to discussion in Bloom Slack
Actively participating on Telegram
Spreading awareness of Bloom news on Twitter, Reddit, and Facebook
Introducing the Bloom team to prospective hires
Helping answer questions that pop up from other community members
Participating and sharing our global credit research survey
Sharing feedback about the protocol, whitepaper and website
Provided feedback and direction on technical decisions, governance, etc
Sharing insight into the lending and credit markets
Sharing Bloom content
Inviting industry leaders into the conversation and discussions with the team
Referring members to the whitelist
Sharing our video with the world
Other types of help — you know who you are!
If you haven't yet supported Bloom and still want to ensure your place on the whitelist, it's not too late to help out. We will be recognizing all activity even if it just happened.
All participants on our Slack, Telegram, and mailing list are eligible to apply for the whitelist. Please be sure to submit your application as early as possible to help increase your chances of securing your spot. Due to demand, we will be accepting a limited number of applicants.
You can access the whitelist registration here.
If you have any questions or comments, please do not hesitate to contact us on Slack, Telegram or email us at Team@HelloBloom.io.
Good luck, and thank you for the support!
Bloom Team
Want More Information?
Recent News: