Apply for Credit in Seconds with Bloom Marketplace
Note: The Bloom Marketplace has been discontinued as of December, 2020.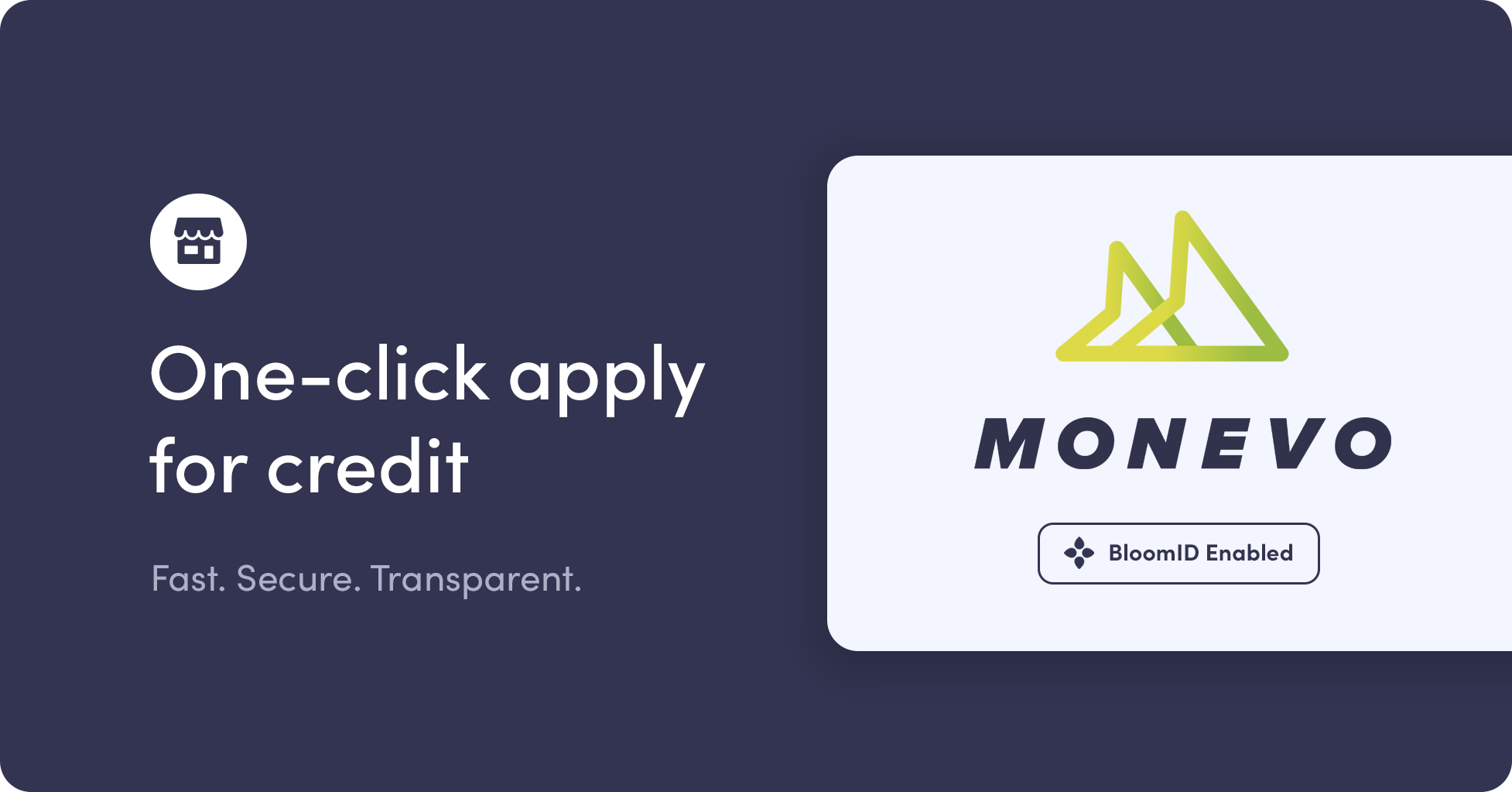 Bloom and Monevo have joined forces to make lending a more seamless and secure experience. Consumers can quickly and securely search for personal loans from over 30 top lenders and banks with a simple click of a button in the Bloom Marketplace without the hassle of manually filling out an application.
From personal loans to credit cards, Bloom Marketplace makes finding and applying for credit easier than ever. Use your BloomID to securely share your verified personal data with lenders directly from the Bloom web app. Bloom enables you to apply for credit in seconds with the peace of mind of blockchain security.
Bloom's identity and financial data verifications remove the need to fill out long and cumbersome applications every single time you apply for credit. BloomID gives you a reusable financial identity that can be used to securely share your data and help reduce the risk of identity theft and fraud.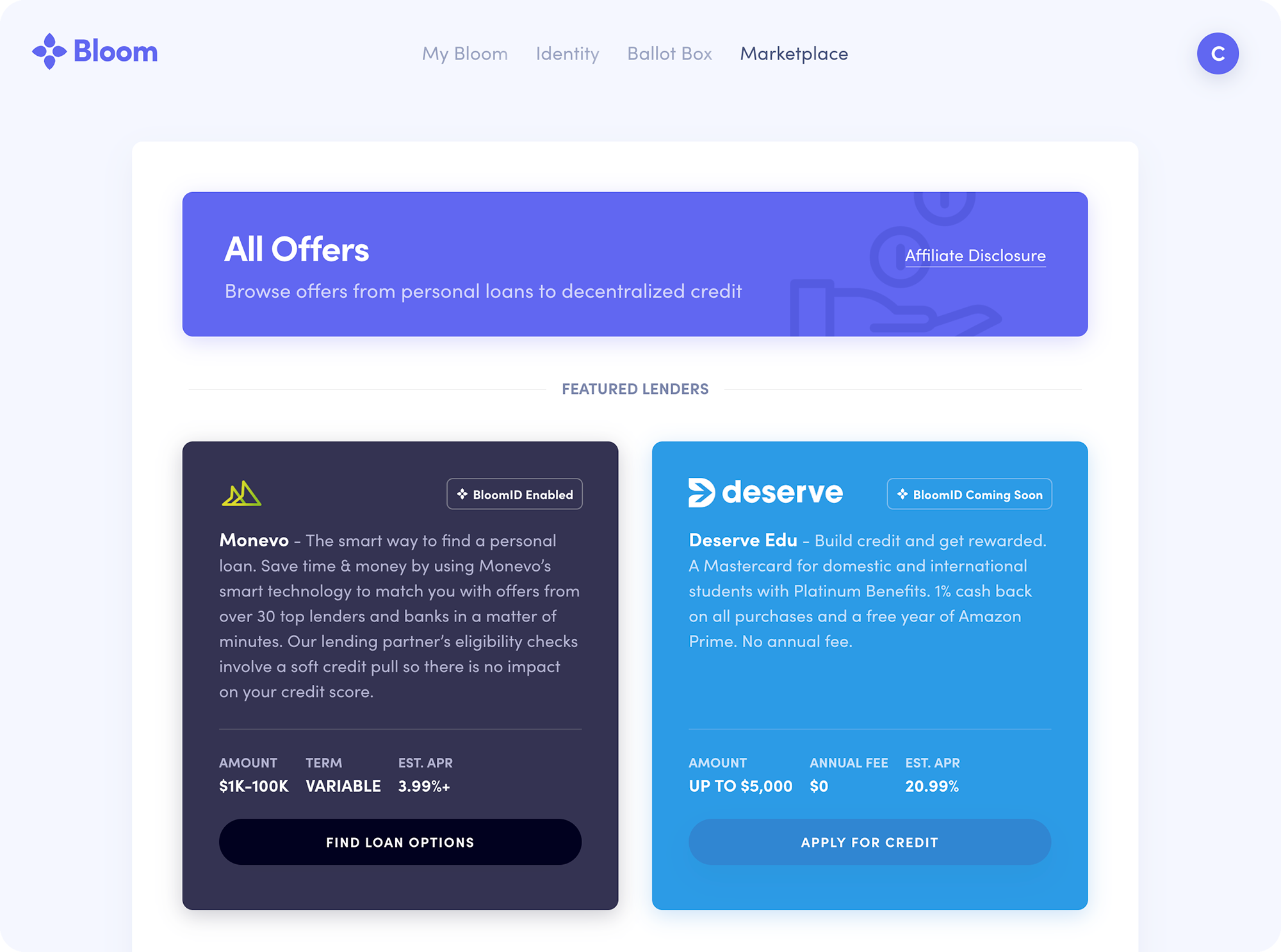 Monevo: The Smart Way to Find a Loan
Save time and money by using Monevo's smart technology to match you with offers from over 30 top lenders and banks in a matter of seconds, without impacting your credit score. With Bloom and Monevo, you can securely prequalify for loans from the Bloom Marketplace.
Amount: $1k - $100k
Term: Variable
Estimated APR: 3.99%+
Credit Check: Lending partner's eligibility checks involve a soft pull of your credit so there is no impact on your score.
Click here to learn more about Monevo.
How to Prequalify for Loan Offers from Monevo
Visit bloom.co/app/marketplace on your desktop or laptop
Sign-in by scanning the QR code from the Bloom mobile app on iOS or Android
Click on "Find Loan Options" in the Monevo information box
Scan the QR code with your mobile device and complete the required information
Slide to securely share your data with Monevo
Find out if you prequalify for credit!
Browse the Bloom Marketplace by securely signing into the Bloom web app. Follow the sign-in instructions online and scan a QR code from your mobile app. In order to check if you prequalify for offers from Monevo, you will need to have the following attestations completed; email, phone, ID document, income and address. If you haven't completed these attestations yet, you can quickly complete them from the Identity page of the web app.
Bloom: Take Control of Your Credit & Identity
At Bloom, we are giving you the tools to take back control of your data. No more centralized data storage. No more selling off your data to the highest bidder. No more risking identity theft. Bloom enables you to own, control, and protect your data using the latest advancement in blockchain technology.
It's time to take back control of your data and unlock the power of a secure, reusable identity today. Download the Bloom mobile app to build a cryptographically secured identity, sign-up for data breach alerts with Radar, and browse the latest credit offers in the Marketplace!
Together, we are paving a path for a fairer and more secure credit system, redefining the way that credit and finance are conducted.
To learn more about the latest with Bloom: