We're Hiring: Our Philosophy and Who We're Looking For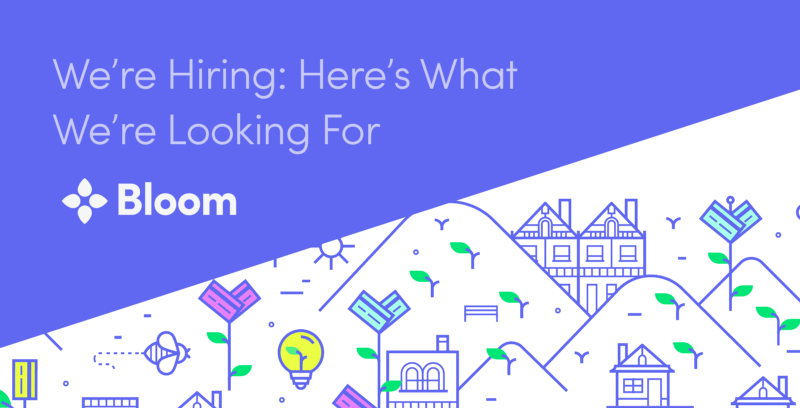 Bloom is rebuilding the global credit infrastructure.
Achieving this mission means solving deep technical challenges, studying macroeconomic principles, conducting policy research, establishing global partnerships, facilitating awareness, and defining new rules for credit and finance.
This isn't an easy task. With a new approach comes a new philosophy.
Our Philosophy
Bloom is a decentralized organization.
We're committed to finding the best talent across the globe, wherever that may be. We do not believe that talent needs to be geographically centralized.
At Bloom, our mission is to put the product first, always. Hours are less important here. Output matters. We don't track 9–5, we track results. Deadlines and milestones matter far more than the artificial constraints of days and hours.
We've found the best output comes from working autonomously. We don't have a traditional hierarchy, self-management is critical. Everyone has unique abilities and skills that make them far more adept to solving challenges than a generic manager.
We believe in an open source future. We believe in a decentralized future.
Sometimes our work spans beyond the core product and into the infrastructure supporting the project. This means we support and contribute to the foundational projects on which Bloom is built.
Beyond this, we believe it's time for change. Macroeconomic policies have suppressed the global finance markets for decades. It's time to reinvent the way finance is conducted. It's time to look at the industry with a fresh lense and address not only technical challenges, but policy challenges.
We're not just writing code. We're redefining the way credit and finance is conducted, paving the transition from a central corporate lead system to a decentralized community lead system.
What is Bloom:
Built on Ethereum and IPFS, Bloom brings credit to the modern age. We're developing an end-to-end protocol for identity verification, risk assessment and credit scoring, entirely on the blockchain.
Bloom is the future of credit.
Bloom offers solutions to: Cross-border credit scoring identity fraud and risk assessment. At the same time, we aim to expand credit globally to 3 billion new individuals and improve the scoring methodology for all 7 billion people.
Bloom is not a provider of loans. Bloom is a platform to migrate all lenders to the Blockchain. From mortgage providers to local credit unions, lenders across the globe will be able to tap into a far more comprehensive credit database and expand their market to three billion new borrowers.
Who Are We?
Bloom is founded by Ryan Faber, John Backus, Jesse Leimgruber and Alain Meier. Since Bloom began, the project has been supported by a number of friends and advisors that we've met through Stanford, the Thiel Fellowship, and the Ethereum & Blockchain communities.
Our team has spent years in identity and data science. From fundamental research at Stanford University to large-scale entity extraction for deterministic and probabilistic record linkage, we've been deeply tied into identity for years.
To read more about the people building Bloom, read this post.
We just completed our token sale, we recently launched Phase 1 of our Mainnet dApp, and we're ready to expand.
What Roles Are We Hiring?
We're hiring a few different roles, with an initial focus on engineering and business development, the two areas critical for early success.
If you know anyone that would be a good fit for Bloom, please send them our way. We've setup a new email, Jobs@HelloBloom.io which will go straight to the top of the priority queue.
Here are the roles with immediate openings:
Business: Head of Lending Partnerships
Engineering: Senior Blockchain Engineer, Senior Full Stack Web Engineer
Community: Head of Community Relations
Business: Economic & Policy Research
Here are the Job Descriptions
Head of Lending Partnerships:
Job Description: Bloom's mission is to build a robust global credit infrastructure on the blockchain. This role will lead a collective effort that will span many years and touch many different stakeholders. Among these stakeholders are lenders, identity attesters, data providers and more. The head of lending partnerships should be able to field inbound requests, conduct outreach to lenders, and grow the number of lenders building applications on Bloom.
Overview:
Field inbound requests from partners reaching out to Bloom. Guide those prospective partners through a process of working with us.
Write and publish partnerships announcement posts, coordinate with brand PR and internal teams to ensure consistent messaging.
Identity and target new partners, reach out, and facilitate integrating them into Bloom.
Requirements:
Strong writing ability, both long form and emails.
Track record in developing successful strategic partnerships, ideally in a B2B environment.
You are comfortable learning a highly technical product in a new space.
Bonus points if you speak languages other than English. (Chinese, Korean, Spanish, German)
---
Senior Blockchain Engineer
Job Description: Bloom is a blockchain project. The senior blockchain engineer will help oversee the development and deployment of the Bloom Mainnet app, be responsible for deliverables, and help expand the engineering team framework and talent.
Overview:
Design and iterate on Bloom from an architectural level. How do our contracts, the data on IPFS, our web app, and our mobile apps all fit into one cohesive concept?
Develop and deploy the core contracts for Bloom.
Be accountable to code deliverables across sprints.
You Should have:
Experience working with Solidity and Truffle. Ideally you have you deployed production code to the Ethereum blockchain in the past.
A strong understanding of public key crypto (from a user's perspective, not an implementer's perspective). You should feel comfortable with using crypto in creative ways to solve problems.
Comfort with other web technologies. Although the role is primarily focused on smart contract development, you will also play an important roll in helping the team integrate blockchain concepts throughout traditional parts of the app.
---
Senior Full Stack Web Engineer
Job Description: Full stack web engineer to work on the Bloom main app, the Bloom website, and the core products and interfaces.
You Should have:
3+ years of industry software engineering experience
2+ years experience building with React or other modern Javascript front-ends
3+ years experience building scalable backend infrastructure
Experience with modern web frameworks such as Node.js
Experience with SQL databases
Strong proficiency with command line tools
MS/BS in computer science or related field
---
Head of Community Relations:
Job Description: Bloom's vision of creating a global ecosystem will only be achieved with large scale community support. Bloom isn't controlled by one government, one state, one bank, or one company, it's controlled by everyone.
Overview:
Creating video and written tutorials with screenshots, publishing in the form of blog posts and how to guides.
Lead and attend webinars and manage community questions, responding to those questions in chat and on Webinar.
You Should Have:
Experience with general blockchain skills. Sending and receiving Ethereum, generating a wallet, Coinbase, MetaMask, MyEtherWallet, etc.
Senior Economic & Policy Researcher
Job Description: This Bloom Economic Research Division serves as a core team within Bloom responsible for leading an open-source data approach to credit analysis. Twice annually, we will compile and publish benchmark reports assessing credit risk, credit scoring, fraud rates, and the global macroeconomic credit climate.
You Should Have:
Experience with macroeconomics, credit, and finance
Strong skills with Excel, whitepaper writing, english language
4 Year Degree in Math, Political Science or Economics