Bloom Token Sale: Recap & Analysis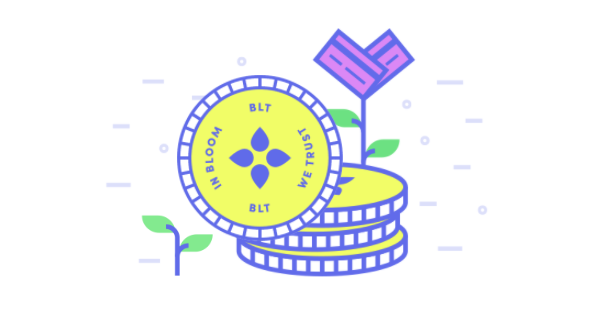 Thank you to everyone who participated in the Bloom token sale!
Over the past few months, the Bloom team has been honored to receive the support of a wonderful community of lenders, partners, and everyday people. We've received considerable help with introductions, feedback and growth.
Here is a recap on the token sale.
7368 Individual Holders
We were delighted to see that our composition of contributors reflected our community driven approach. Over the past month, we've received countless emails from lenders, developers, and individuals looking to build on Bloom and participate in helping to create the future of credit.

The token sale generated a consistent stream of contributors throughout the duration of the sale. However, towards the end, there was a notable pickup in contributors.
This was expected as we did not offer early bonuses or incentives to participate in the token sale early. Additionally, we made a number of developments during the sale, such as open sourcing our contracts, partnerships, and research programs.
$40m+ in Contributions
When we announced the sale, we set our soft cap goal at $5m. All in all, the token sale generated 8x our goal. Based on the price of Ethereum at the time of writing, the final token sale generated over $40m in contributions from over 7000 individual token holders.

The median contribution was rather low, less than 1 ETH. Relative to other token sales, this represents the fact that Bloom is a utility token, not an investment. As a utility token, you can use your BLT within the Bloom protocol to generate an ID, participate in voting, invite other users, and a number of other ways as we expand.
We are looking forward to working with our community over the next few years to help build the future of credit.
Checking Your BLT Token Balance
The BLT tokens are immediately associated with the same wallet you used to participate in the Bloom token sale.
Please review this post for full details on how to check your balance and add the BLT token to your wallet.
Next Steps:
Bloom Phase 1 Launch: Login and Generate your BloomID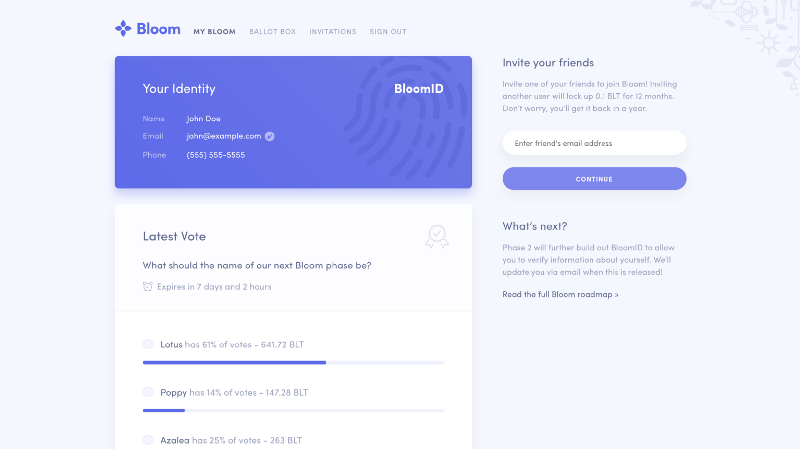 Today, we're releasing the Phase 1 Mainnet dApp for Bloom!
Sign up here: https://app.hellobloom.io/
This marks a big milestone on our long term roadmap and we're incredibly excited to continue to make progress on defining the future of credit.
We will release a post with detailed instructions on how to participate.
Participate in Community Voting
Community voting is of upmost importance for Bloom. As part of the Phase 1 launch of Bloom, we are including our community voting dApp.
This community driven initiative allows user to stake their BLT to certain decisions.
These decisions are protocol level decisions where community input is important. Upon the launch of Phase 1 today, there will be a number of key votes that we are looking for input on.
Check Your Position in the Community Rewards Program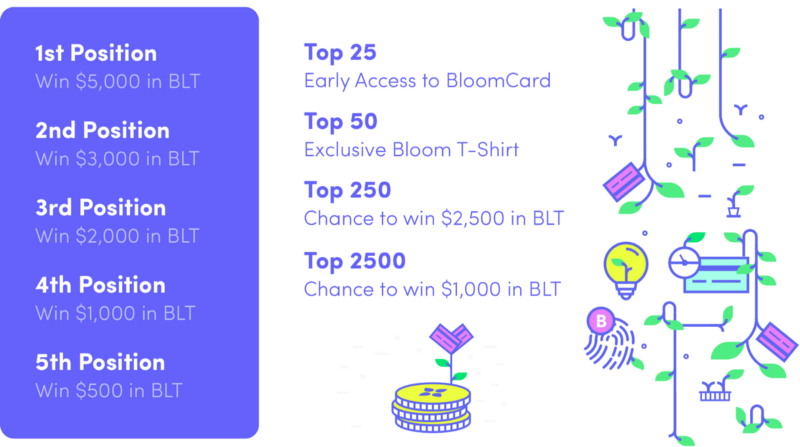 Stay tuned for a more comprehensive update on the winners of the Bloom Community Rewards Program. We expect to have the final rankings published by the end of the week.
You can read about the program which began in November here. We are honored to have received contributions from thousands of our community members.
What Else We're Working On:
We've made a number of developments in the recent weeks. You can review our full roadmap and timeline here.
Open Sourcing Bloom's Smart Contracts
We published our Phase 1 contracts on GitHub. You can read more about this here.
We will continue to open source our work and we would love community feedback and support.
Bloom Economic Research Division (BERD)
This division serves as a core team within Bloom responsible for leading an open-source data approach to credit analysis. Twice annually, we will compile and publish benchmark reports assessing credit risk, credit scoring, fraud rates, and the global macroeconomic credit climate.
The first release of this division will launch within the next few weeks.
We are currently expanding our research to ensure we have the most accurate, modern, and global credit score.
Partnerships
Partnerships with a significant number of lenders and partners including Everex, ETHLend, Lendoit, Self Lender, Karma, Fundary, Typing ID, Gems and FintruX.
Hiring and Expansion
Bloom is actively looking to expand key hires. We will release more updates over the roles we are looking for.
If you are interested in a role at Bloom, please send an email to team@hellobloom.io
Learn More: