Partner Spotlight: Access Network and Bloom bring financial access to global markets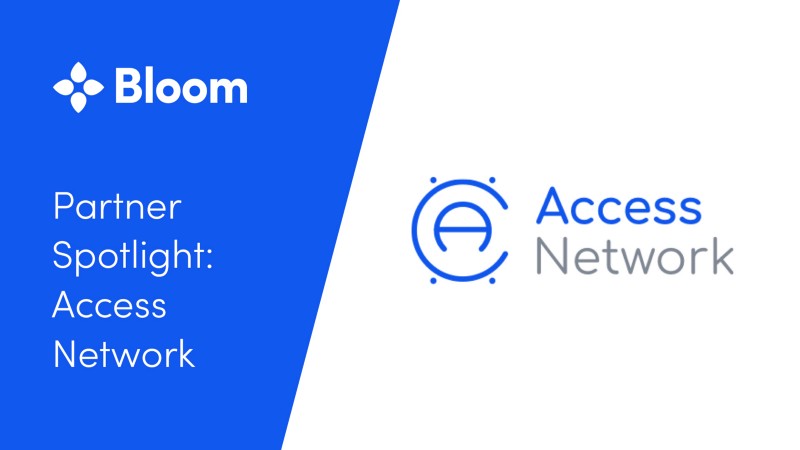 We believe in a fair and more transparent ecosystem that includes financial access for all. Yet, due the challenges of under-developed ecosystems and the inefficiencies of legacy systems, millions around the world are still unable to tap into core financial services that perform critical functions in supporting upward mobility.
Thus, Bloom and Access Network are very excited to share with you today our partnership which will be bringing Bloom to participants in Africa. We are tackling the challenges faced by the underserved, united by our shared mission of bringing financial access to people around the world.
Introducing Access Network
Access Network is developing a governance protocol to coordinate network decisions around greater financial access, incentivizing both local distribution and future application development. These interactions are enabled by a modular suite of smart contracts that self-amend and distribute funds throughout the ecosystem according to the will of the network. Network participants will be able to tap in to services like sending money, applying for loans, and leveraging e-commerce and solar energy DAOs.
" Bloom is a natural partner to Access Network. Atlas Money succeeded in bringing branchless community banking to the unbanked in West Africa, Access Network is working on widening the offer to our clients far beyond basic banking and, with Bloom's collaboration, we hope to bring our clients digitized identities as it drives the lending marketplace," shares Mickey Costa, CEO of Access Network.
On the Ground in West Africa
Access Network was built by the team behind Atlas Money, a peer-to-peer branchless banking platform that is utilizing the protocol to incentivize growth and offer additional financial applications. With an early focus on West Africa, the way Atlas Money currently works is that sponsored agents go on the ground collecting money deposits, issuing withdrawals and offering microloans. This occurs through their network of 400 agents, who currently bank over 20,000 people. Typically, these agents are trusted leaders from local communities, empowering people that are already pillars of their offline communal networks. This is a pattern that is ubiquitous throughout West Africa and beyond. The rapid rise in mobile adoption in Africa has made it straightforward for agents to interface with each other and customers. These agents use the mobile app to transact with customers on the ground who often times do daily deposits.
To date, Atlas Money has successfully collected over $2M in deposits and issued over 3,000 microloans with a zero default rate. They are currently in Ghana and Senegal, with the goal of launching in new markets in the immediate future. The company is supported by strategic partners such as Barclays Africa, as well as investors such as Draper Associates, 1517 Fund, MITS Fund and Partech Ventures.
The Access Network protocol will replace Atlas' current e-credit system. Africans can earn into Access Network and use it to improve local commerce and gain access to the greater crypto-economy.
"The credit problem involves a market that is incredibly unequal and blatantly opaque. We are excited to partner with Access Network to bring the future of credit to those who need it most," shares Jesse Leimgruber.
Bloom + Access Network
Bloom and Access Network both share a vision of credit as a human right and the need for transparency around these new economic models. This synergistic partnership will give West African borrowers access to loans on the Bloom lender marketplace.
Bloom offers solutions to cross-border credit scoring and identity fraud while at the same time expanding credit globally to new individuals and improving scoring methodology for everyone. From mortgage providers to local credit unions, lenders across the globe will be able to tap into a comprehensive credit database and expand their market to new borrowers.
Access Network and Bloom are working together to digitize borrowers' identities, helping the unbanked to build a robust credit score and earn better lending rates over time. They will support their users in creating BloomIDs, enabling each person to build a globally federated identity on the blockchain. Over time, those in underserved communities who previously haven't had a chance will be able to build up their BloomScore. Additionally, Access Network participants will be able to apply for loans on Bloom's loan marketplace which supported by a variety of lenders.
Stay tuned for more updates on this front over the next few months! We are excited to be working together to enable greater financial access across global markets.
Learn more:
Learn more about Access Network here.
Learn more about Bloom.