Introducing Bloom for Android: Take Control of Your Credit and Identity
Today, we are excited to announce that the Bloom Android app is now LIVE on the Google Play Store!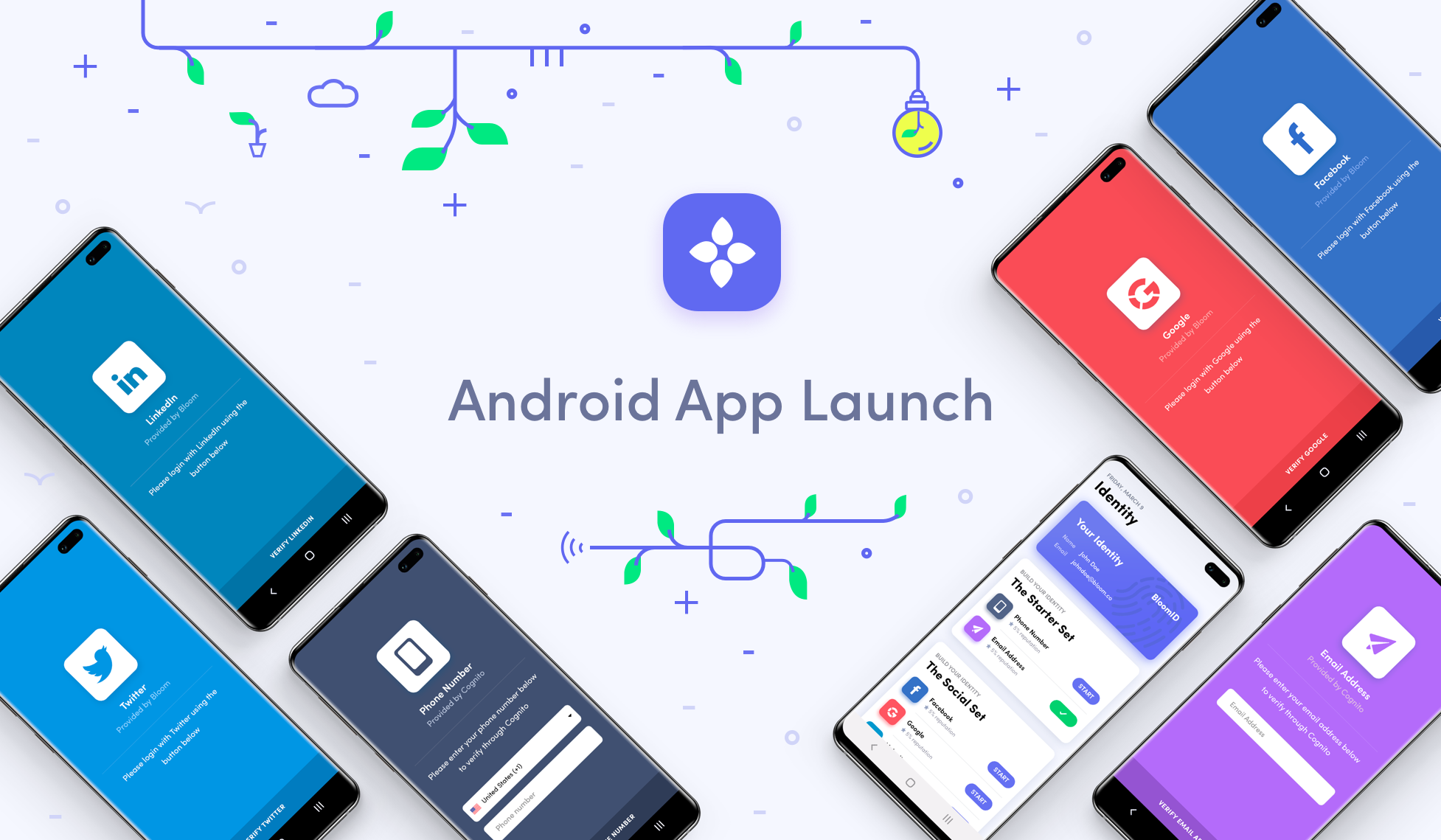 People all over the world are recognizing the need to take back control of their data amid growing concerns about the massive collection, misuse, and unauthorized sale of their personal data in the wake of an increasing number of data hacks, breaches, and alarming revelations. After six months of rapid growth, and more than 250,000 BloomIDs later, the release of Bloom for Android brings the power of a global, secure identity to billions of Android users around the world.
At Bloom, we're dedicated to empowering people to take control of their credit and identity, building groundbreaking experiences and workflows for the everyday person, and delivering modern technology that enables increased security, transparency, and financial access.
Last September, we launched the Bloom iOS app, marking a revolution in the way individuals control their data and giving you the power to decide exactly how your data is used. Since then, we have grown to over 250,000 users, announced several major new partnerships, and brought over a dozen lenders into our lending marketplace.
Today's release of the Android app marks another major milestone for the global identity ecosystem and broader blockchain community. Bloom's streamlined experience allows users to interface with blockchain in an entirely novel way, one that brings the benefits of decentralized technology to the masses. Now, with the Bloom mobile app on Android and iOS, anyone with a mobile device can finally harness the power of blockchain and a secure financial identity.
Getting Started with the Bloom Android App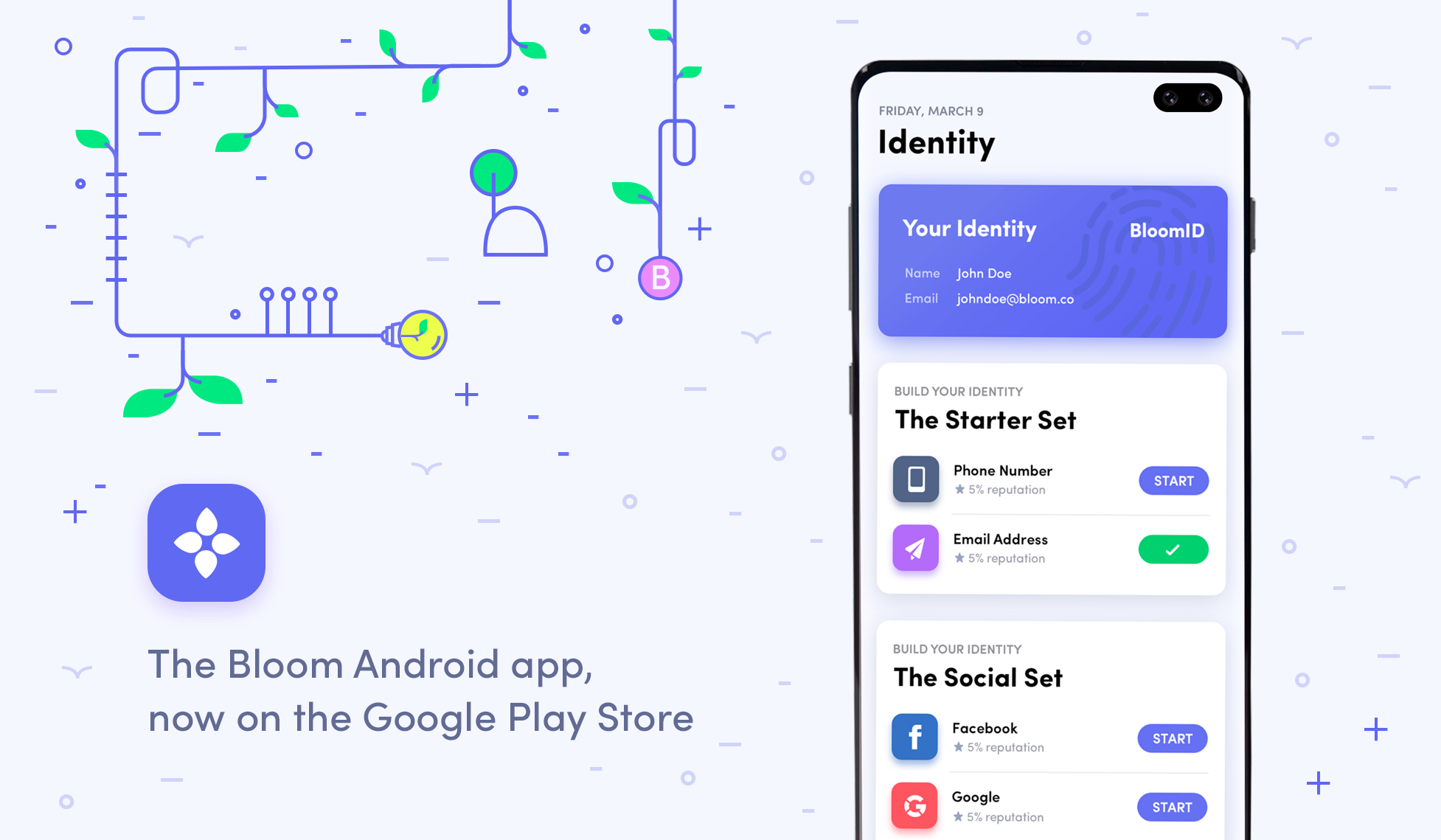 Download the Bloom app to build a secure digital identity and take back control of your data today. Click here to download the Bloom app. From the app you will be able to:
Create a BloomID
Build your BloomID
Get the latest Bloom updates
Complete phone, email, Facebook, Google, LinkedIn, and Twitter attestations
Be among the first to access the future of credit
Sign-up for BloomID
Bloom enables you to create a cryptographically secured identity powered by blockchain technology. Once you have downloaded the app, you can:
Create a new BloomID in just a few taps. For new users, the mobile app walks you through setting up a BloomID with a simple and intuitive signup flow
Secure your BloomID by setting up a secure authentication method and TypingID
Build Your BloomID
Complete attestations in the app to verify your identity and strengthen your BloomID. You can link multiple social media accounts to your BloomID (Facebook, LinkedIn, Google, and Twitter) and complete email and phone attestations. To learn more, build out your identity and check out the latest attestations in the app. Even more attestations are coming soon!
The Miracle of Owning Your Own Data is Finally Here
Every moment, servers are logging, cataloging, and selling your personal, private information. Your entire history from your identity to your finances, is exploited by credit bureaus, data brokers, and marketers for financial gain.
Your personal information is being siphoned off, pooled, and sold from company to company, with treasure troves of aggregated data sitting on the servers of tens of thousands of companies all around the world, often weakly protected by lax data security practices and policies.
Data breaches and identity theft are on the rise. In 2018 alone, over 2.6 billion records were stolen or exposed in more than 1,100 data breaches around the world. Hacks and leaks expose highly sensitive and confidential information that gives thieves the keys to your identity. In 2017, there were over 16.7 million victims of identity fraud, leading to $16.8 billion in financial damages. Since 2012, 1 in 3 Americans have been victims of identity theft.
Bloom solves the problems of insecure and extremely vulnerable centralized data and identity systems, providing a decentralized identity that puts your security and privacy first, reduces the risk of data breaches, and mitigates the risk of identity theft. At Bloom, we are giving you the tools to take back control of your data.
No more centralized data storage. No more selling off your data to the highest bidder. No more risking identity theft. Bloom enables you to own, authorize the use of, and protect your data using the latest advancements in blockchain technology. Your identity, and your highly sensitive personal and financial information, is securely safeguarded on your own personal device using cutting-edge cryptography.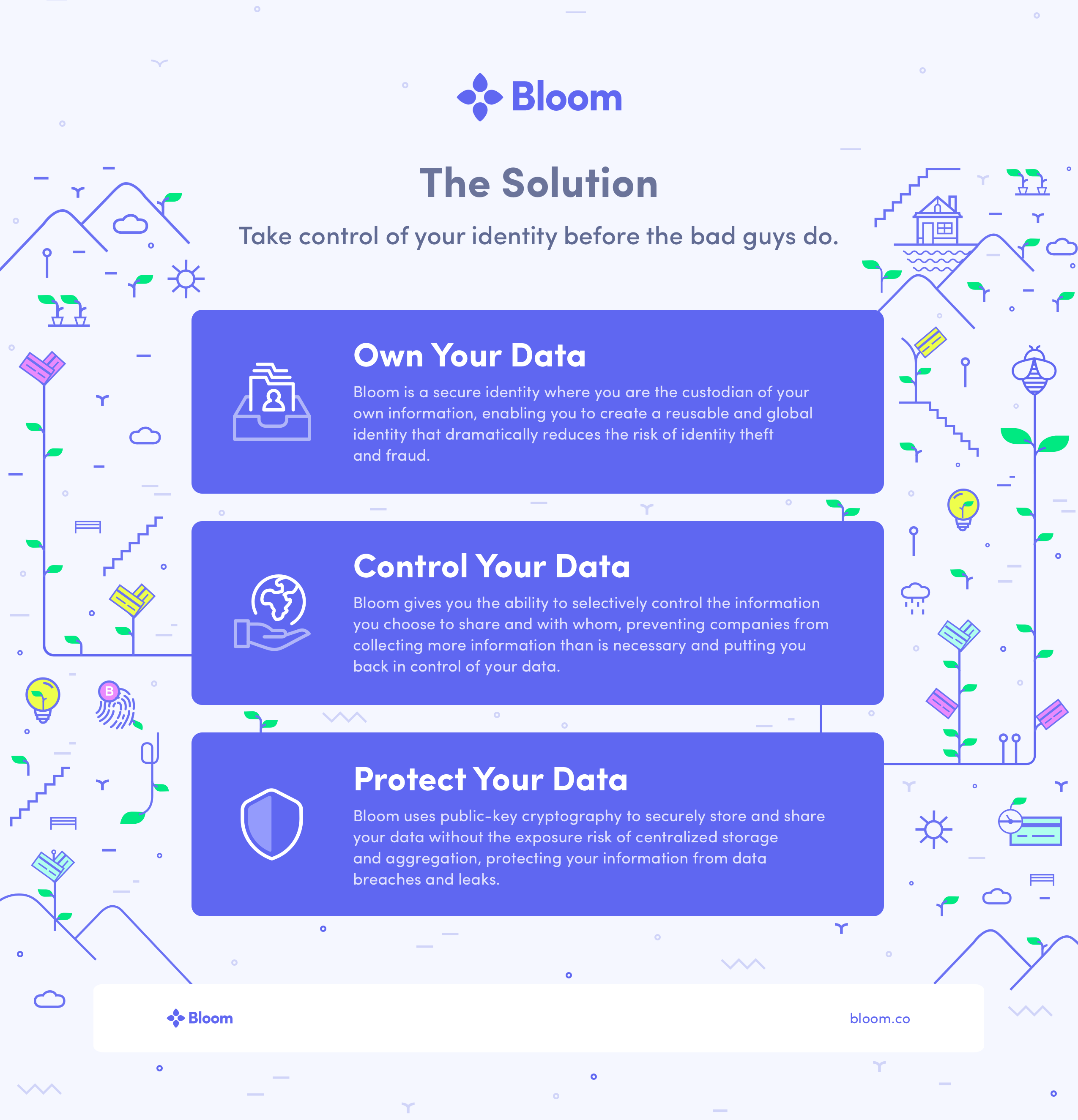 Take Back Control of Your Credit and Identity
It's time to take back control of your data and unlock the power of a global secure identity, click here to download the Bloom mobile app today!
Together, we are paving a path for a fairer and more secure credit system, redefining the way that credit and finance are conducted.
Your voice plays a critical role in shaping the future of credit and identity. We would love to hear your thoughts. Please hop in our Telegram to share your experience with us!
To learn more about the latest with Bloom: