2017 — 2018 Bloom Timeline and Deadlines
Clear deadlines and deliverables are critical for the long term success of any initiative. Timelines are especially essential for projects with goals and ambitions as big as Bloom. We are excited to share with you the timeline of Bloom over the next year.
Progress To Date
We are pleased to announce that first four major milestones have been completed ahead of schedule. The initial live release of the platform will launch in December, three months ahead of schedule.
UI and Interface for Bloom Invitation & Voting System
Status: Complete
Original Timeline: January 2018 (Completed ahead of schedule)
Begin Working With 5 Initial Lending Partners
Status: Complete
Original Timeline: March 2018 (Completed ahead of schedule)
We've announced a number of lending partners including: ETHLend, Fundary, Everex, Lendoit, Self Lender.
We will continue to publicly highlight partners we are working with over the next few months. We are onboarding early data providers and lending partners from now through next year.
Secure Protocol Expansion Outside of Lending
Status: Complete
Original Timeline: April 2018 (Completed ahead of schedule)
Traditional credit reports are used outside of lending for ID verification, anti-fraud, mitigation of Sybil attacks, etc. Bloom is a protocol-level solution for all dApps, not just lenders. While our initial focus is lending, we have secured our first trials for mainstream applications.
Decentralized micro-task protocol, Gems is using Bloom to prevent Sybil attacks and ensure a high quality user base.
Bloom Invitation System & Voting
Status: Complete
Timeline: Deployment will occur in mid-to-late December
Original Timeline: April 2018 (Completed ahead of schedule)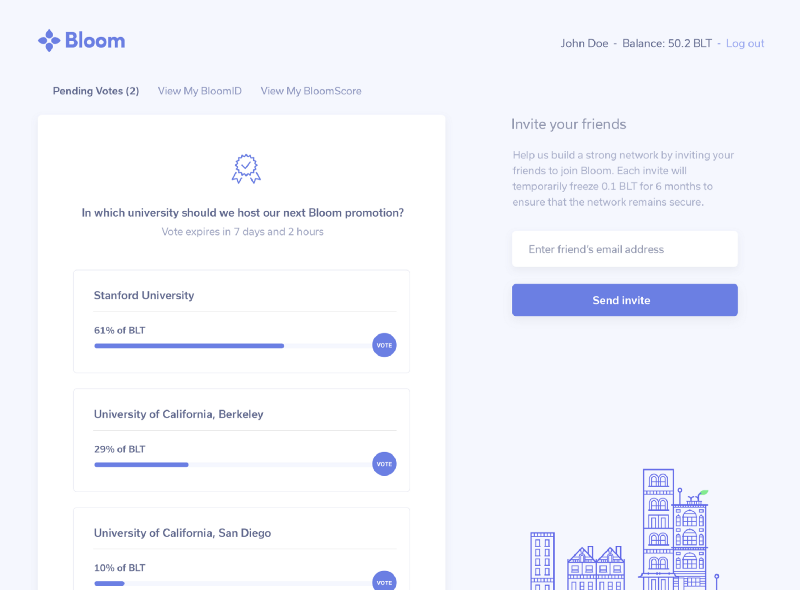 Phase 1 will allow for users to use BLT to invite their friends and colleagues to seed the initial network securely. Users with BLT will be able to vote on early development-related proposals for the future of the network.
Timeline: Present Onward
Bloom Token Sale
Status: Ready
Timeline: Nov 30th 9am PT — Jan 1st 12:00pm PT
Bloom is fundamentally a network. To reach its full potential, it is critical that the community is strong from the beginning. We're building a multi-sided protocol, with lenders, borrowers, and data providers. If any of those three aren't there, the value is eroded for everyone else. We're creating something novel, and it's going to impact all kinds of people from all around the world — it's vital that many perspectives and interests are taken into account as we build out the protocol.
Tokens Become Transferrable & Usable in the Network
Status: Ready
Timeline: January 1st
Following the completion of our token sale, the BLT tokens will be transferrable and able to used in our voting dApp.
BloomID: Identity Matching
Status: Currently Ahead of Schedule
Timeline: Q1 2018
Phase 2 will deploy an application allowing users to verify their identity and get matched with their BloomID. During this phase, users will be able to confirm identity information and connect data for BloomIQ.
Credit Staking
Status: On Schedule
Timeline: Q1 2018
Peer to Peer staking modules will be built first, followed by organizational staking. We are working with a number of peer-to-peer lenders and data providers to collect the data and partners needed.
BloomScore and BloomIQ: Creditworthiness Assessment
Status: On Schedule
Timeline: Q2 2018

This phase will allow users to check their score, as well as open up a developer ecosystem to lenders to check a given user's BloomScore, providing sufficient privileges are granted from the loan recipient. BloomIQ will launch alongside this.
Lending Tests for Lender Partners
Status: On Schedule
Timeline: Early Q2 2018
In early Q2, we will start doing live tests with select lenders to offer trial loans to borrowers on the Bloom network. These will not be tied to real fiat.
Live Loan Trials for Lender Partners
Status: On Schedule
Timeline: Mid-Late Q2 2018
We have secured initial lenders interested in processing live loans through Bloom network. We expect this to begin immediately following our lending tests in early Q2.
Bloom User App Release
Status: On Schedule
Timeline: Late Q2 2018
We will release the first version of the Bloom app, enabling a easy, secure, mobile interface for network participants. This will also allow users to check their score and participate in the ecosystem even easier.
Eventually, this will expand to a fully decentralized lending ecosystem.
Lender Partnership Program Open
Status: On Schedule
Timeline: Early Q3 2018
By Q3, there will be general availability for anyone to do loans. This will be a developer ecosystem for the network to accept lenders that do not necessarily need to go through approval of the Bloom team.
Bloom Credit Protocol Launch + BloomCard
Status: Preliminary work under way
Timeline: Q3 2018
Once the risk assessment and scoring protocol is complete, Bloom will launch the BloomCard. The BloomCard will serve as a brand new way for individuals to display creditworthiness and improve their BloomScore.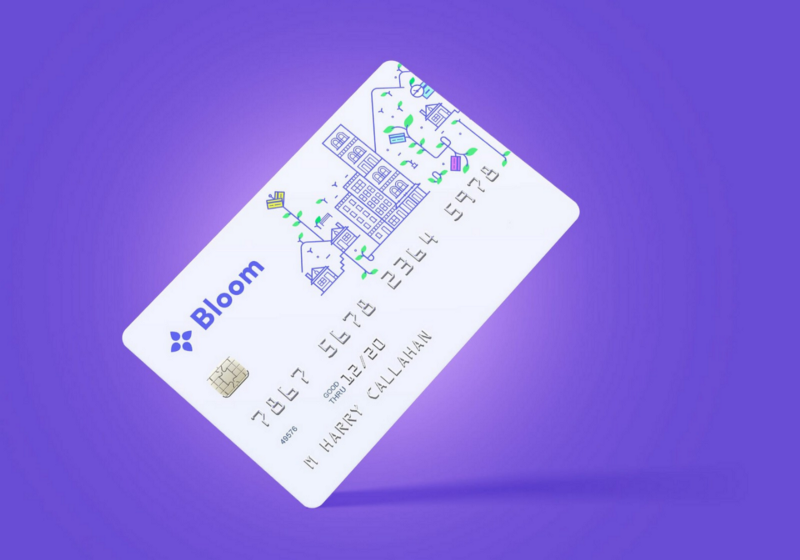 Democratized Autonomous Credit Infrastructure
Status: Preliminary work under way
Timeline: Q4 2018

Over time BLT flows through the network. Lenders, data attestation providers, and borrowers will all own Bloom Network Token and their amount acquired will correlate to their influence on the network. We will make moves towards international expansion at this point, upon establishing a robust credit framework.
Definitions
Bloom will evolve and grow. Our initial completions are alpha releases and will change/evolve as the space matures, audits suggest improvements, and new lenders submit enhancement requests.
Bloom uses the following definitions: Alpha releases = full audits are not yet complete. Beta deployments = Majority of audits have been completed. Release candidates = Improved beta version with potential to be a final product.