This Week in Data Breaches: Yahoo's $117.5 Million Data Breach Settlement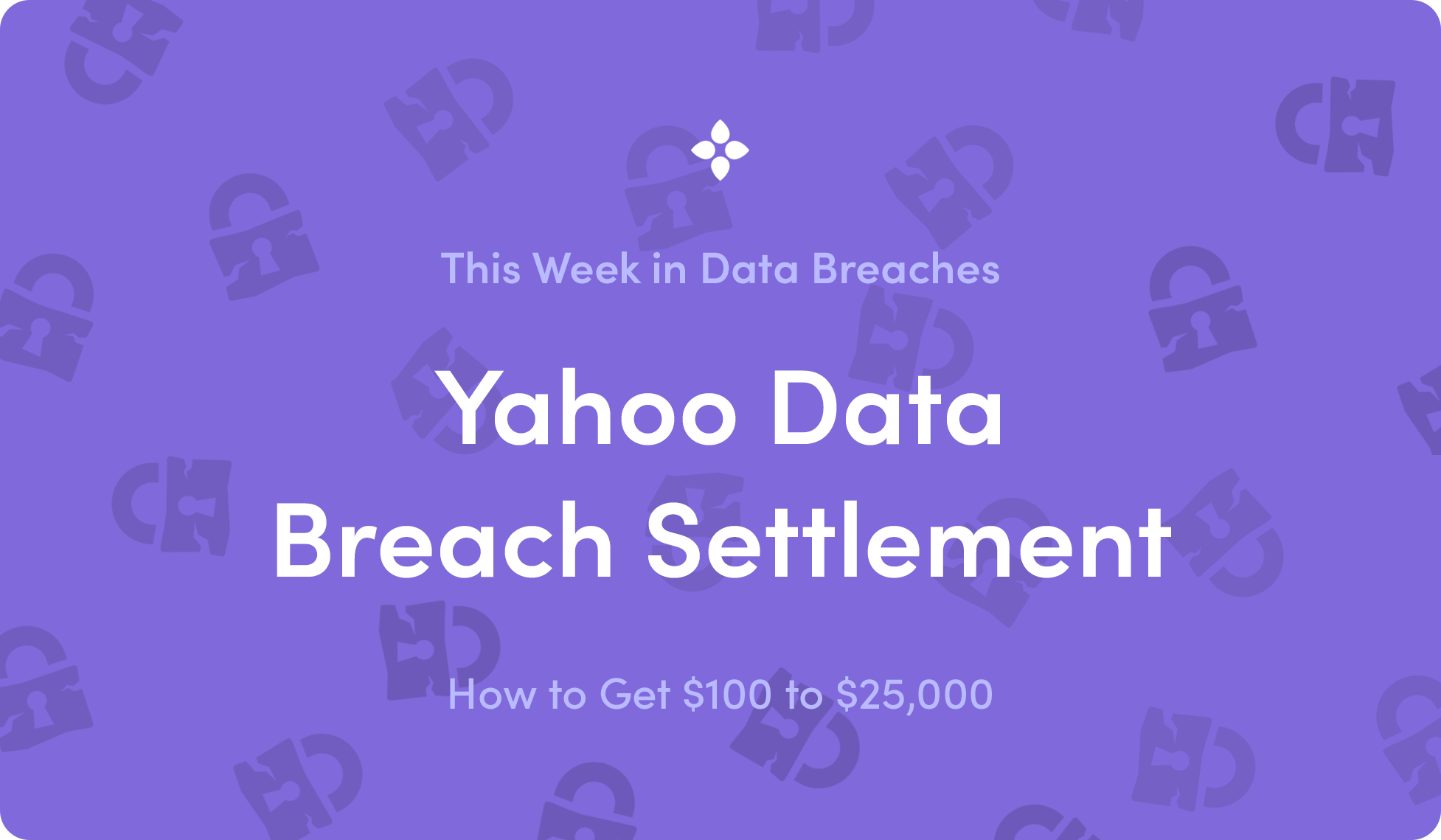 Welcome to our round-up of the latest data breaches, leaks, and privacy intrusions. This week, find out if you're eligible for benefits from Yahoo's $117.5 million class-action data breach settlement and learn how to file a claim for your share of it.
Yahoo Data Breach Settlement: How to Claim $100
Yahoo is close to reaching a $117.5 million settlement over a series of data breaches the company suffered between 2012 to 2016. Anyone who had a Yahoo account between that time is eligible for $100 or free credit monitoring for two years.
In 2013, Yahoo was hit by a massive data breach when hackers accessed the company's systems and took off with the records of 3 billion Yahoo users from around the world. The records included names, email addresses, phone numbers, birth dates, passwords, and security questions. In some cases, users' emails, calendars, and contacts were accessed.
Then in 2014, another data breach at Yahoo compromised 500 million accounts. That wasn't the end of it though, Yahoo was breached again in 2015 and 2016, compromising another 32 million email accounts.
The proposed restitution fund of $117.5 million will help provide financial compensation for those affected by the breaches. The Yahoo data breach settlement will look and work very similar to the Equifax settlement that was announced in July. Here is everything you need to know:
Who is eligible for compensation?
Any US or Israeli resident who had a Yahoo account at any time between 1 January 2012 and 31 December 2016 is considered a "Settlement Class Member" and eligible to participate in the settlement.
What benefits can you claim?
$100 Cash Payment: If you already have credit monitoring, you can claim a cash payment of $100.
or
2 Years of Free Credit Monitoring: If you don't already have credit monitoring, you can get two years of credit monitoring for free.
and
Cash Payment for Up to $25,000 in Out-of-Pocket Costs: If you can provide proof of any out-of-pocket costs or losses that you incurred as a result of the breaches, you can claim up to $25,000 in cash. This includes payment for lost time at a rate of $25 per hour. You can claim up to 5 hours of lost time without providing documentation.
How do you file a claim?
Yahoo's settlement administrator has set up a dedicated website for filing claims. You can file a claim at www.yahoodatabreachsettlement.com.
What is the deadline for filing?
You must file a claim by 20 July 2020 to receive benefits. If you want to retain your right to bring suit against Yahoo in the future, you must opt-out of the settlement by 6 March 2020.
As with Equifax's data breach settlement, how much you will actually get is dependent on how many claims are filed. So if a bunch of people participate in the settlement, you'll likely get much less. Yahoo claims that the actual amount may be less than $100 or up to $358.80.
If you haven't yet, you should also file a claim with Equifax. To find out if you are eligible for $125 from Equifax and learn how to file a claim, check out our guide to the Equifax data breach settlement.
Equifax Settlement Update: If you've already filed a claim with Equifax you've probably also received an email recently asking for more information. Don't worry, all you need to do is provide the name of the credit monitoring service you use to prove that you have it. If you haven't seen the email yet, you might want to go check your inbox. Make sure you respond to the email by October 15.
Tip of the Week
We often hear from readers who want to know what they can do to protect themselves amidst all of these data breaches. Figuring out where to start can feel overwhelming, so each week we will be sharing a new tip to help you safeguard your data and protect your privacy online. This week, lock down and protect your accounts with a password manager.
The most important thing you can do to protect yourself online is to use a password manager. Password managers make it easy to generate strong, unique passwords for every account you have, track and manage all of your passwords in one place, and prevent one account compromise from cascading into an all-out security meltdown
Setting up a password manager for the first time can take a bit of time, but the increased protection is well worth it. And once you've set it up, a password manager ends the headache of forgotten passwords and locked-out accounts. There is a wide range of password managers to choose from, from free open-source managers to highly-rated paid ones.
A dedicated password manager, instead of a browser-based manager, is highly recommended. If you are willing to pay, you don't need to look much further than 1Password. 1Password is a favorite of the security community. It syncs your passwords between your computer and phone, provides pretty much unbeatable security, and can double as an authentication app.
While not free, it is only $3 per month for an individual plan. If you're not quite sold, they offer a 30-day free trial period so you can try it out to see if it is right for you. If you looking for a free option, check out Bitwarden. Like 1Password, it works on nearly every platform and offers syncing across devices.
Once you have a password manager set up, it will show you which passwords are weak or duplicates. Use the manager to generate unique, random passwords for all of these accounts. Then, as you log in to accounts online, you can quickly save the credentials to the manager. You will also want to install the password manager on your phone and web browser, many offer both mobile apps and browser extensions. Over time, slowly update your old passwords with newly generated ones. You'll never forget a password again.
Want to learn more? Check out our in-depth guides:
Bloom: Take Back Control of Your Data
At Bloom, we are giving you the tools to take back control of your data. No more centralized data storage. No more selling off your data to the highest bidder. No more risking identity theft. Bloom enables you to own, control, and protect your data using the latest advancements in blockchain technology.
It's time to take back control of your data and unlock the power of a secure, reusable identity today. Download the Bloom mobile app to build a cryptographically secure identity and get free data breach alerts with Radar!