The Bloom Meme Contest is On!
The mission of Bloom is to create a global federated identity, and allow the unbanked to access credit from traditional and peer-to-peer lending institutions. However, that doesn't mean we can't tackle our goals without having a bit of fun along the way!
Starting today, Bloom is accepting submissions in our first ever meme contest! We are rewarding BLT for top-quality memes for the next 2 weeks.
We are looking for you to get creative and show your Bloom pride. We are excited to see memes of all kinds: smart, funny, timely, artistic, references, creative, and more.
Here are the rules:
Each high-quality meme selected by the team will get 5 BLT. Broadly speaking, most memes that show quality effort will earn the BLT.
You can submit as many memes as you would like.
To get credit and BLT, you must submit in two places 1) this form 2) our Telegram.
High-quality animated GIFs/videos will get a 2 BLT bonus.
Bonus: If you share TODAY in Telegram before the end of the day (Midnight PT), you will receive a bonus 2 BLT for each accepted meme.
While Bloom team members are the final judges — we are open to crowd favorites so please voice your support for your favorite memes!
The final deadline for submissions is March 14, 2018 at 11:59pm Pacific time.
We are calling for Bloom memes of all types! Funny, smart, interesting, quirky, creative! Please avoid memes that are offensive or prejudiced.
Prizes
In addition to the BLT that you earn for each accepted submission. The top 3 submissions will be awarded:
First Prize: 500 BLT
Second Prize: 250 BLT
Third Prize: 100 BLT
So break out your photo manipulation and video editing skills, and start creating! Here's the logo as a transparent PNG to get you started!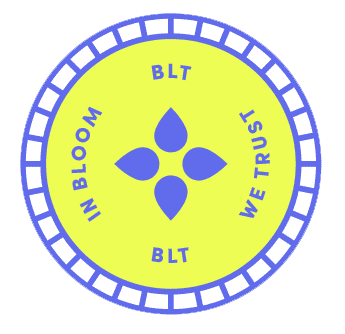 Get started today! Share your creations in this form and on our Telegram to enter the contest!