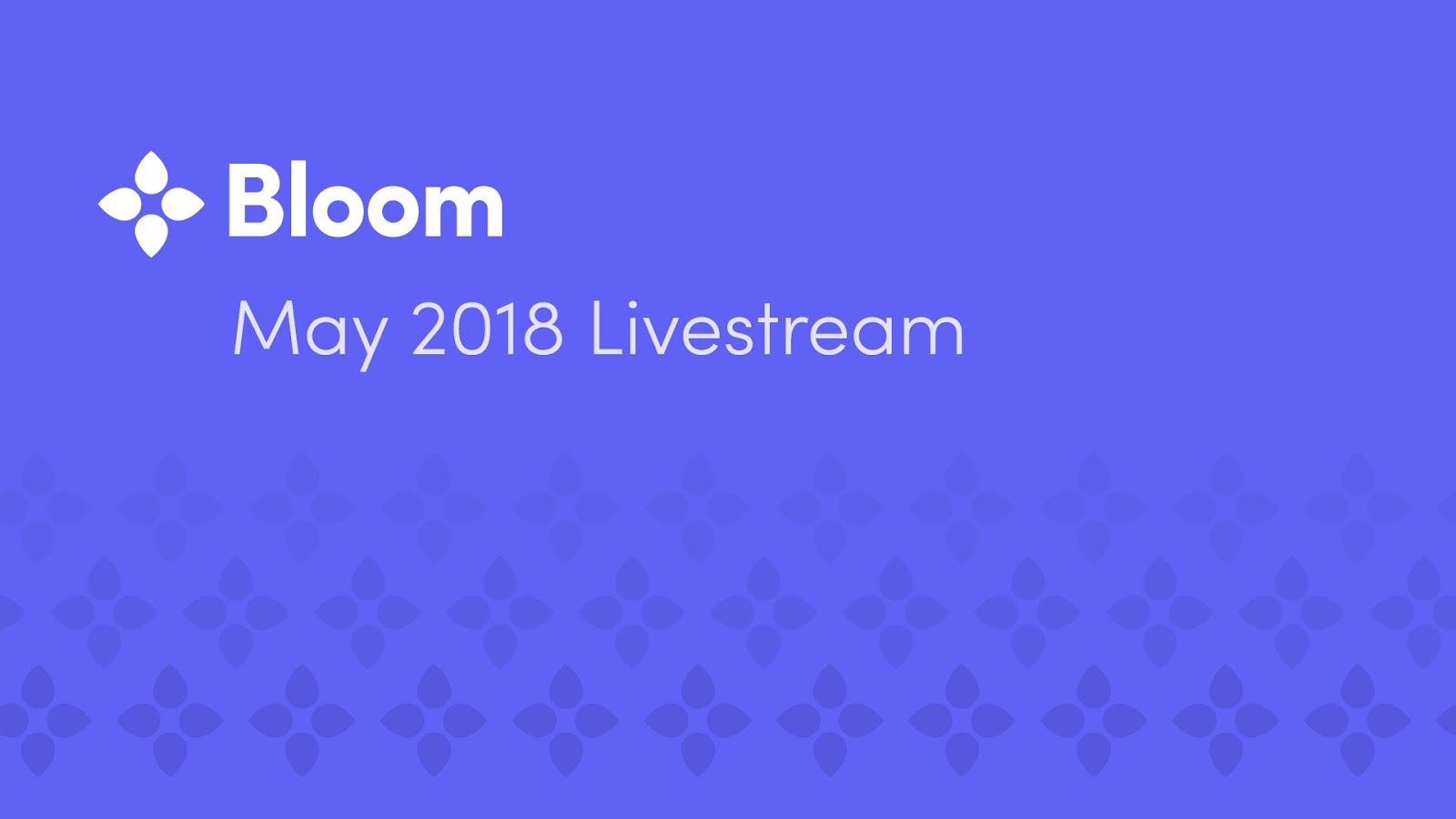 Thank you to everyone who joined us for the official May Bloom livestream. We had lots to share about the mobile app launch, upgraded Phase 2 contracts, BERD, community events, and how you can win a free Bloom shirt.
Check out the livestream here: https://www.youtube.com/watch?v=zGfhNK8ZXGQ&t=661s
Keep reading to get the latest.
Product Updates
User Experience Improvements
We're making excellent progress on core application developments and user experience improvements. As always, we are committed to a seamless UX that is as easy to use a regular application.
As we've mentioned in the past, our north star for dApp development is to make our products feel similar to satisfying non-blockchain products. Blockchain and asymmetric cryptography should only peek out from under the hood when it makes the app experience better.
Here is a list of best practices:
Do provide clear, concise notifications into what's happening.
Don't let the user get stuck or held up waiting to see if their transaction was mined.
Do include features that make navigating blockchain background tasks straightforward.
Don't put Ethereum addresses at the center of the user experience when possible.
Do embrace users having multiple addresses. If a user owns 10K BLT then they should be able to put that in cold storage while using a different ETH address for custodial transactions like voting in a poll.
Do extend smart contracts to anticipate common flows.
Do optimize for mobile experience.
iPhone Mobile App Launch
We are putting UX and accessibility at the forefront of everything we create.
However, we understand that decentralized technology can be a bit challenging for new users. Everyday people aren't always familiar with metamask, gas fees, or blockchain technology. For Bloom to benefit those who need it most, we need to reach folks in a variety of ways. We highlight that they can defend themselves against data breaches, build up a credit score that works around the world, and vote on protocol level changes.
For this reason, we're creating a mobile dApp that maintains the simplicity and ease of use of a mainstream app. We want to showcase the power of blockchain technology to the everyday user.
The updated mobile UX is intuitive and simple. You can check out the sneak peek on the livestream: https://www.youtube.com/watch?v=zGfhNK8ZXGQ&t=661s
Upgrading Phase 2 Contracts
We have updated our Phase 2 contracts to make technical progress on the underlying fundamentals of the ecosystem. These new contracts make it easier to upgrade our application and add support for new wallet features that make the user experience better.
We are currently in the auditing phase and once complete, you will be able to check it out at our Github.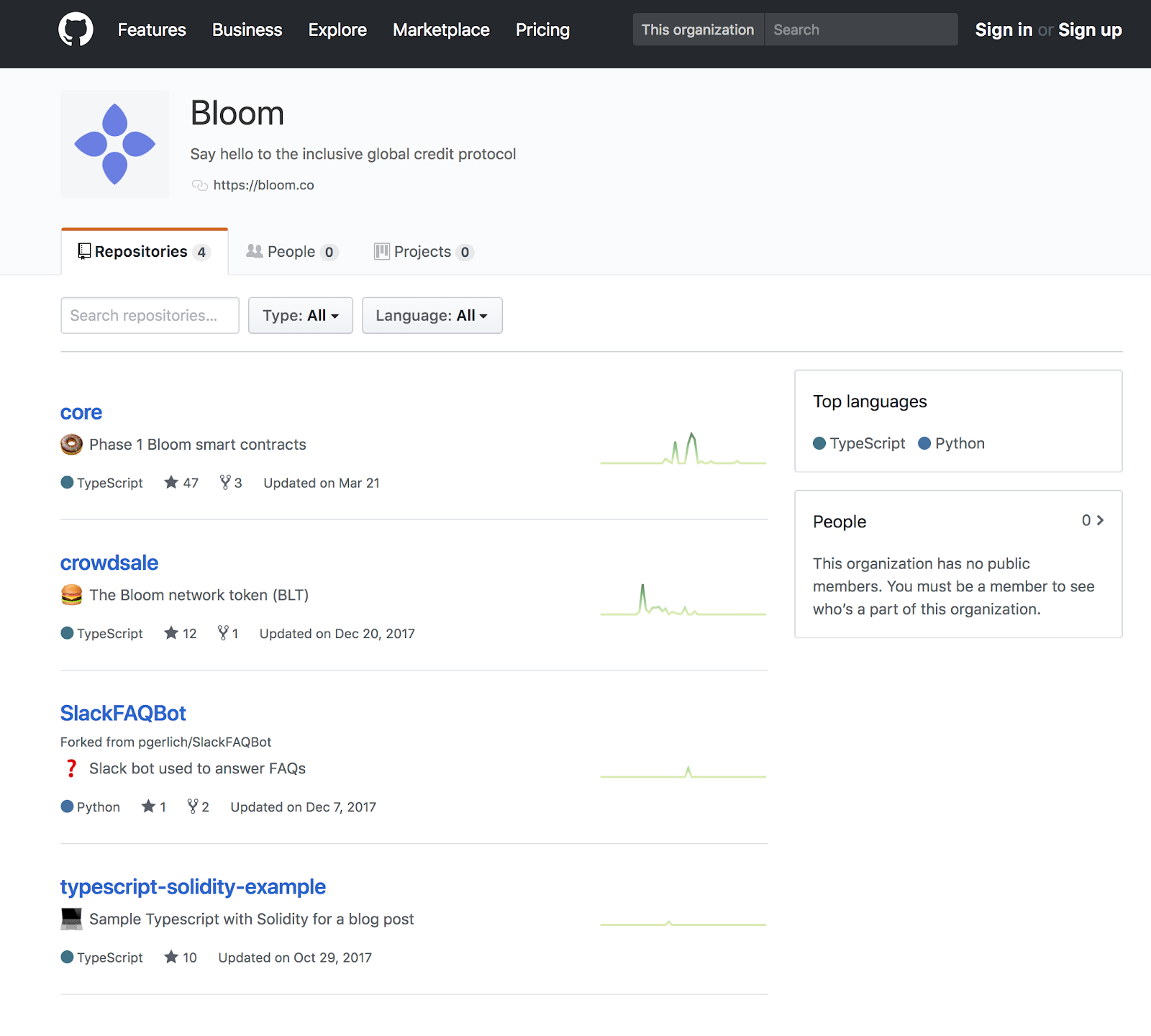 Phase 2 Attestations
On the last livestream, we announced that the first rollout of Phase 2 attestations had just went live. These attestations were the first live attestors on the Bloom network and set the foundation for an entirely decentralized identity system.
Phase 2 set the infrastructure for a decentralized attestation-based system that allows you to be in control of your own data. The first attestation was a big step as figuring this out is the cornerstone for all future developments.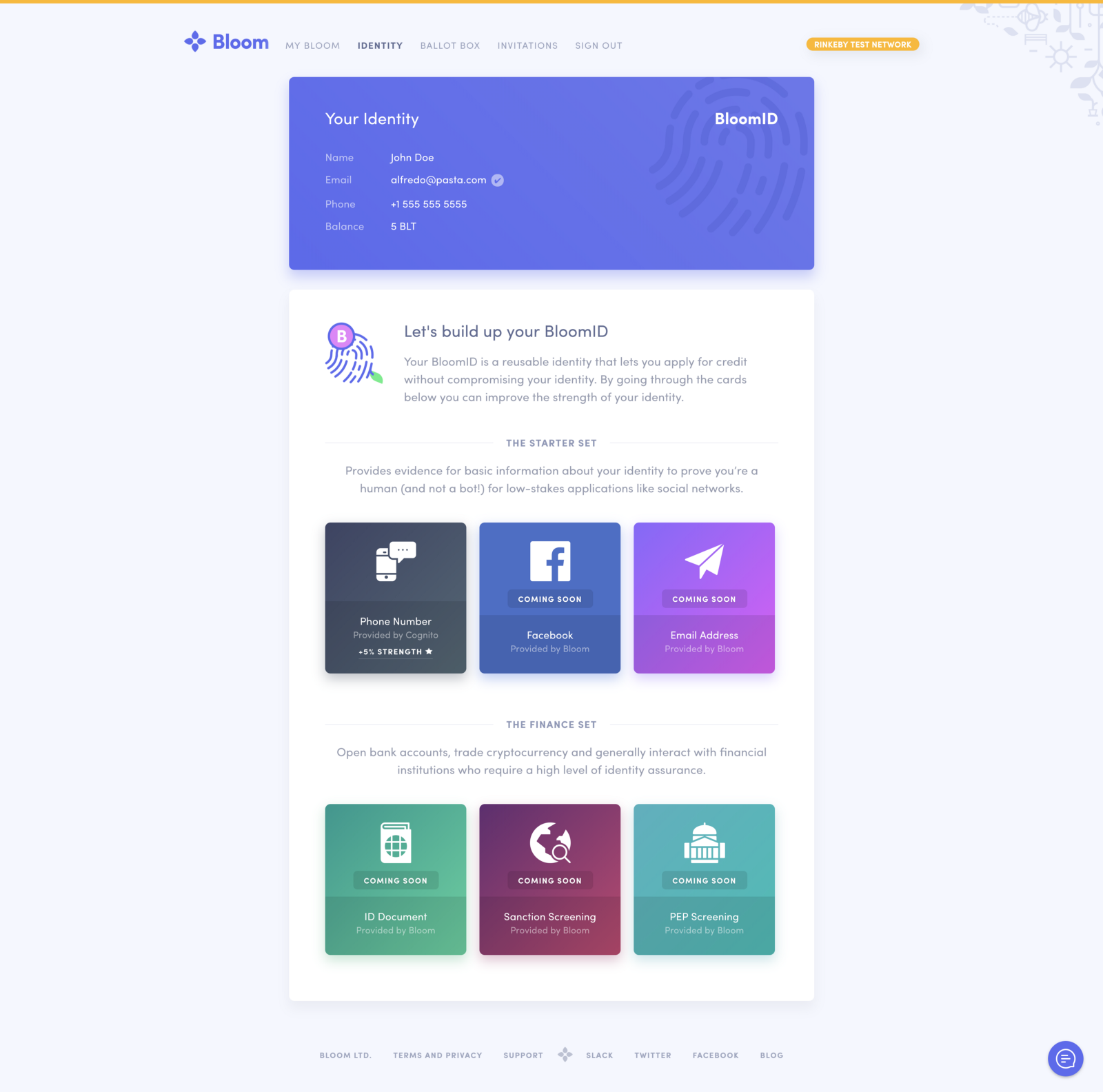 We're incredibly pleased to announce that over 1,000 success phone verifications have been complete. If you haven't yet verified your phone number as part of your BloomID, you can do so here.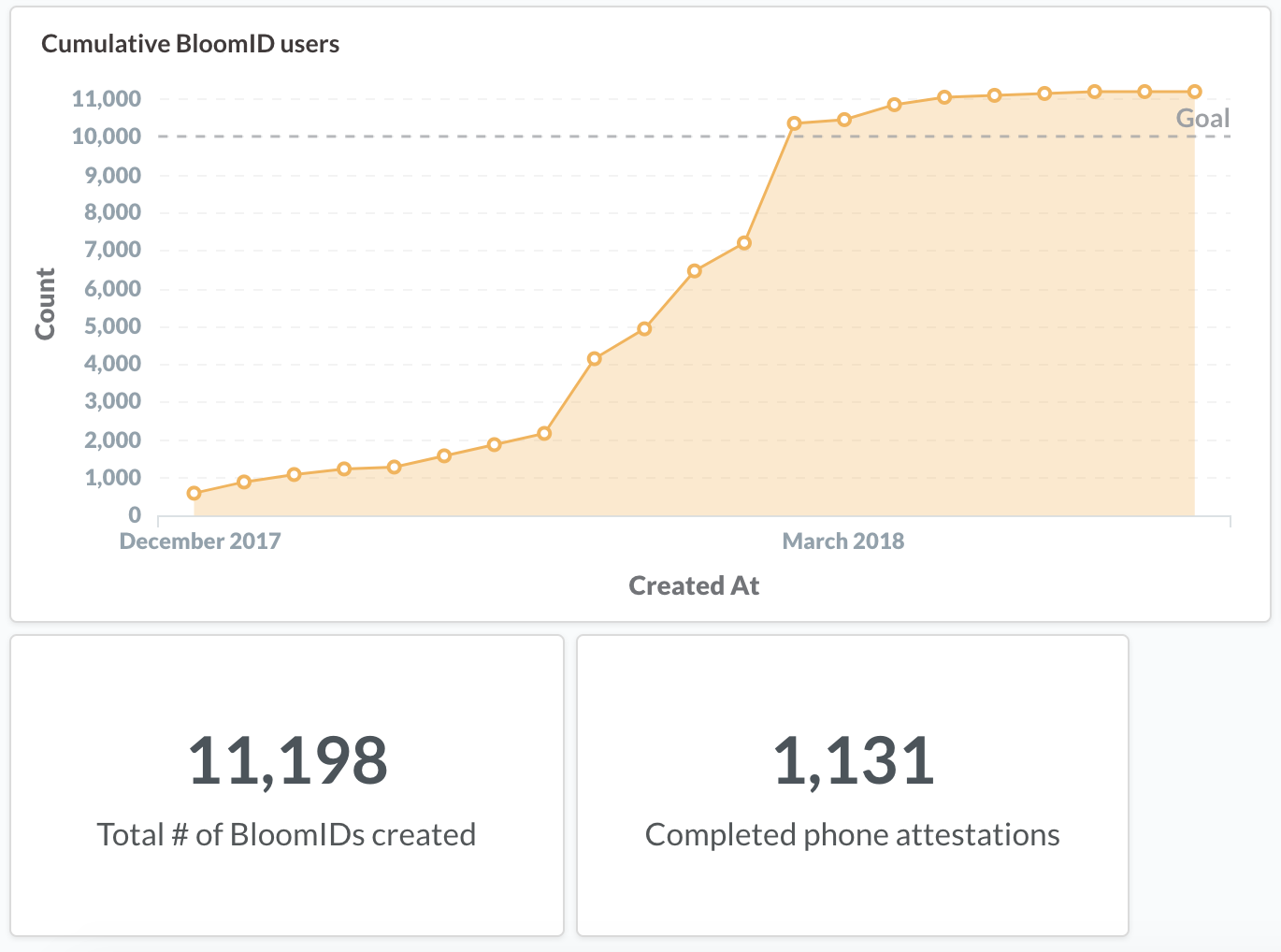 BERD Updates: Credit Conversations and Reports
BERD's goal is to foster discussions towards a healthy global credit climate. Supporting the credit sector's health and long term growth cannot occur without a rigid approach to research and discovery.
The Credit Conversation series features interviews with people on their diverse experiences and life journeys, raising awareness how credit impacts all of us.
Here, we interview Maria, who shares her first hand experiences with building credit. In this article, she reminisces about her early experiences with paying off debt, buying her first car, and what she wishes she knew as a young adult about building credit.
Read Maria's story here: https://blog.hellobloom.io/credit-conversations-maria-407635c311a3
Next in the series, we learn about Nick and his experiences growing up in 90s in the low income neighborhoods of Chicago. He shares with us his struggles with managing his finances while dealing with serious health problems and medical debt.
Read Nick's story here: https://blog.hellobloom.io/credit-conversations-nick-2e90dea24df8
Keep an eye out for our "Credit Conversations" that reach a global perspective. If you would like to be interviewed, please email us at team@bloom.co with the header "Credit Conversations".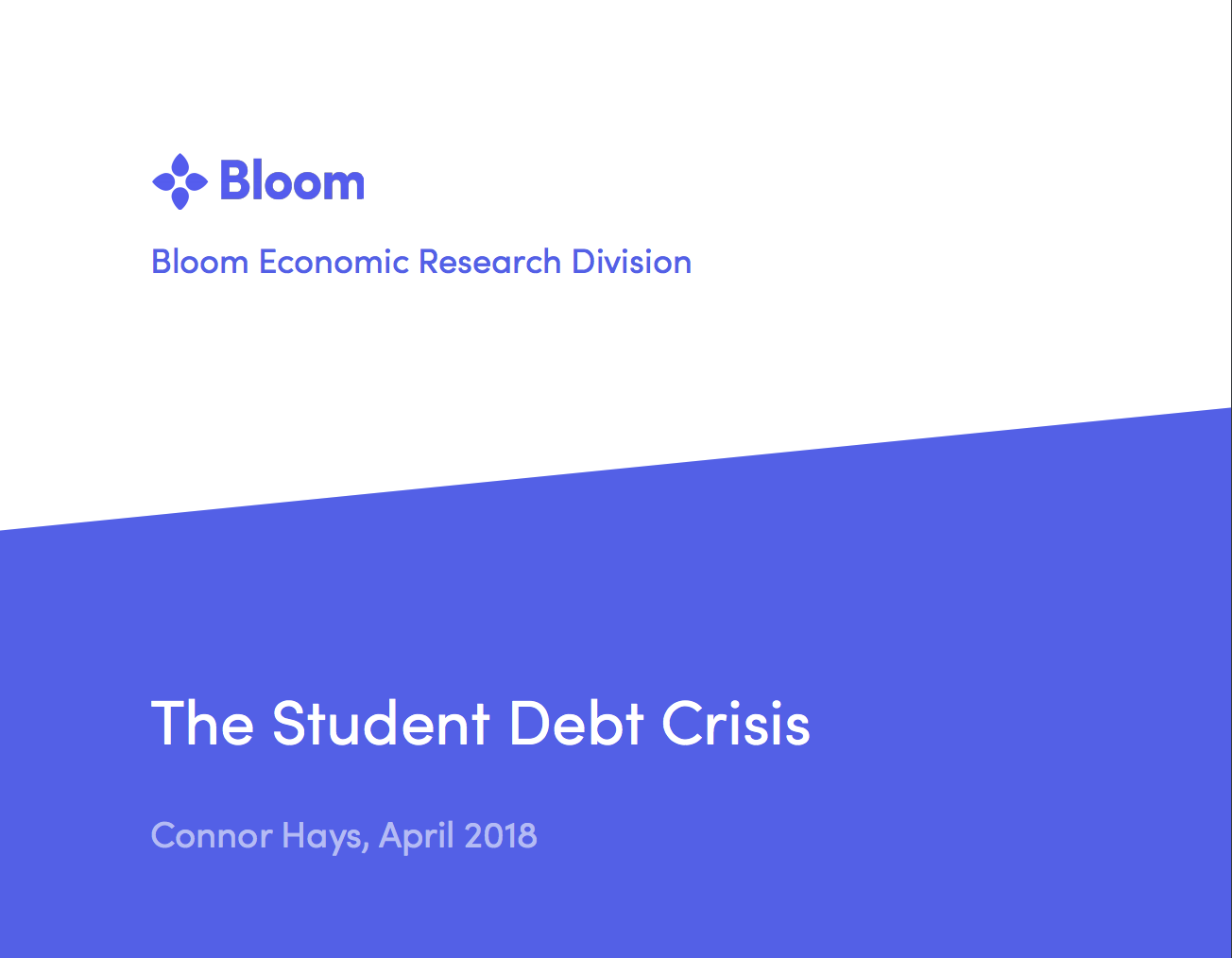 Report: The Student Debt Crisis
In addition, our second major BERD report dives deep into the Student Debt Crisis. This unrelenting pace of growth has made student loans the second largest category of debt in the consumer credit market, second only to mortgages, a historic switch that took place in the direct aftermath of the 2008 financial crisis. Student debt grew from 545 billion dollars at the beginning of 2007 to 1.5 trillion dollars at the end of 2017.
We think this research and knowledge is critical for cultivating a healthy environment.
Check out the full 10 page report, with data sources and cited research here.
Bloom and Exchanges
Bloom is now live on Bittrex. Bittrex is a US-based cryptocurrency exchange headquartered in the United States. They've been operating since 2013 and are one of the largest global exchanges.
Bloom does not provide support for any exchange. We also do not advise buying BLT for speculative purposes.
Importance of Consumer Data Privacy
There's been a lot of talk about the latest GDPR laws, Facebook's data breach, and how your data is being used. We wanted to give a brief update and announcement on our position:
At Bloom, we give users the power to take back their data. We give users the power to own their own data, and decide how it's used, how it's sold.
With Bloom:
You own your data
You control access to your data
You decide when you share your data and who you share it with
One of our latest blog posts, "The Entire History of You is Being Sold", shines a light on the dark industry of data sales.
Please be sure to lookout for our emails confirming your email opt-in. You'll need to confirm this email to stay in the loop about Bloom updates.
Community Updates
Fireside Chats
Fireside Chats is an on-going YouTube series lead by our Community Manager, Derek Silva. He interviews our partners and keeps us up to date on their latest news. All of the current, and upcoming, Fireside episodes are available on our YouTube channel!
Since the last community live stream, we have featured our partners — Everex, ETHLend, and BlockFi . We have heard some really great feedback about these interviews that Derek has been conducting with our partners, and we already have several more lined up.
Our latest Fireside Chat is with Abbey Wemimo from Esusu and Conrad Lin from FintruX.
Bloom Trivia Nights
In our weekly Trivia Nights, there have been 14 people have won free Bloom T-Shirts! All the T-Shirt winners, and a number of other individuals, are on their way to the next prize level — a Bloom Hoodie!
The schedule for our next Trivia Night will be posted in our Slack Community and Telegram Group. Join us to win Bloom apparel!
Thanks for reading! Please join us for future livestreams to get the latest on Bloom!